We love pancakes and waffles in our house, and we eat them often. I will admit that I am a fan of lots of syrup on my pancakes and waffles. However, I know that syrup is not very healthy.
We like to use real maple syrup, but this gets expensive when you are feeding a family. I do keep it on hand, but we try to use is sparingly. I have also made my own syrups. I make a buttermilk syrup that we really enjoy and I have made berry syrups that are also very good, but I am always looking for new ideas.
I recently saw a recipe for an apple syrup in a magazine. It sounded like something my family would enjoy, and I liked the fact that it was so easy to make.
I tweaked the recipe a little and it turned out great. The one thing about this is that you should only make what you will use. Once cooled, this really thickens. We did eat the leftovers and they tasted fine, but the syrup was really thick. So, depending on how much you need you may want to half this recipe.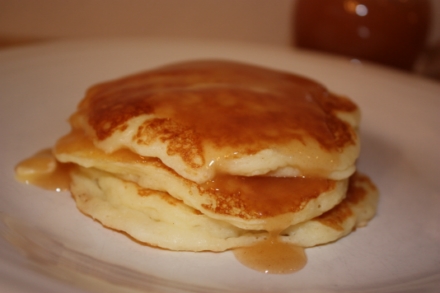 Apple Pancake Syrup
1/2 cup sugar
1 tablespoon cornstarch
1/4 teaspoon cinnamon
1 cup apple juice, you need to use the 100% apple juice
2 tablespoon butter
Combine sugar, cornstarch, and cinnamon. Slowly whisk in apple juice. Cook over medium high heat, whisking or stirring constantly until thickened and smooth, about five minutes. Remove from heat and stir in butter. Serve over pancakes or waffles.
This post linked to
Frugal Fridays
.