Pumpkin cookies are light and fluffy cookies perfect for the fall and holidays.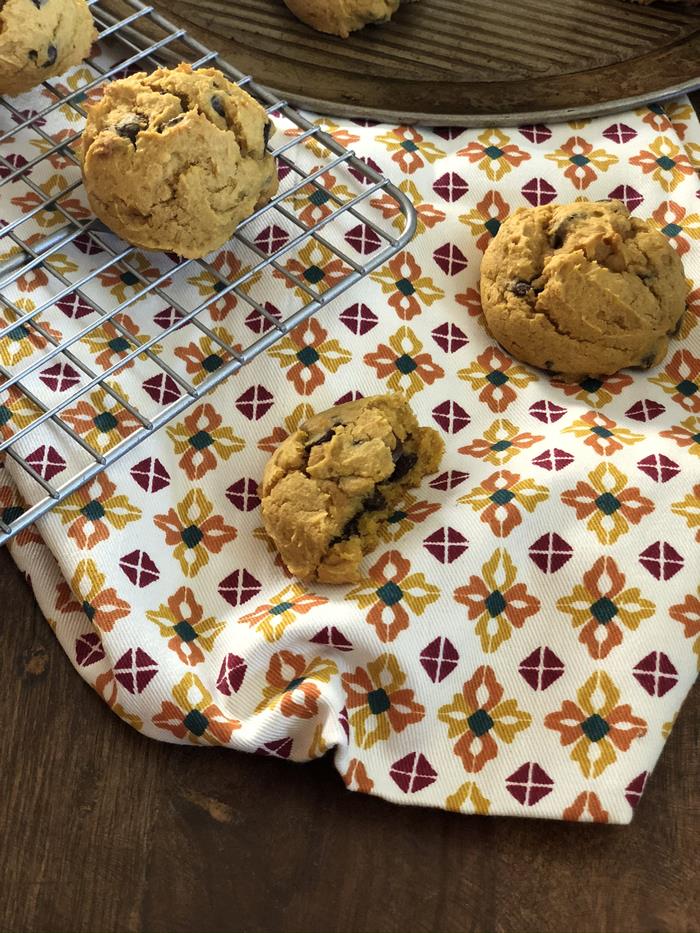 Cookies are one of my favorite things to make. I love making them and eating them. I love sharing them with family and friends.
Today I have the perfect fall cookie for you. I first shared this recipe eight years ago and these pumpkin cookies are still a fall must make at our house.
Last week I made a big batch to send to work with my husband. They were gone in no time.
Over the years I have changed up the recipe slightly, so I knew that it was time for the recipe and post to get an update.
This pumpkin cookie is a simple pumpkin cookie that tastes so good. This cookie is light and fluffy. It is a cross between a cake and a cookie.
Chocolate chips are delicious added to the cookies, but you don't have to add them. They are great without them as well.
This recipe is adapted from an old Martha Stewart recipe. Martha Stewart's pumpkin cookies were a little fancier.
She piped the batter on to the cookie sheet to make them look a little better. I don't usually have time to pipe the cookies on to the baking sheet when scooping the batter works just as well. She also frosted them.
We prefer them without frosting, but if you want to frost them my cream cheese frosting would be delicious on them.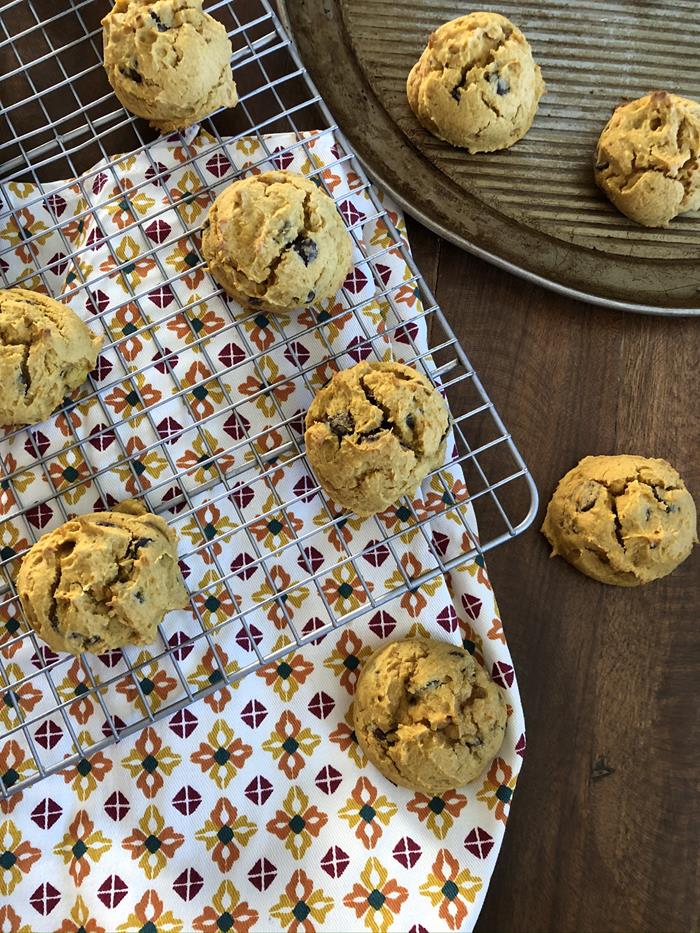 These cookies are also delicious gluten free. I have made these with Bob's Red Mill 1-to-1 Gluten Free Blend, but I think they are a little better with the individual gluten free flours.
And if you need a gluten free version I be sure to check out my gluten free pumpkin cookies.
Yield: 36 cookies
Easy Pumpkin Cookies
Pumpkin cookies are a fluffy pumpkin cookies perfect for the fall and holidays.
Ingredients
2 1/2 cups flour
1 teaspoon baking powder
1 teaspoon baking soda
1 1/4 teaspoon salt
1 1/2 teaspoons cinnamon
1 1/4 teaspoons ground ginger
3/4 cup butter, softened
2 cups brown sugar
2 eggs
1 – 14 ounce can pumpkin, solid packed pumpkin not pie filling
1 teaspoon vanilla
optional - 2 cups chocolate chips
Instructions
Whisk together flour, baking powder, baking soda, salt , cinnamon, and ginger in a bowl and set aside.
Place butter and brown sugar in a bowl and mix on medium speed for about 3 minutes or until light and fluffy.
Add eggs and mix well.
Add pumpkin and vanilla and mix until well blended.
Add flour mixture and mix just until combined. Stir in chocolate chips.
Drop onto cookie sheets and bake at 375 for 10-12 minutes or until done.
Notes
For a gluten free version I have used Bob's Red Mill 1 to 1 Gluten Free Blend.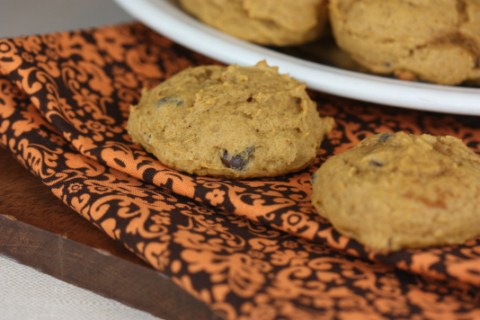 Originally posted October 2012. Updated October 2020.