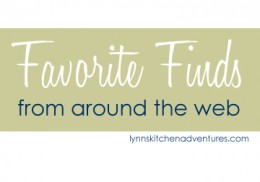 Today I have a few of my favorite food finds from around the web. I have done this a few times over the last year, but I hope to start doing this as a monthly feature if you all enjoy it. So, please let me know if I should keep it up.
I am not a coffee person. I know I have mentioned that once or twice, but when I saw this Salted Caramel Mocha, I knew you all would love it. It looks so good and I do not even like coffee.
My dad loves maple bars. They are his favorite doughnut. Growing up our neighbor used to make the best homemade maple bars. I used to wonder how she could make them so good. When I saw this recipe for maple bars from Our Best Bites it brought back so many memories. If there is one thing I really miss about eating gluten free it is doughnuts, so can you have one of these for me please. 🙂
This guide to buying different cuts of meat is so helpful, especially for those new to cooking. Thanks Amy for sharing this.
Fall is the perfect time for pumpkin desserts and these Pumpkin Chocolate Chip Bars looks so good. I see a gluten free version in our future.
And speaking of pumpkins, if you are looking for a fun fall breakfast, these Pumpkin Pancakes look really good.
I admitted recently that chicken broth was one of the shortcuts I used in my kitchen, but if you want to learn to make your own there is a great post at Finding Joy In My Kitchen all about it.
And I love homemade versions of my favorite candies and these Homemade Butterfingers from Buns In My Oven look so good. If my daughter did not have a peanut butter and sesame allergy, I would so be trying these. And an odd food fact, candy corn contains sesame oil, why I do not know, but it does, so these are definitely out for us.
What fun and good food finds have you found recently?