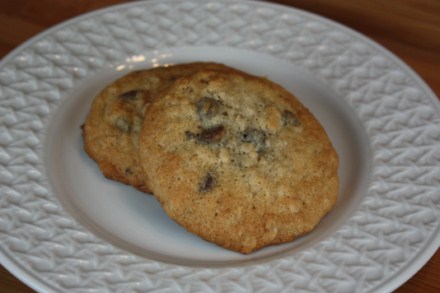 My 11 year old loves bananas. I mean she really loves them and loves just about anything I make with them. One of her favorite cookies used to be my banana chocolate cookies and she missed them, so I set out to adapt them to be gluten free.
And what I came up with is a cookie we love. These are not quite as fluffy as the original ones were, but the taste and texture was very close to the old version we loved.
I am so glad I was able to figure out how to make one of my daughter's favorite cookies gluten free. Adapting recipes takes work and patience, but when you get it right, it is so worth it.
Gluten Free Banana Chocolate Cookies
1 cup white rice flour
¼ cup sweet rice flour
¼ cup cornstarch
½ teaspoon xanthan gum
1 teaspoon salt
½ teaspoon baking soda
¾ cup butter, softened
½ cup sugar
½ cup brown sugar
1 egg
1 ½ teaspoons vanilla extract
½ cup mashed bananas
1 cup old fashioned gluten free oats ( Be sure to use gluten free oats)
2 cups chocolate chips
Preheat oven to 375. Whisk together rice flours, cornstarch, xanthan gum, salt, and baking soda. Set aside.
Place butter in a mixing bowl. Add sugars and cream until light and fluffy. This takes about 3 minutes.
Add egg and vanilla.
Mix in banana.
Add flour mixture just until combined.
Stir in oatmeal and chocolate chips.
Drop dough onto a cookie sheet, spacing about 2 inches a part.
Bake for 12-13 minutes or until slightly browned.
Remove from oven and place on cooking rack to cool.