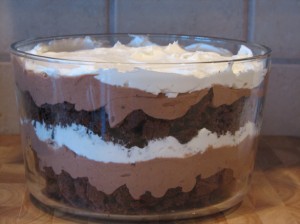 I think this Gluten Free Brownie Trifle is going to be my go to dessert when I have company or need to take a dessert somewhere.
I have now taken this to several church dinners and no one knew it was gluten free until I told them.
This is so good. Not only is it good, it is really easy.
All I did was make the same brownie trifle that I have been making for years, but I used gluten free brownies.
I used my favorite gluten free brownie recipe, but really any gluten free brownie will work.
If you are looking for a dessert to serve company or take to an event, you really should give this a try.