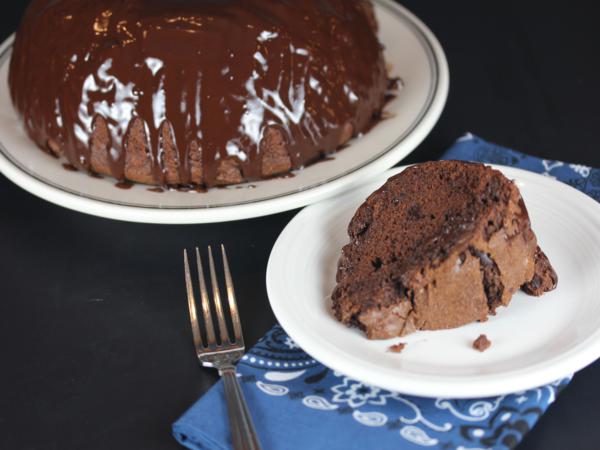 Today's gluten free chocolate bundt cake, might be my favorite cake in my Martha Stewart Cakes the gluten free way series. I made this cake over the holidays and it was moist and delicious. And it was rich and chocolaty, by not too rich and chocolaty.
It was pretty much a perfect simple gluten free cake. And it is another one of those desserts that no one will know is gluten free.
I did not change this recipe much besides making it gluten free. I did stir in some chocolate chips to the batter because really you can never have too much chocolate. And I also used regular chocolate chips in the glaze instead of the bittersweet chocolate the recipe called for.
And don't be tempted to skip the glaze on this. The glaze is delicious. It adds just enough extra chocolate to the cake to make it even better.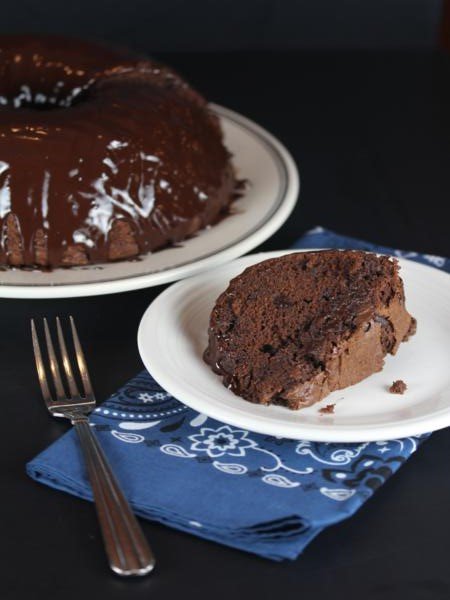 Gluten Free Chocolate Bundt Cake
1 cup butter, softened
1 cup rice flour
3/4 cup sweet rice flour
1/2 cup cornstarch
1 teaspoon xanthan gum
3/4 cup unsweetened cocoa powder
1 teaspoon baking soda
1 teaspoon salt
1/2 cup milk
1/2 cup sour cream
1 1/2 cups sugar
4 eggs
1 teaspoon vanilla extract
1 cup chocolate chips
Glaze
1 cup chocolate chips
1/2 cup heavy cream
2 tablespoons butter
For the Cake:
Preheat oven to 350 degrees.
Grease bundt pan and set aside.
In a bowl combine rice flours, cornstarch, xanthan gum, cocoa powder, baking soda, and salt.
Beat butter and sugar until light and fluffy. This will take 3-4 minutes.
Add eggs one at a time, beating well after each addition.
Add vanilla.
Mix milk and sour cream together in a small bowl and set aside.
Add half of the flour mixture to the creamed mixture and beat just unti comebined.
Add milk/sour cream mixture, mix just until combined.
Add remaining flour and mix just until combined.
Stir in chocolate chips.
Pour batter into a greased bundt pan.
Bake for 50-55 minutes or until toothpick inserted into cake comes out clean.
Let cool in pan for 10 minutes and then remove from pan to cool on wire rack.
For the Glaze
Heat cream either in a pan or in the microwave.
Stir in chocolate chips and butter and let sit 2 minutes.
Stir until chocolate chips are melted.