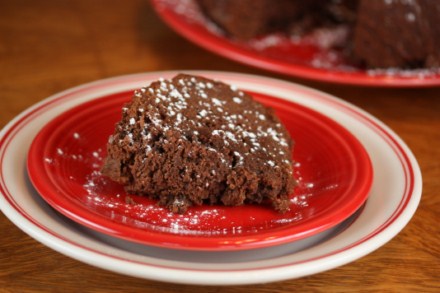 I hope you all do not get tired of my gluten free chocolate desserts. I know I have a gluten free chocolate sheet cake, a gluten free pudding cake, and a gluten free layer cake already on the site, but I just couldn't help myself recently when I found a recipe of Paula Deen's for a chocolate pound cake.
I love pound cake and I love chocolate, so I knew I needed to adapt the recipe to be gluten free. And this is one of those recipes where the first try was a success and I was so happy.
Now, I know this is not a healthy dessert, but it is a dessert after all and we can all use a treat once in awhile.
I served this with whipped cream, but this would also be good served with fresh fruit.
If you love chocolate then you will love this!
Recipe: Gluten Free Chocolate Pound Cake
Ingredients
1 cup butter, softened
8 ounces sour cream
3 cups sugar
6 eggs
1 teaspoon vanilla extract
1 cup rice flour
¾ cup cornstarch
½ cup sweet rice flour
1 teaspoon xanthan gum
1 teaspoon baking powder
¾ cup cocoa
Instructions
Preheat oven to 325.
Grease a bundt pan and set aside.
In a mixer cream together the butter, sour cream, and sugar. Add the eggs one at a time, beating well after each addition. Add vanilla.
In a small bowl combine dry ingredients. Slowly add to creamed mixture, beating well for about 2 minutes.
Pour batter into prepared pan and bake for 1 hour and 10 minutes to 1 hour an 15 minutes. Test doneness with a toothpick. Mine took about 1 hour and 15 minutes.