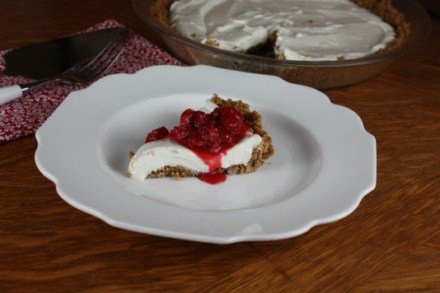 I debated about which site to post this granola crust on. It is really good whether or not you are gluten free, but it is a perfect option for those that have to eat gluten free. It does contain oats which I know that some gluten free people cannot have, but many people can tolerate them.
I decided though that this crust really was a perfect crust for those that are gluten free and can tolerate oats, so I decided to post it here in my allergy section. It is a crust that can be used in so many ways and is one that many people would not think twice about being gluten free.
Now you do need gluten free granola for this, but I almost always have my homemade gluten free granola on hand. If you don't keep gluten free granola on hand this pie crust would be the perfect excuse to make some. Gluten free granola can also be found in many health food stores or in the gluten free section of your grocery store.
I made this crust recently for a yogurt pie, but this crust would work well for just about any no bake pie or any pie that you would use a graham cracker crust for.
Gluten Free Granola Pie Crust
1 ½ cups of granola ( I used homemade granola)
¼ cup sugar
½ teaspoon cinnamon ( you can leave this out if it does not match the filling that you are using.)
4 tablespoons butter, melted
Preheat oven to 350 degrees
In a food processor pulse the granola with the sugar and cinnamon until fine crumbs form. Drizzle in the butter and process until combined.
Press into a 9 inch pie plate and bake for about 10 minutes or until the crust is lightly golden.
Cool before adding filling.
Adapted fromMartha Stewart's New Pies and Tarts