Have I mentioned that I love jars? They are so cute and inexpensive and have so many uses beyond jams and jellies and canned foods.
One of my favorite ways to use jars is to use them as serving containers when feeding or entertaining a large group.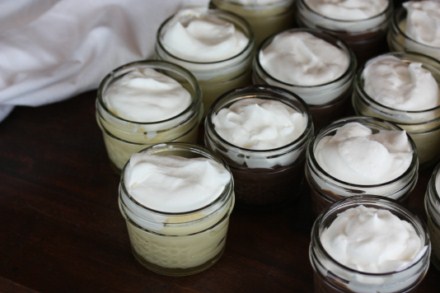 Not only are jars cute and functional, they are also inexpensive to buy in bulk. You can easily find a dozen jars either at your local store or pick them up used at garage sales and thrift stores.
The other thing I love about serving food in jars is portion control. This works great when it comes to dessert. Now, I am not talking about starving your guests, or offering a very minimal amount, but it does help control serving sizes when feeding a large group and usually allows you to stretch your dessert a little further.
And my favorite dessert to serve in jars is homemade pudding of course. Now really you could easily use regular boxed pudding here, but I am all about the real stuff when it comes to pudding.
Our favorite kinds of homemade pudding are double chocolate, vanilla, lemon, coconut, and butterscotch. (And if you have not tried making your own pudding you might find my video on how to make homemade pudding helpful.)
If you are serving a large group it is easy to make a few different homemade puddings to place in small jars. Top them with whipped topping and let everyone choose the flavor they want.
I did this recently when I made lunch for my husband's staff and everyone loved it.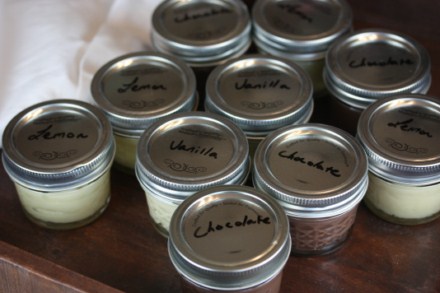 I like to place lids on the jars and mark them using a dry erase marker. This works well for making them ahead and for transporting to a picnic or other event.
What is your favorite way to use jars?