Hard boiled eggs are my favorite thing to cook in the Instant Pot! If you have an Instant Pot and haven't tried Instant Pot hard boiled eggs you need. Really you need to!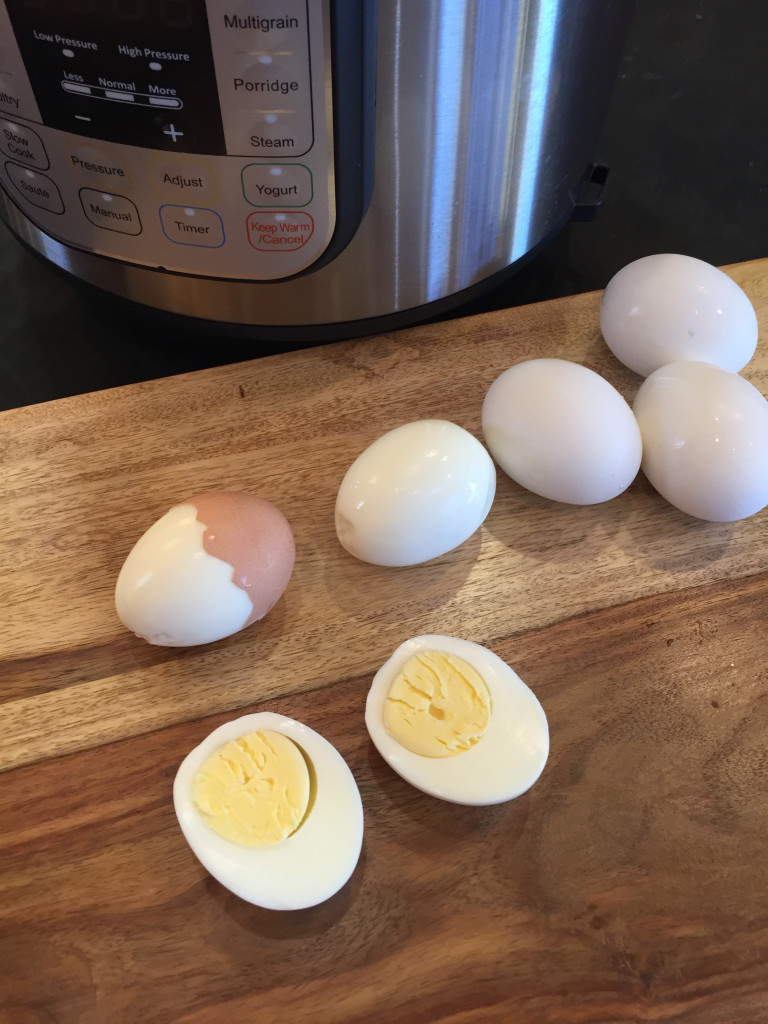 Before I had an Instant Pot I kept hearing how good hard boiled eggs were when cooked in it. I always thought really what could be that great about eggs in the Instant Pot. They are just eggs. Now that I have tried it though, I totally agree.
They are the best boiled eggs ever!
It took a little trial and error for me to get them just the way we like them, but once I got the time down right, we love them! Love them!
They are perfect every time. They also peel great. I have not had a problem peeling them since I started cooking them this way. Even farm fresh eggs, that usually don't work well for hard boiled eggs, peel great.
Even my kids can't believe how great they peel. We all love them.
Now you are probably wondering how I cooked them.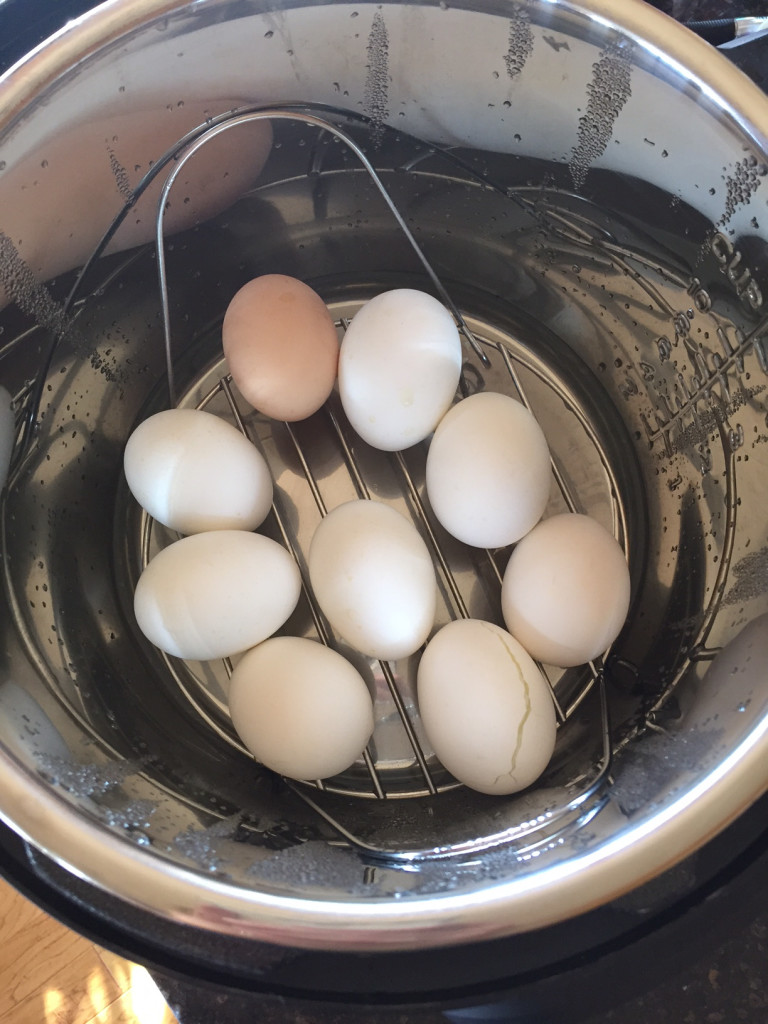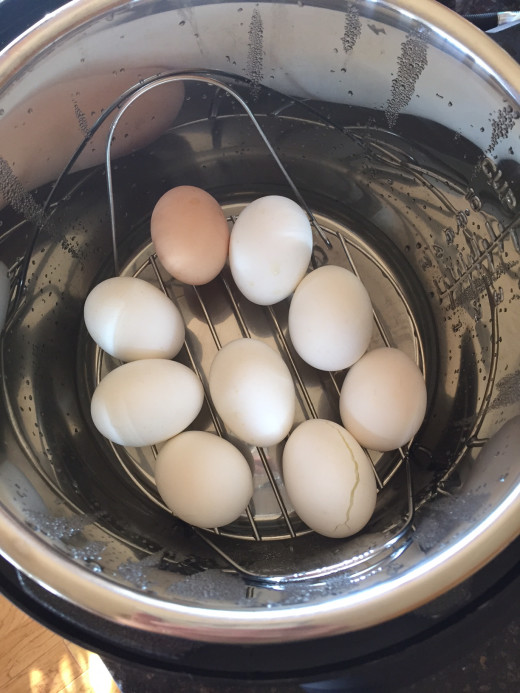 I simply placed the rack that came with my Instant Pot in the bottom of the pot. Added water, put the eggs in, and cooked them for 5 minutes. The exact directions are below.
Here is the thing on the time though. I don't like green yolks. I don't like green yolks at all. Many of the recipes and times I tried gave me green yolks.
Some people say they take 6 minutes to cook. Some say they take 7 minutes. Some said to do the natural release. With all those ways I got green yolks.
I like them best cooked for 5 minutes. Then I release the pressure, take the eggs out and put them in a bowl of ice water. I let them cool in the ice water and then I peel them.
This gives me eggs just how we like them every time. The eggs in the picture at the top were cooked for 5 minutes. I have been cooking them this way about once a week for quite some time now and it works every time.
You might need to adjust the time a little bit depending on how you like them. So try it with a few eggs and see. My suggestion is don't start with cooking a whole dozen. Try it with 4 or 5 eggs the first time and see what you think. Adjust the time if you want them cooked a little longer. But like I said, I think 5 minutes gives you perfect eggs.
Now if you have an Instant Pot go cook some hard boiled eggs!
Be sure to check out my list of Instant Pot Recipes. It is a huge list and I keep updating it to add more!
Yield: 6
Instant Pot Hard Boiled Eggs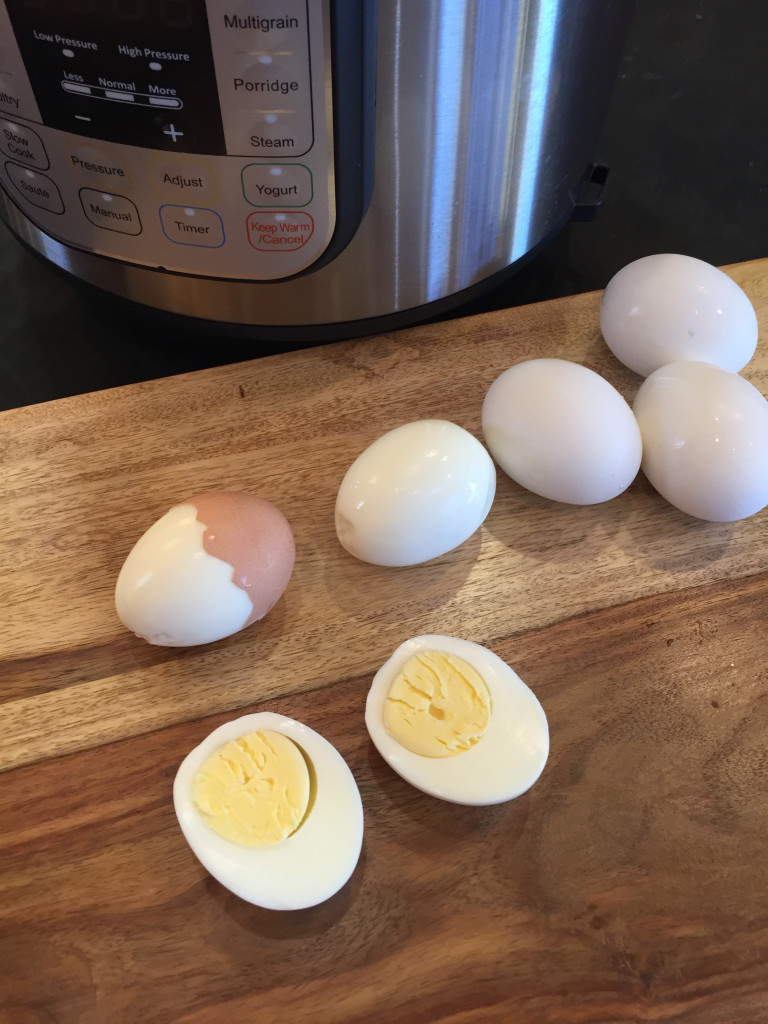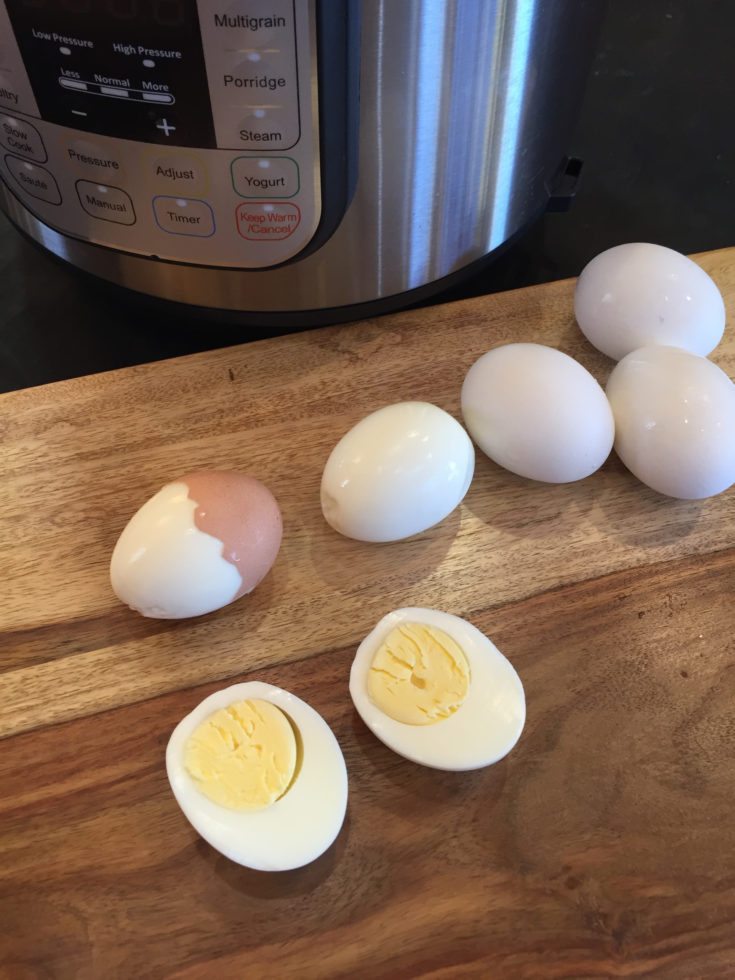 Boiled eggs made easy in the Instant Pot.
Instructions
Place the rack that came with the Instant Pot in the bottom of the pot.
Pour 1 cup of water into pot.
Place eggs on rack.
Place lid on Instant Pot and lock into place. Be sure the valve is set to sealing.
Cook on manual for 5 minutes. ( A little longer if you like them more done.)
Quick-release the pressure.
Carefully remove eggs and place in ice water.
Let eggs cool.
Peel and enjoy!
Notes
You can cook more eggs or fewer eggs, but you need to have the 1 cup of water no matter how many eggs you cook.
Nutrition Information:
Yield:
6
Serving Size:
1
Amount Per Serving:
Calories:

72
Total Fat:

5g
Saturated Fat:

2g
Trans Fat:

0g
Unsaturated Fat:

3g
Cholesterol:

186mg
Sodium:

73mg
Carbohydrates:

0g
Fiber:

0g
Sugar:

0g
Protein:

6g