Since starting the allergy section of my site, I have not posted a lot here about the food issues that my family has been dealing with. So if you have not looked around the allergy section, you are probably not aware of my daughter's nut allergy.
Earlier this year my daughter was diagnosed with a peanut, all tree nut, and sesame allergy. Yes, the family that loves peanut butter pie, peanut baked oatmeal, and many other recipes that contain nuts, is now dealing with nut allergies.
After my daughter was diagnosed with these allergies, I was a bit overwhelmed. I started doing research and reading all I could about nut and peanut allergies. One of the people I contacted, and asked advice from, was SnoWhite from Finding Joy In My Kitchen.
I do not remember how we found each other's sites, but I have been reading and enjoying Finding Joy In My Kitchen for a long time. We both love to cook and have a very similar styles of cooking.
I knew from reading her site that she was allergic to tree nuts. We emailed back and forth quite a few times, and she has been very helpful in helping me understand not only the allergy, but how my daughter was feeling about the diagnosis.
Our emails back and forth soon turned into a desire to do a series on the subject of food allergies, especially nut and peanut allergies.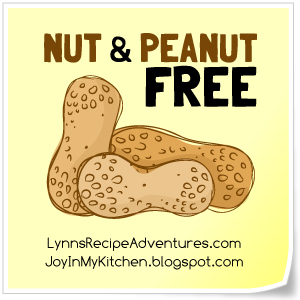 Together we want to share our experiences with nut allergies. We will be posting each Wednesday for six weeks. I plan to post mine in the allergy section of my site.
We will be dealing with issues like:
What is a nut allergy? How does an allergy differ from an intolerance?
What can I eat when I have a nut allergy?
Adjusting to a life with nut allergies
How can I have a "normal" social life when I have a nut allergy?
What?!? You want to cook for me? What to do if one of your dinner guests has a nut allergy.
Nut allergies and kids
We hope that this series helps not only those that are dealing with life threatening allergies, but those of you that might have a family member or friend that has a food allergy.
We will be focusing on peanuts and tree nuts, but much of the information will pertain to other life threatening food allergies. I recognize that this series will not appeal to all my readers, but many of you may know someone with a food allergy, maybe even a nut allergy.
We hope that you will join us as we share just two of many perspectives on the challenges associated with food allergies!
Disclaimer: I am not a Doctor. The information in this series is simply my experience in dealing with, and learning to deal with, a nut and peanut allergy. My desire is not to give you medical advice, but to share our journey with you.