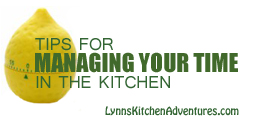 Over the years I have done various types of freezer meals. A few years ago when I was struggling with a lot of health issues I froze thirty to sixty meals at a time. I would cook when I was feeling good, so that we had food to eat when I wasn't.
Over time my health improved and I have changed my approach to freezer cooking. I no longer need to have a month or two of meals in the freezer, but I do like the convenience of having at least a few meals made ahead.
Instead of freezing whole meals I now focus more on parts of meals. I almost always have taco meat, cooked chicken, sloppy joes, and homemade refried beans in the freezer. During the winter I like to freeze chili, meatloaf, and meatballs.
I can easily put a meal together with any of those things. I can use taco meat as tacos, as taco salad, or even in enchiladas. Cooked chicken can be used in soups, casseroles, or even as chicken salad. Meatballs can be used in pasta sauce, they can also be served with gravy over rice, or in meatball sub sandwiches. Just by freezing part of the meal I save time on a busy night.
Having these few simple things in the freezer is actually where I failed last week. I had used up all of my freezer food and had not taken the time to make some things ahead to freeze. If I had put a few things in the freezer a few weeks ago, meal time last week would have been much easier.
Not only does freezer cooking save me time on busy nights, it saves time in general. If I am cooking one pound of taco meat, I can easily cook two or three pounds with out spending much more time. Cooking multiple meals of the same kind at once to freeze is a great way to save time in the kitchen.
Do you have meals in your freezer for days that you do not have time to cook? Do you like freezing a whole meal or dish, or do you focus more on freezing just part of the meal?