Martha Stewart's Vanilla Custard Recipe is a classic dessert using basic ingredients.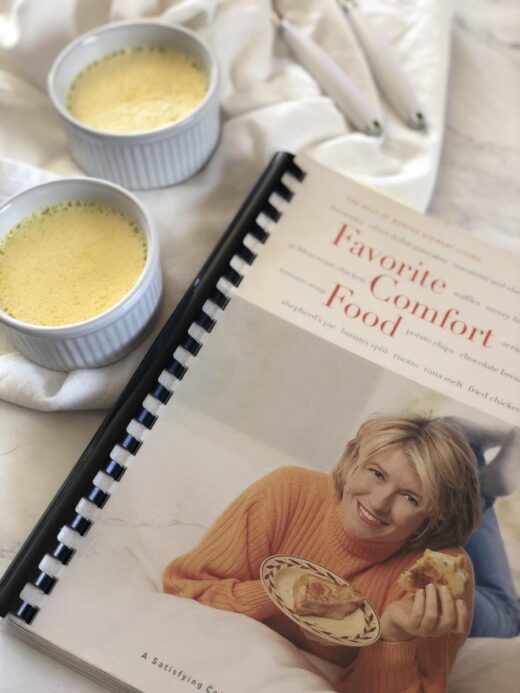 Many people think Martha Stewart's recipes are gourmet recipes with fancy ingredients. She certainly has recipes like that, but mixed in with all those recipes are some great basic recipes.
Those basic recipes are my favorite Martha Stewart Recipes. Those basic old fashioned recipes are what made me fall in love with Martha Stewart's recipes and cookbooks years ago.
Martha Stewarts Favorite Comfort Foods Cookbook
This custard recipe I am sharing today comes from Martha Stewart's Favorite Comfort Foods Cookbook.
I think this is the first Martha Stewart Cookbook that I bought. It was at least one of the first ones that I bought. I actually own two copies of this cookbook.
The binding on the original copy that I bought was so worn out that it was falling apart. I took it to the office supply store and had it spiral bound. I basically wore the cookbook out.
Some of my favorite Martha Stewart Recipes are in this cookbook.
Several years ago I came across a copy of the cookbook at a used booksale for $1 and I could not pass it up. Now I have two copies of one of my favorite cookbooks.
Martha Stewart's Favorite Comfort Foods Cookbook is no longer published but you can still find used copies of it.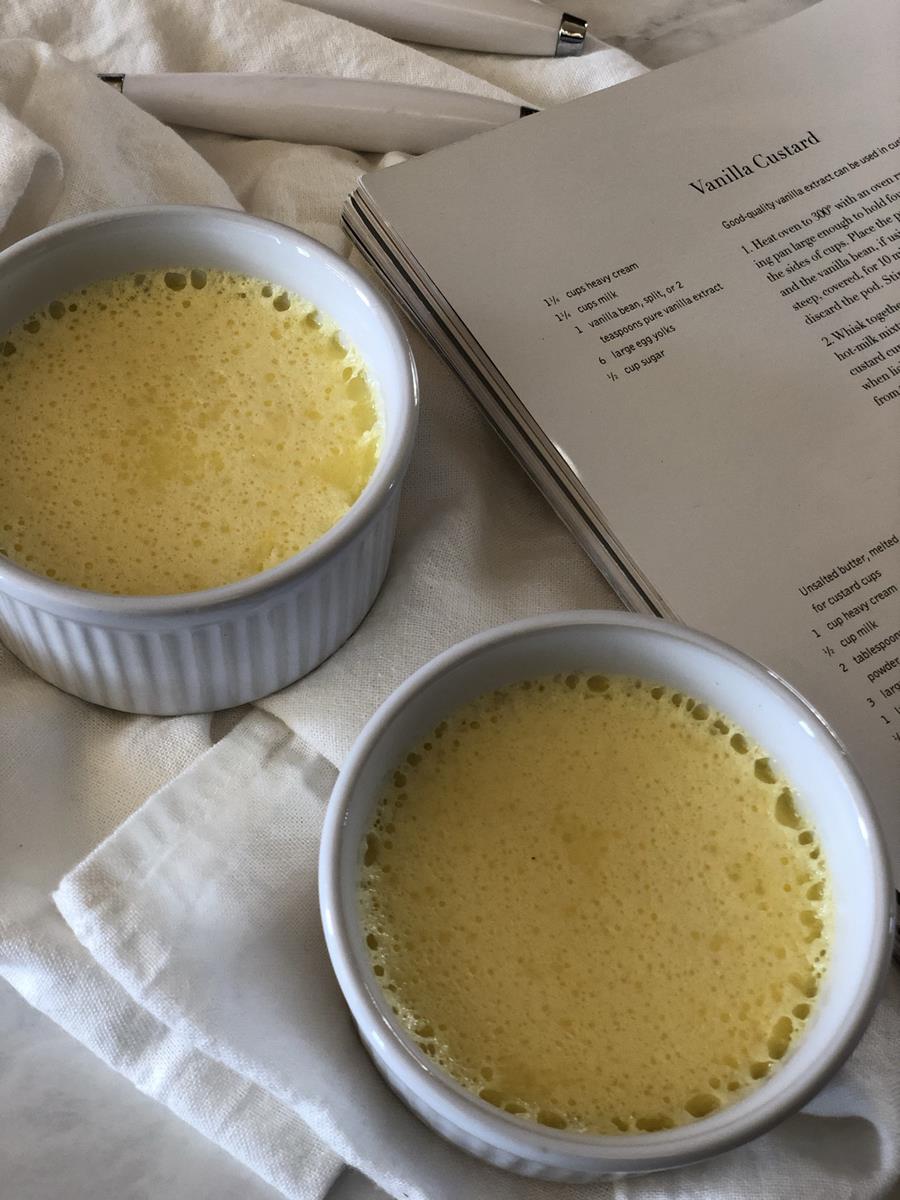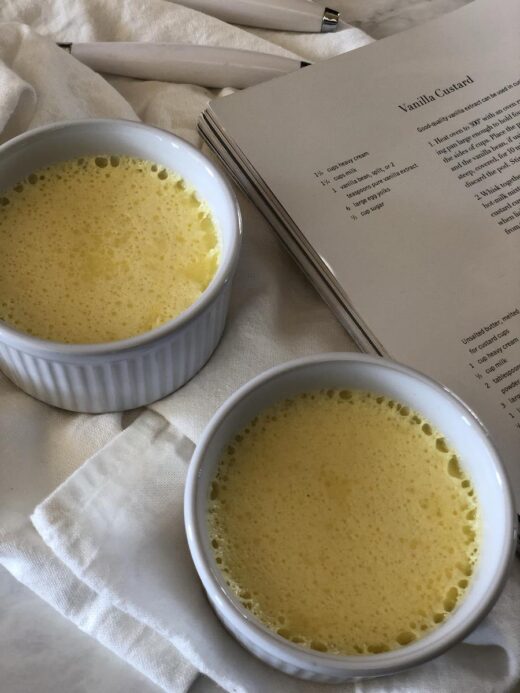 What is custard?
Custard is a pudding like dessert made with milk or cream, eggs, and sugar. Pudding contains a thickener like cornstarch, but custard gets it thickness from eggs.
My husband loves custard. It is one of his favorite desserts. And it is a dessert, but we have been known to eat it for breakfast.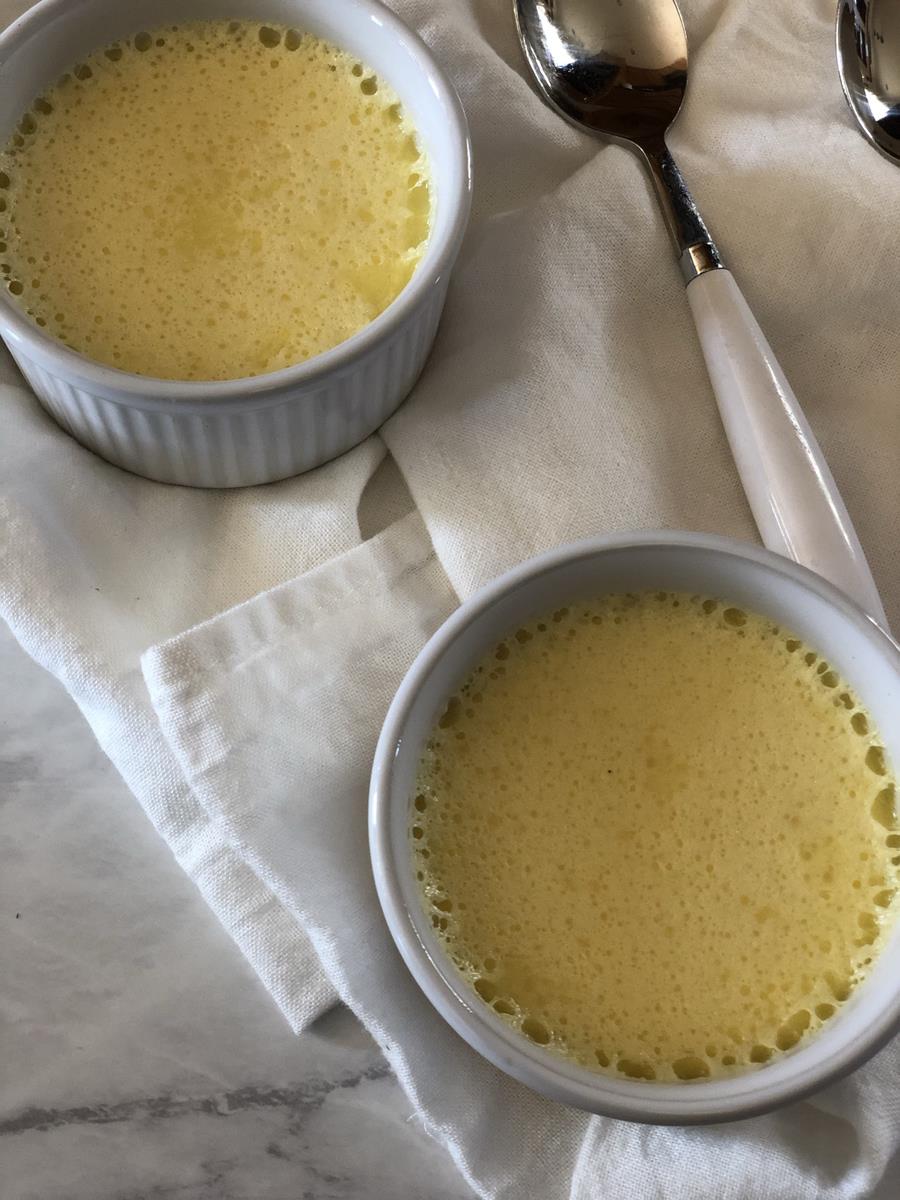 Martha Stewart's Custard Recipe
Martha Stewart's custard recipe is a fairly basic custard recipe, but it is by far the best custard that I have made. And I have made a lot of custard recipes over the years.
I think her technique and cooking is slightly different and it works. My husband agreed that this is the best custard that I have made.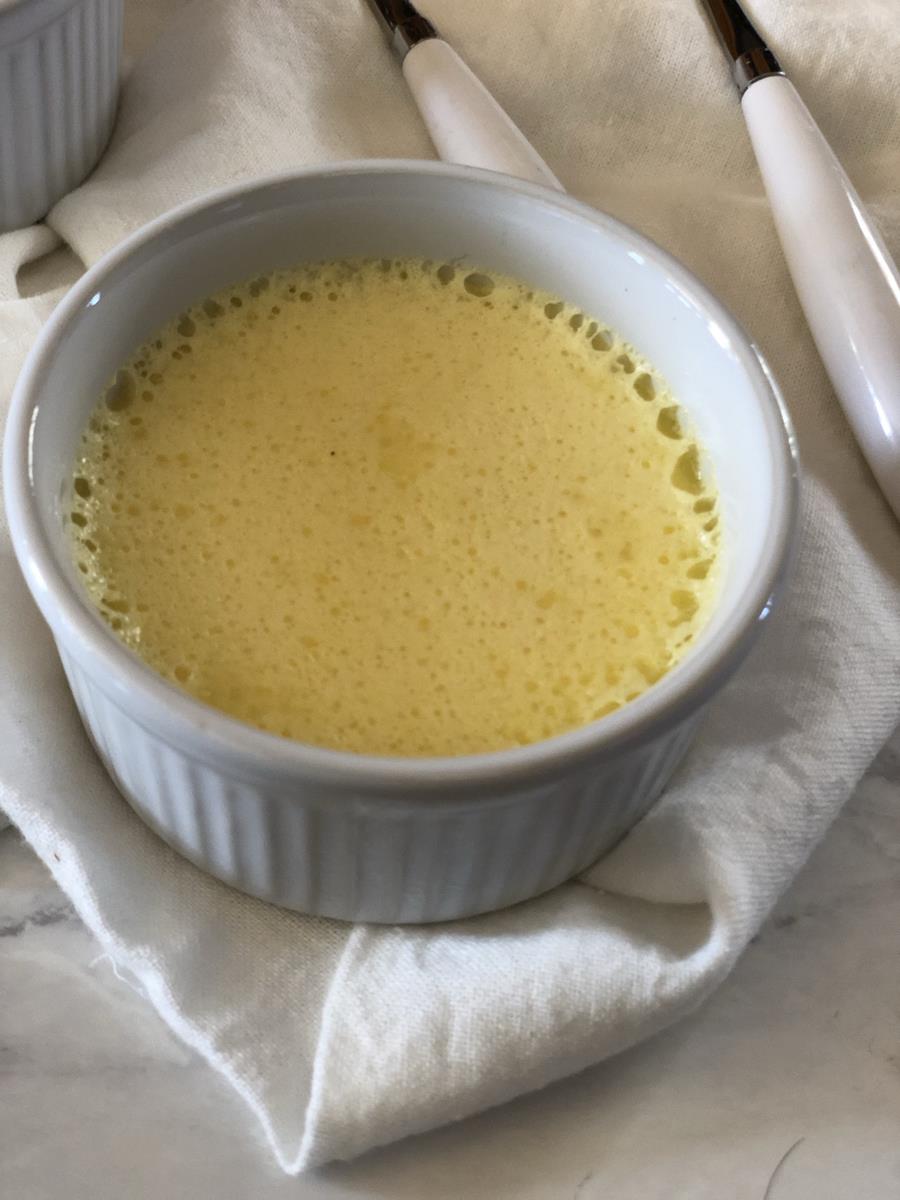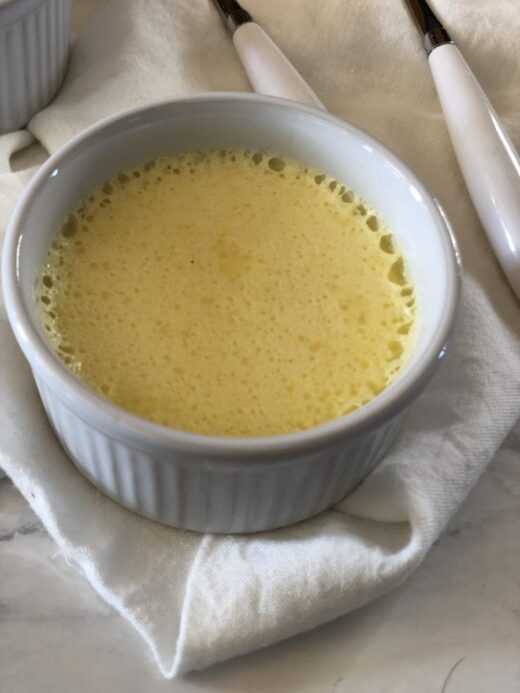 If you have never made custard before you should give it a try. I made Martha Stewart's Vanilla Custard recipe for Thanksgiving. It made for a perfect Thanksgiving dessert.
In fact, it was the recipe that inspired my Year of Martha Stewart Cooking Challenge.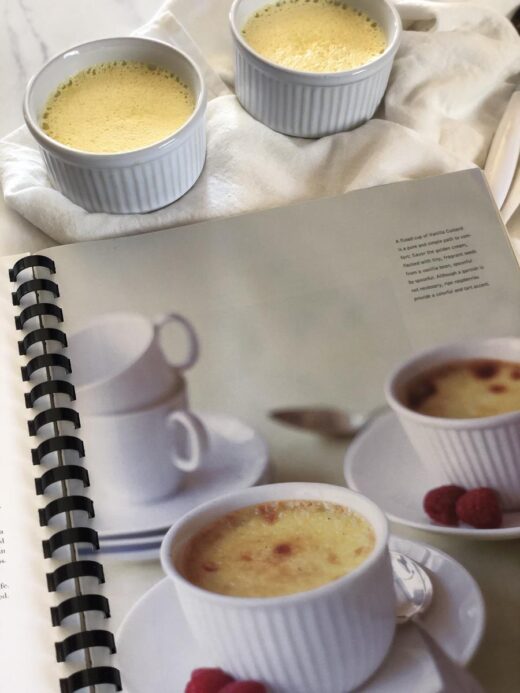 What if I don't have ramekins?
I actually have a whole post on what to do if you do not have ramekins. It has some helpful tips, but the quick answer is that small jars work great if you don't have ramekins.
Yield: 6 servings
Martha Stewart's Custard Recipe
Martha Stewart's Custard recipe is the best custard. It is rich, creamy, and delicious!
Ingredients
1 1/4 cups heavy cream
1 1/4 cups milk
2 teaspoons vanilla extract
6 egg yolks
1/2 cup sugar
Instructions
Heat oven to 300 degrees.
Fill a small roasting pan or a deep casserole type dish with enough water to go halfway up the sides of the pan.
Place the pan of water in the oven to heat.
In a saucepan heat the milk and cream. You want it warm, but not boiling. Set aside.
In a mixing bowl whisk together egg yolks and sugar until light and fluffy. This takes a few minutes. ( I used my whisk attachment on my kitchen aid mixer, but you can do it by hand. It will just take longer.)
Slowly add in warm milk mixture until completely combined.
Whisk in vanilla extract.
Pour mixture into 6 ounce custard cups or similar sized jars. See note below.
Carefully place filled custard cups in pan of hot water.
Cook for 30-35 minutes or until custard is set.
Serve at room temperature or chilled. Store in refrigerator.
Notes
If you only have 4 ounce ramekins or jars they will work, you will just need more of them and the cooking time will need to be adjusted.
Nutrition Information:
Yield:
6
Serving Size:
1
Amount Per Serving:
Calories:

318
Total Fat:

23g
Saturated Fat:

14g
Trans Fat:

1g
Unsaturated Fat:

8g
Cholesterol:

245mg
Sodium:

48mg
Carbohydrates:

21g
Fiber:

0g
Sugar:

18g
Protein:

6g