Need an easy to make homemade treat? Homemade Mounds Bars are easy to make and are the perfect treat for the holidays.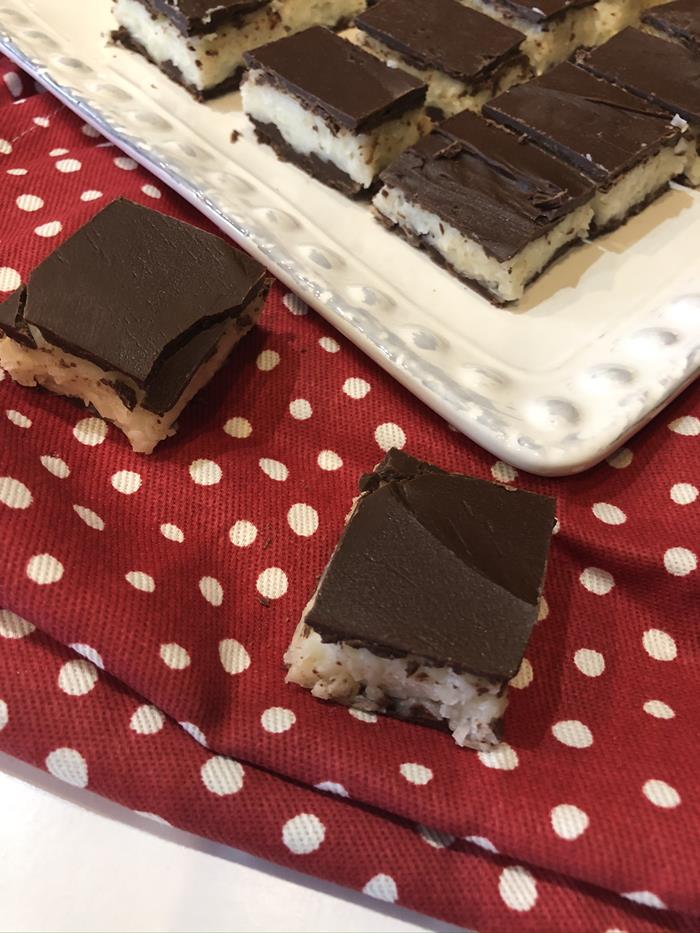 I love to make homemade versions of the foods that we enjoy. If you have read my site for long, I am sure that you already know that.
Making homemade versions of our favorite foods is one of the things I love to do. I enjoy the challenge of figuring out how to make the copycat version taste like the real thing.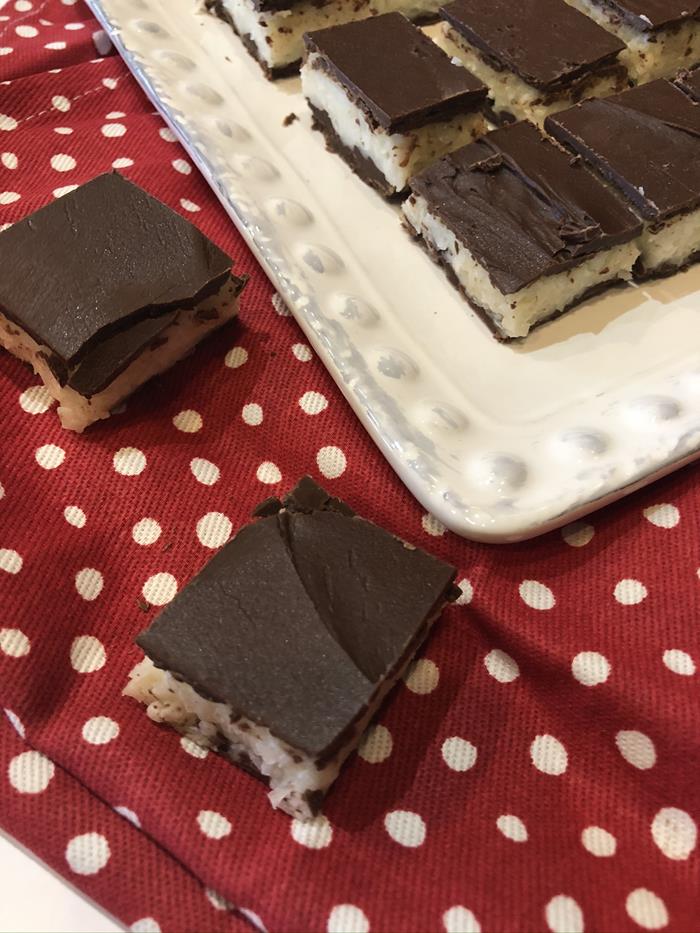 Why I like to make Copycat Mounds Bar
Homemade versions are not always healthier, but most foods cost less when you make them at home, especially if you are making them in a large batch.
This recipe today fits this category. It is easy to make a large batch to serve a crowd or give away as a food gift during the holidays.
I certainly can't call these healthy or even healthier than the real thing, but these are so good and so much cheaper than buying the candy bar version.
I have made these so many times for my family over the years. I first shared this recipe way back in 2010. My daughter made a double batch of these over the weekend and I knew it was time to share the recipe again.
My husband's staff loves it when I send these to work with him. Over the years many of them have asked for the recipe so they could make them for the holidays.
I have also taken these to so many church dinner, potluck, and holiday gatherings over the years. Almost everyone that loves coconut loves these.
Many recipes for homemade mounds bars or homemade almond joys have you dip the filling into melted chocolate. I like to make things easy. Dipping things in chocolate is not hard, but it is time consuming and messy.
I simplified this recipe and made them into a bar that you can cut into pieces. It doesn't look quite like the real version, but it makes them so much easier to make.
These are like a mounds bar, but if you prefer an almond joy then I would stir in a few almonds or even toasted almonds, into the coconut mixture.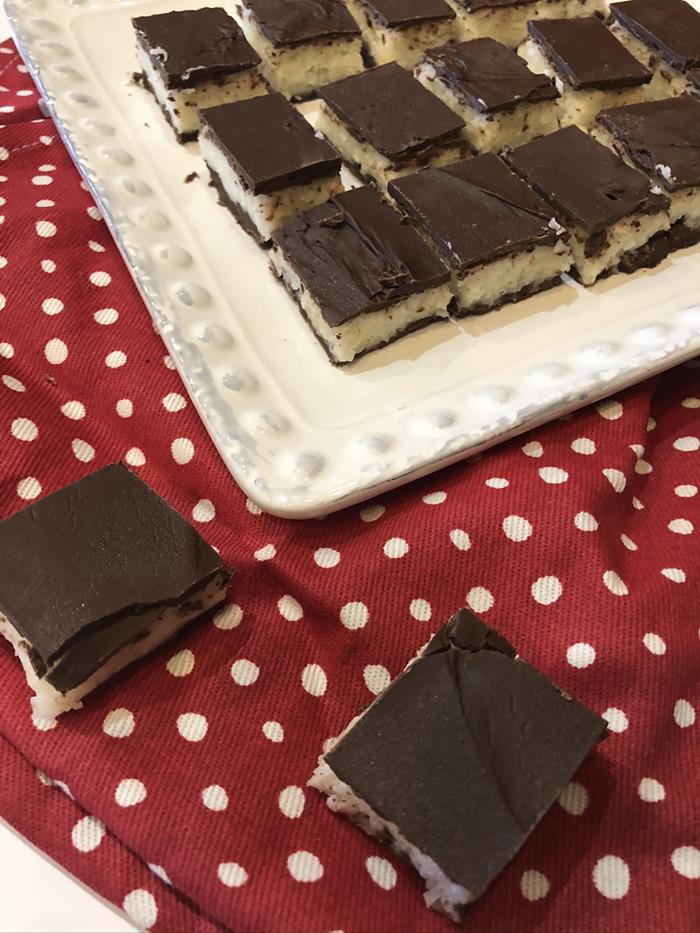 What do you need to make this recipe? Just a few simple ingredients.
coconut
sweetened condensed milk
butter
powdered sugar
chocolate
If you love coconut and chocolate these are a must make for the holidays!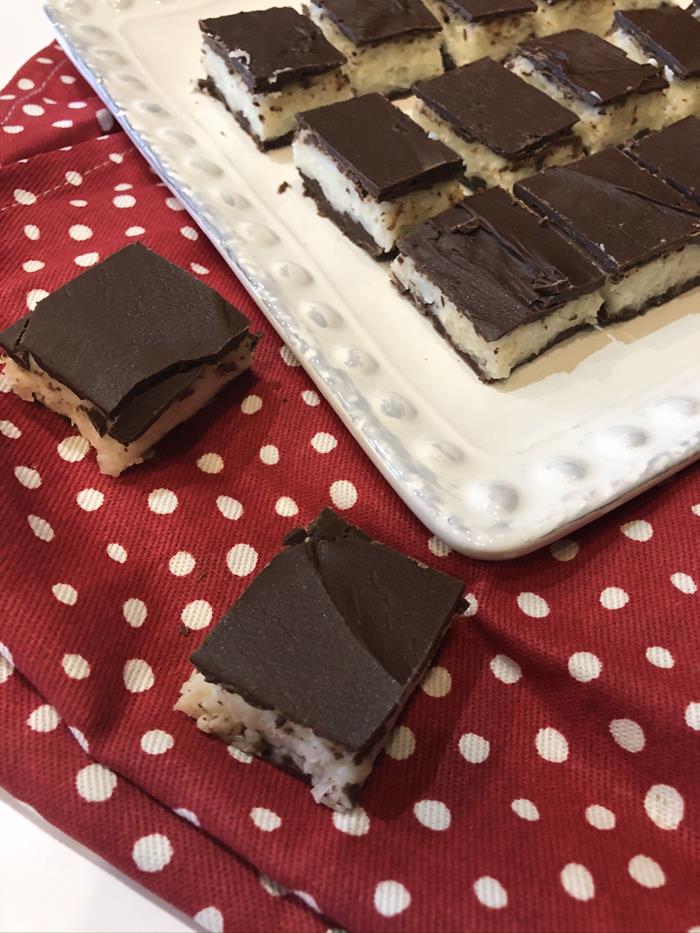 Need other homemade candy recipes? Try one of our favorites.
Yield: 30
Homemade Mounds Bars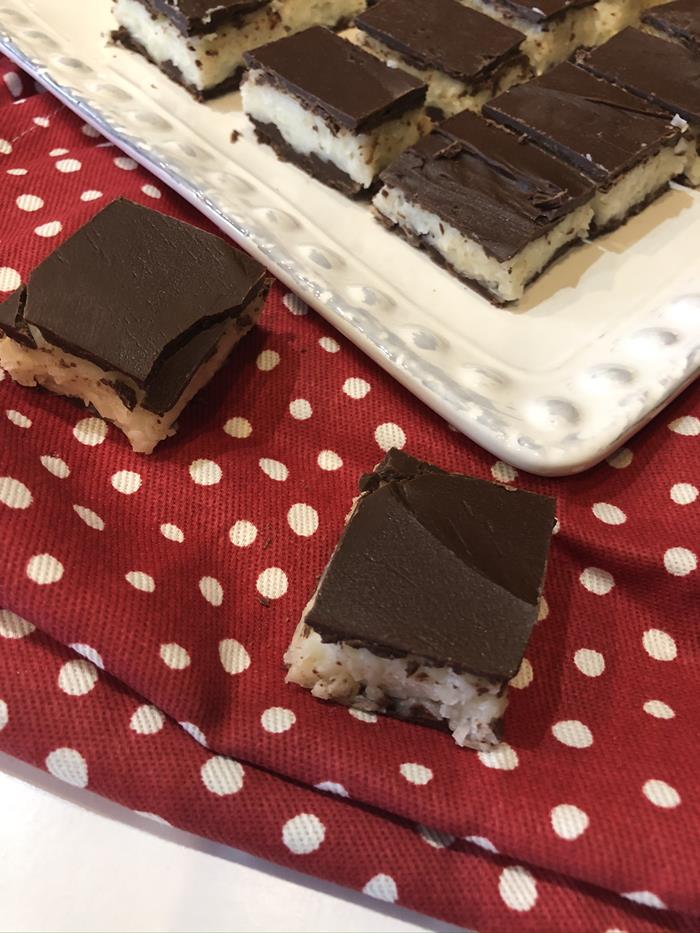 A copycat version of mounds bars is easy to make at home with this homemade mounds bar recipe.
Total Time
2 hours
35 minutes
Ingredients
2 -14 ounce bags of coconut
1 can sweetened condensed milk
1/2 cup butter, softened
1 lb powdered sugar
3 cups of chocolate chips
2 teaspoons of butter
Instructions
In a large bowl mix together the coconut, sweetened condensed milk, 1/2 cup butter, and powdered sugar. Mix to combine well.
Spread mixture onto a cookie sheet lined with parchment paper ( I like to my silicone baking mat.) Refrigerate for at least 2 hours.
Melt 1 1/2 cups chocolate chips and 1 teaspoon of butter in the microwave stirring every 30 seconds until melted. Spread over chilled coconut mixture and chill until chocolate is set.
Flip bars over and carefully peel or parchment paper. Melt remaining chocolate and butter. Spread over the coconut layer. Chill.
After firm, bring to room temperature and then cut them into pieces. If the chocolate is solid these will be hard to cut. I bring them to room temperature to cut them, and then put them back in the refrigerator to store them.

Notes
If you want to make an almond joy style bar add almonds to the coconut mixture.
This is how I spread them into bars and cover them in chocolate.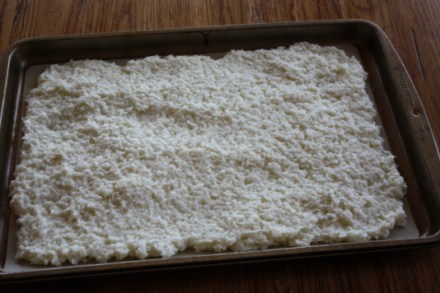 Spread mixture onto a cookie sheet lined with parchment paper ( I used my silicone baking mat on the ones in the picture). Refrigerate for at least 2 hours.

Originally posted March 2010. Updated December 2019.