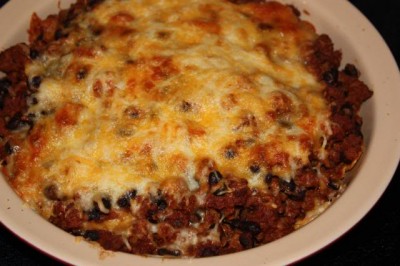 I made this recipe recently and my kids loved it. My kids miss some of their favorite dishes that we are no longer eating because of my gluten free diet. I was feeling sorry for them. Overall they have been great about it, but I knew they needed a good kid friendly meal. However, I wanted to find a gluten free meal that we all could enjoy.
So, I went through some old Taste Of Home recipes that I had and found this one. I knew right away my kids would love it. This recipe proves that eating gluten free can be normal everyday food.
This recipe is not healthy, but it is kid friendly. It is also easy and a pretty frugal meal.
I made this gluten free by using gluten free Doritos. Some flavors are gluten free and some are not. I used the Cool Ranch, because those were gluten free and they worked fine. I also made my own taco seasoning for this, so that I would be sure it was also gluten free.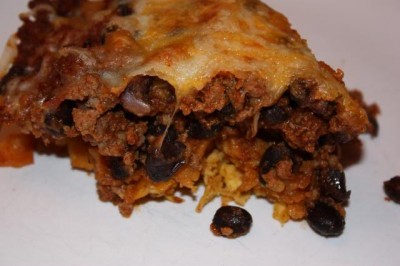 Nacho Tortilla Chip Pie
2 cups for coarsely crushed nacho cheese tortilla chips
1 pound ground beef
1 can tomato sauce
1/2 cup water
1 package of taco seasoning
1 can black beans, rinsed and drained
sliced black olives
1 cup shredded monterey jack cheese
Place tortilla chips in an ungreased 9-in. pie plate; set aside. In a large skillet, cook beef over medium heat until no longer pink then drain. Add the tomato sauce, water,beans, olives,  and taco seasoning. Bring to a boil; cook and stir for 2 minutes or until thickened.
Spoon half of the meat mixture over chips; sprinkle with half of the cheese. Repeat layers. Bake, uncovered, at 375° for 10-15 minutes or until heated through and cheese is melted. Serve immediately.
For more frugal meals see
$5 Dinners
.