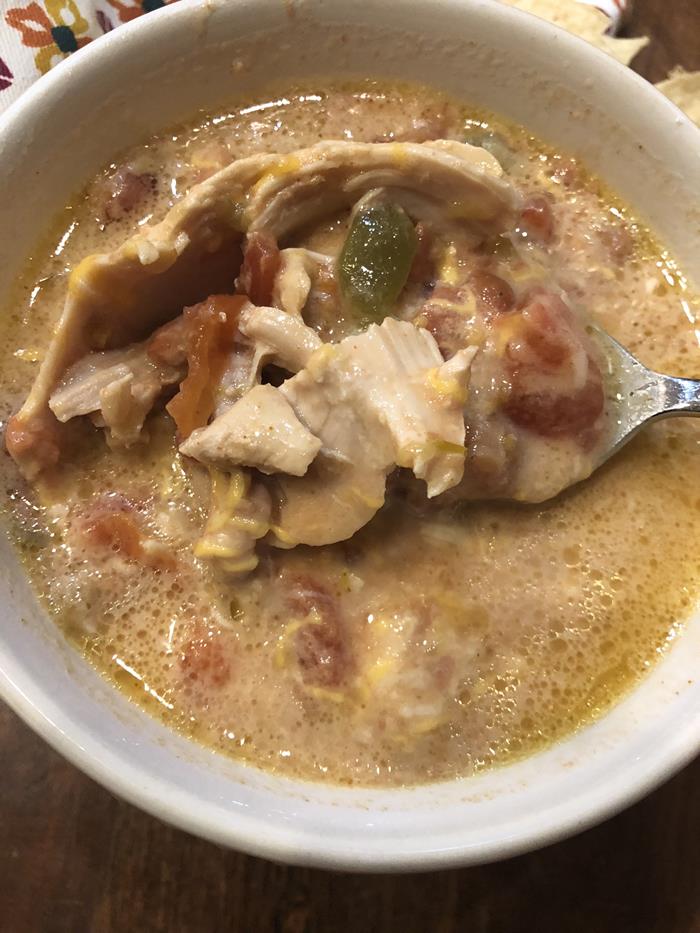 Cheesy Chicken Chili is a simple slow cooked soup and a delicious way to change up your basic chicken chili.
It is soup season!
I know soup can be eaten anytime of year, but I am a soup in cold weather type of person. Fall and winter at our house means that soup or chili is on the menu plan at least once a week.
This recipe for cheesy chicken chili is a simple soup that my family loves.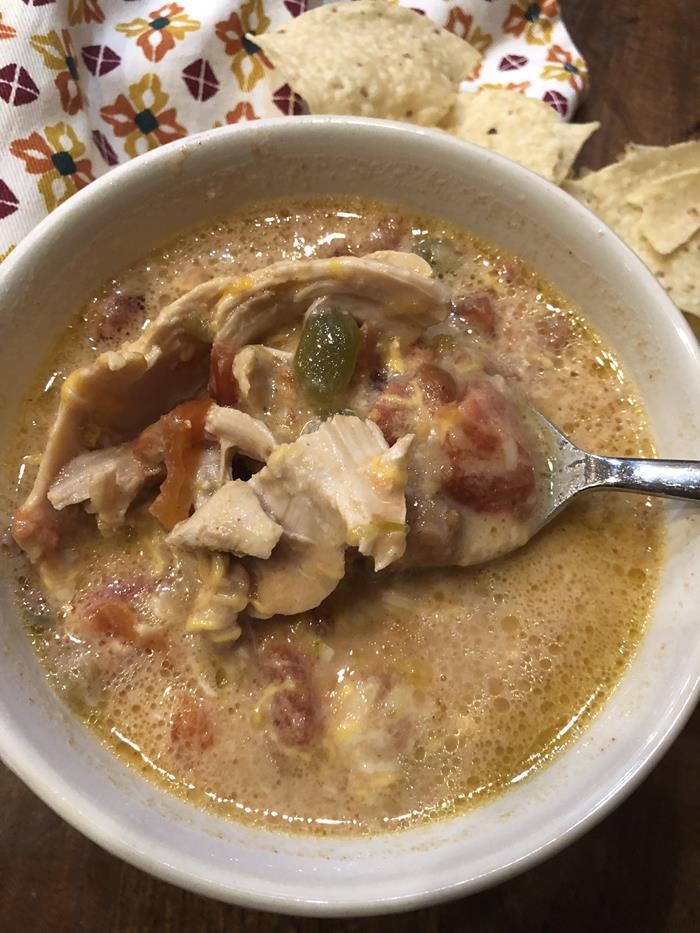 One of my daughters eats dairy free. Or at least mainly dairy free. I try to make most or our dinners dairy free or at least make them so that the cheese can be left off her portion.
Lately though she has been gone one night a week. Since she doesn't eat dinner with us that day, we have decided that the night she is gone we will eat a cheesy dinner. Or a dairy filled dinner.
Basically we will eat foods that she can't have. It has been a good way to eat some of the foods that we avoid making for dinner when she is home.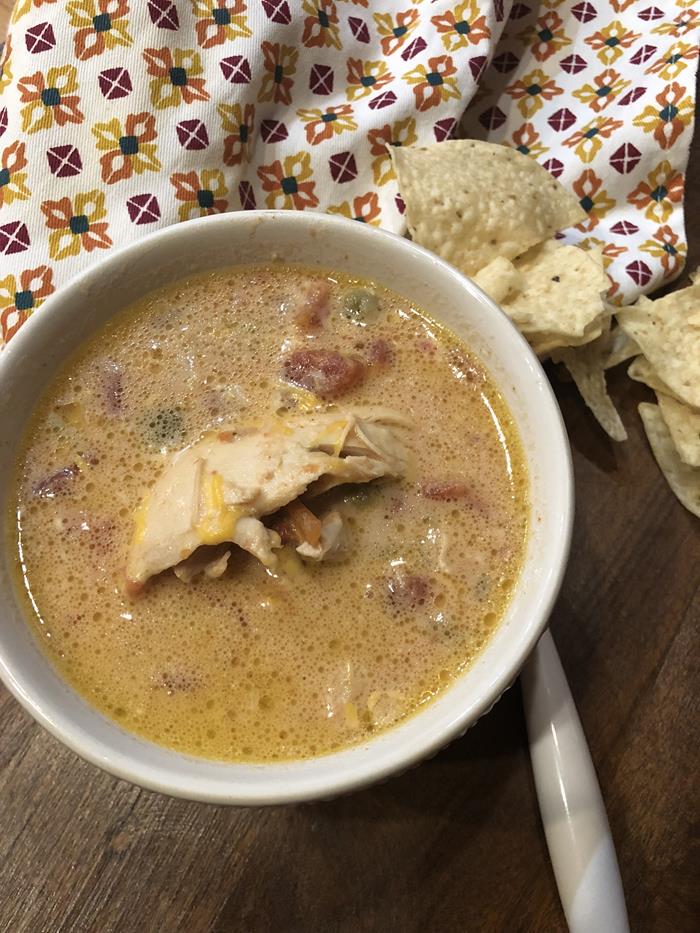 A few weeks ago I made this cheesy chicken chili and we loved it. I basically adapted a couple of chili/soup recipes into one and it was delicious!
It is also normal food that just happens to be gluten free. I love recipes like that!
Need some more soup ideas? Try one of our favorites.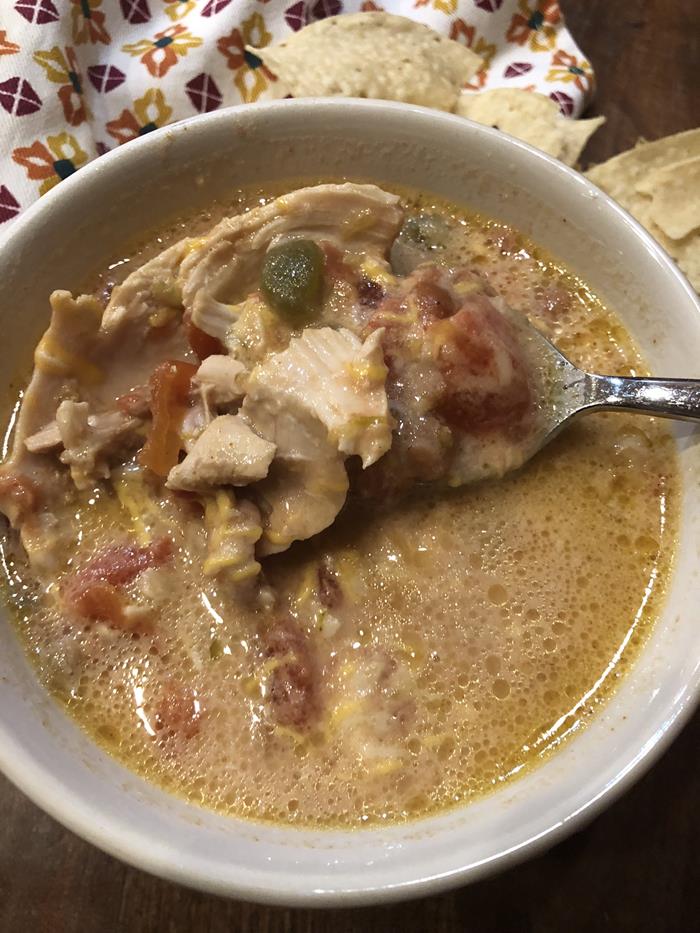 Yield: 10 servings
Cheesy Chicken Chili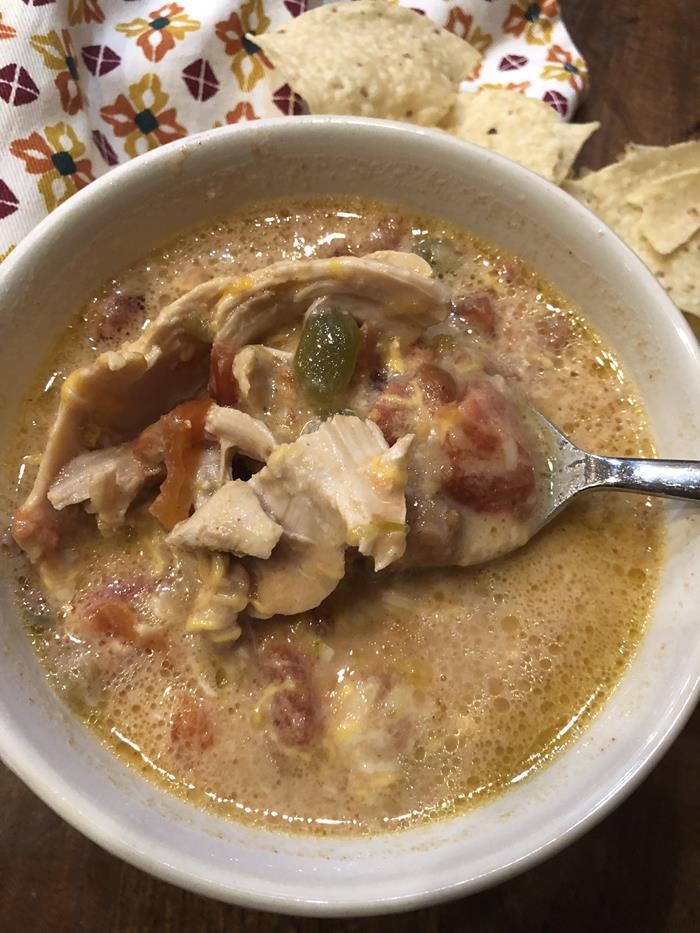 Cheesy Chicken Chili is an easy slow cooked recipe and a delicious way to change up your basic chicken chili.
Total Time
6 hours
10 minutes
Ingredients
2 pounds boneless skinless chicken
2 cloves garlic, minced
1 14 ounce can chili beans
3 14.5 ounce cans diced tomatoes
2 4.5 ounce cans chopped green chilies
1 teaspoon chili powder
1 12 ounce can evaporated milk
2 cups shredded cheddar cheese
Instructions
Place chicken in slow cooker.
Add garlic, chili beans, tomatoes, chilies, and chili powder. Stir to combine.
Cook on low for 5-6 hours or on high for 4-5 hours. Or until chicken is done.
Shred chicken slightly using two forks or remove from soup, shred, and stir back in soup.
Add evaporated milk and cheese. Stir and cook on warm for 15-30 minutes or until heated through and cheese is melted.
Serve with chips, sour cream, salsa, etc.