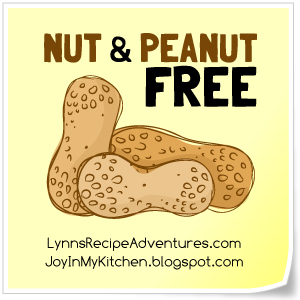 This post is the fourth post in a series that SnoWhite and I are doing on living with Nut Allergies. This week we are talking about communicating with friends and family members. Please be sure to read SnoWhite's thought on this issue. She has been dealing with nut allergies most of her life and her information has been very helpful to me.
The subject of communicating with friends and family about the seriousness of a nut allergy is a difficult one. When you have a nut allergy, or a child with a nut allergy, it is your job to protect yourself or your child. It is ultimately my job to protect my daughter from exposure to nuts or peanuts, and I know I have to take that seriously.
Anyone that has had a severe reaction to food, or has seen their child have a reaction, knows how scary it is. It is not something that you want to risk. It really is not worth risking your life, just to eat something, so many times the best option is to just not eat.
This is where the issue of family and friends is difficult. We have already had many times where family or friends try to convince us that food is safe. Sometimes we do end up feeling the item is safe, but many times we choose to not eat the item in question, and this is where family and friends sometimes struggle to understand.
I think the main issue is that so many people do not realize how serious some food allergies are. They think of a regular allergy, but we are not talking about a simple rash or reaction that a cream, or dose of benedryl, will cure. We are talking about a life threatening allergy. One that can potentially kill you.
So, what is the best way to communicate this to friends and family.
I just try to be honest and explain the issue. When someone says, "but I made sure not to put nuts in this", I try to explain the issue of cross contamination. Most people do not think about the cross contamination problem. They do not realize that the peanut butter and jelly sandwich they made in their kitchen, just minutes before they made a dessert or salad, puts my daughter at risk.
I try to give them an example like, "What if peanut butter was on your finger, and you did not wash all the peanut butter off, then you went on to make that salad you are trying to serve us. " Most people don't think about or realize the hidden dangers that those with food allergies deal with. We need to help them understand issues like reading labels and cross contamination.
I have found that most of the time people understand, but I have also come to realize that there are going to be times that people are offended because I will not serve my daughter their food, and I am okay with that. My daughter's life is more important than offending Aunt Sally or anyone else.
This is a difficult issue, so I would love to hear your thoughts. What are your tips for helping family and friends understand nut allergies?
I am not a Doctor. I am simply a mom sharing our journey with nut allergies.