One of the things that I love to do for Christmas is to make breakfast special. Breakfast is often a forgotten meal, where we rush about trying to get started with our day. But during the holidays it is so nice to slow down and spend some time with our family, enjoying a nice breakfast.
My mom always made special holiday breakfasts when I was growing up and we always loved them. In fact, they are one of the things that I remember most about the holidays.
So, I encourage you to slow down during the holidays and make a special breakfast or two for your family. Enjoy a special meal together and create a few memories.
This Orange French Toast that I am sharing with you today is a perfect special breakfast of the holidays. This is a recipe that I have been making for years. This recipe is one of those treasured recipes that is hand written on a 3×5 card and was given to me when I got married. I love recipes like this that are passed on to one another like that.
A few weeks ago Udi's sent me a box full of gluten free breads to try and challenged me to use them in a recipe. Several in my family eat gluten free, so I was thrilled to give this a try.
French toast is not something that we have enjoyed a lot the last two years and I immediately knew it was what I wanted to use some of my Udi's bread for.
And I am so glad I did. I forgot how much I missed french toast, especially this orange french toast. Really, I could not tell a difference at all. It was so good!
I love french toast and this Orange French Toast is a little different than your normal french toast, so it makes a perfect holiday breakfast.
This is one of those recipes that works well both gluten free and non gluten free. It is a breakfast anyone can enjoy!
Orange French Toast
4 eggs
1 cup orange juice
1 tablespoon brown sugar
10 slices of bread (It may take a little more or less depending on the sizes of your pieces.)
In a shallow bowl or pan combine eggs, orange juice, and brown sugar.
Dip bread in orange juice mixture until well soaked on both sides.
Place on a hot griddle or pan. Cook about 2 minutes or until golden brown. Flip over and cook the other side until golden brown.
Serve and enjoy!
I was sent some Udi's gluten free breads to try, but my thoughts and opinions are my own.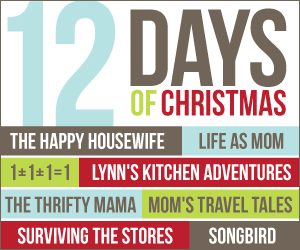 For more great Christmas ideas please visit the other bloggers joining me on this series.
Christmas Homeschool Fun: 1+1+1=1
Christmas Decorations: Songbird
Tips for a Healthy Holiday: The Thrifty Mama
Saving Money: Surviving the Stores
Travel Tips: Mom's Travel Tales
Christmas Family Fun: Life as Mom
Homemade Christmas Gifts: The Happy Housewife