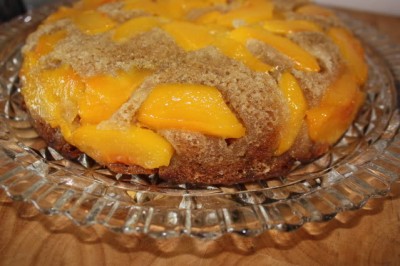 This recipe comes from the cookbook Baking: From My Home to Yours
by Dorie Greenspan. My sister first told me about this cookbook a couple of years ago. I checked it out from my library and instantly loved the cookbook. The pictures, the recipes, and the stories that go with each recipe. I really wanted this cookbook, but it is a bit expensive. Then I found a website where members are baking their way through this book. I loved the website and would check it weekly, but I still really wanted the cookbook.
I gave up on the idea of the cookbook because it was so expensive, but then I found it new for $15. I could not believe the price. I was so glad I waited. I actually bought two copies because it was such a good price, and I gave my sister one as a gift.
I have tried several recipes out of this cookbook and all of them have turned out well. I recently tried her version of upside down cake. Dorie of course, puts her twist on it giving you two versions. The main recipe is for Cranberry Upside Down cake and then she gives you an alternative recipe for a peach version. Since I went to the peach orchard recently, I knew I wanted to try the peach version.
I don't remember ever having a peach upside down cake and thought this recipe sounded very good. So, I gave it a try and it was really good. Upside down cake is one of those old fashioned type comfort food desserts. They are so simple, yet so good and this recipe is no exception.
Peach Upside Down Cake
1 cup flour
1 teaspoon baking powder
1 teaspoon ground cinnamon
1/4 teaspoon salt
14 tablespoons butter, at room temperature (divided)
1 cup minus 2 tablespoons of sugar (divided)
2 eggs
1 teaspoon vanilla
1/3 cup milk
1/4 cup chopped pecans (I left these out b/c some in my family do not like nuts)
3-4 peaches, peeled and sliced
Whisk together flour, baking powder, cinnamon, and salt. Set aside.
In a small saucepan melt 6 tablespoons of butter. Add in 6 tablespoons of sugar and stir until mixture comes to a boil. Pour this into the bottom of a 8 x 2 cake pan. (My cake pan was not quite 2 inches deep and this just barely fit. Next time I will use  9 inch pan.) Carefully place peaches and nuts on top of sauce. Set aside.
With a mixer beat remaining 8 tablespoons of butter and remaining 1/2 cup sugar until pale and creamy. This will take about 3 minutes. Then add eggs one at a time, scraping down bowl as needed. Add vanilla then reduce speed to low. Add 1/2 of the dry ingredients, mix, then add milk, then the rest of the dry ingredients. Do not over mix. You want this to be mixed together, but don't mix it too much. Spoon carefully over peaches and nuts.
Bake at 350 for 40-45 minutes. Remove from oven and run a blunt knife between the sides of the pan and the cake. Carefully turn cake over onto a serving platter. If some of the peaches and nuts stick, which they may, just scrape them off and place on cake.
I think this is best served warm with a little whipped cream on top. Enjoy!