Peanut Butter and Jelly Baked Oatmeal Muffins are an easy make ahead breakfast that kids love!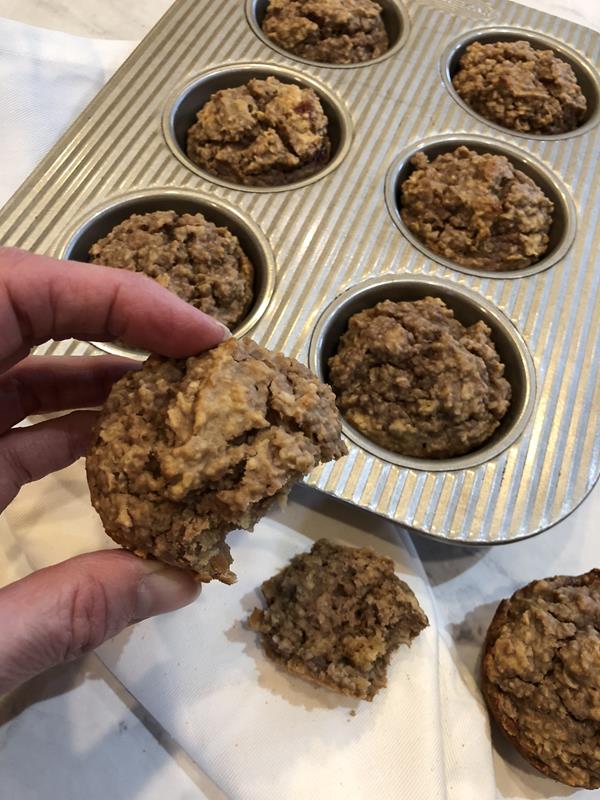 The classic combination of peanut butter and jelly mixed with oats make for a delicious breakfast treat!
If you need a quick and easy make ahead breakfast baked oatmeal muffins are a must make. Kids and adults love these.
They are easy to make for a quick breakfast because they only take about 15 minutes to bake.
They can be made ahead and reheated and they freeze well. Make a large batch and stock your freezer with some easy freezer breakfasts!
Breakfast happens on the go for many people as they head to work, school, and other daily activities.
Muffins make a great grab and go breakfast, but they often don't stick with you for very long because they are not very filling. Adding peanut butter and oatmeal to a muffin makes it a more filling breakfast option.
Peanut Butter and Jelly Baked Oatmeal Muffins are also great because they can be changed up. You can use whatever kind of jelly that you have on hand or that you enjoy.
By the time you mix together peanut butter, jelly, and oats, they are not the prettiest breakfast or muffins, but they are so good!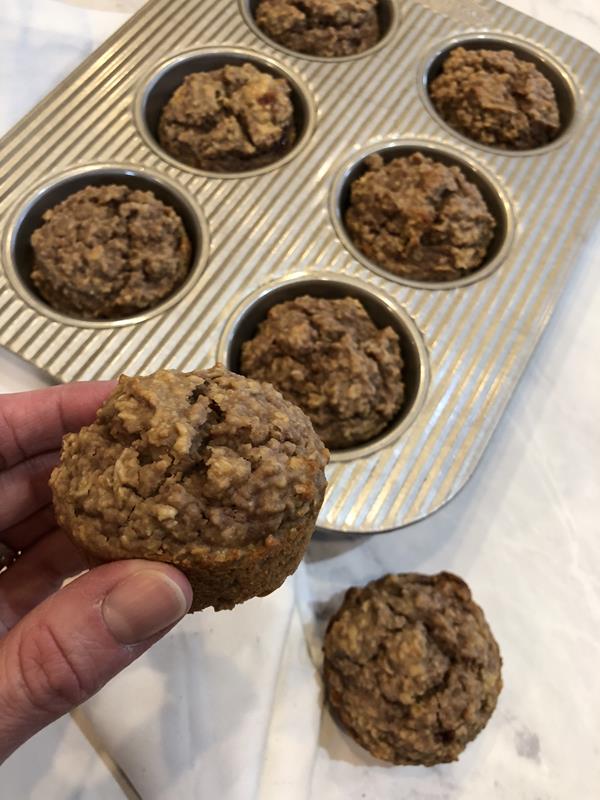 My daughter has a peanut allergy so we now make these with sunflower butter or soy butter. If you can't have peanut butter any nut butter or peanut butter substitute should work fine in these.
You may be wondering if these be made gluten free? Yes, they are easy to make gluten free. They don't contain flour so that part is easy. They do have oats in them though so if you are gluten free and can tolerate gluten free oats, just use gluten free oats to make them gluten free.
Need more easy make ahead breakfast ideas?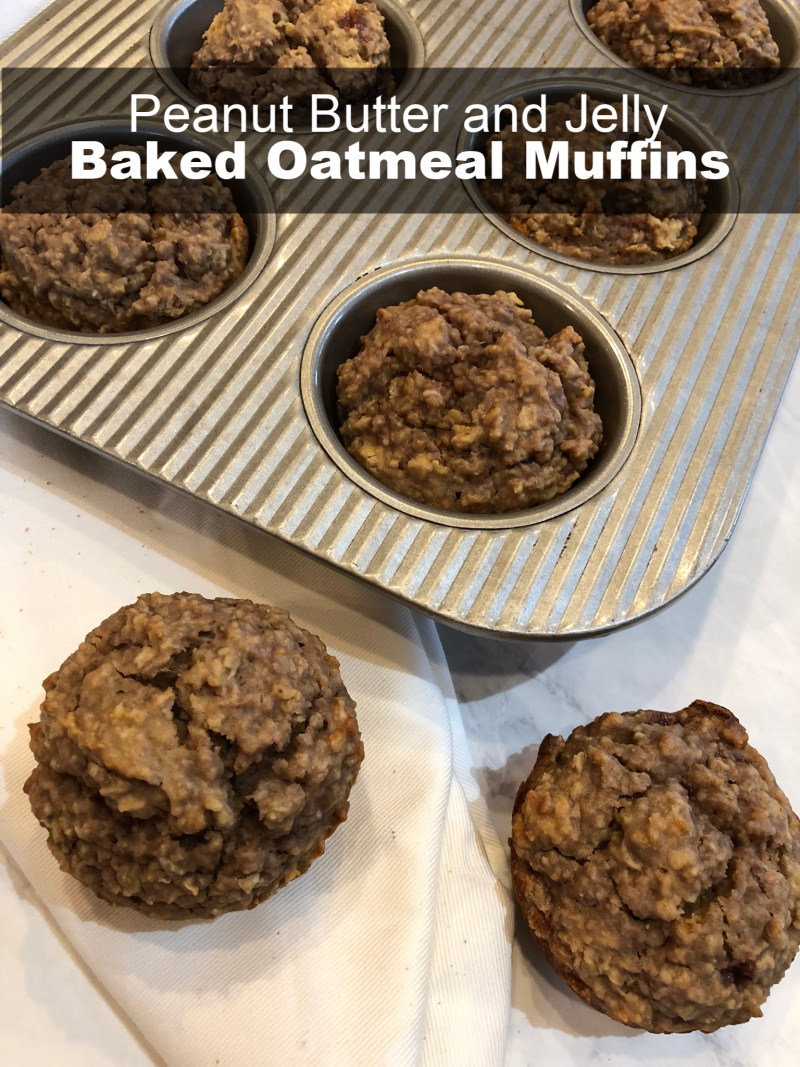 Yield: 15 muffins
Peanut Butter and Jelly Baked Oatmeal Muffins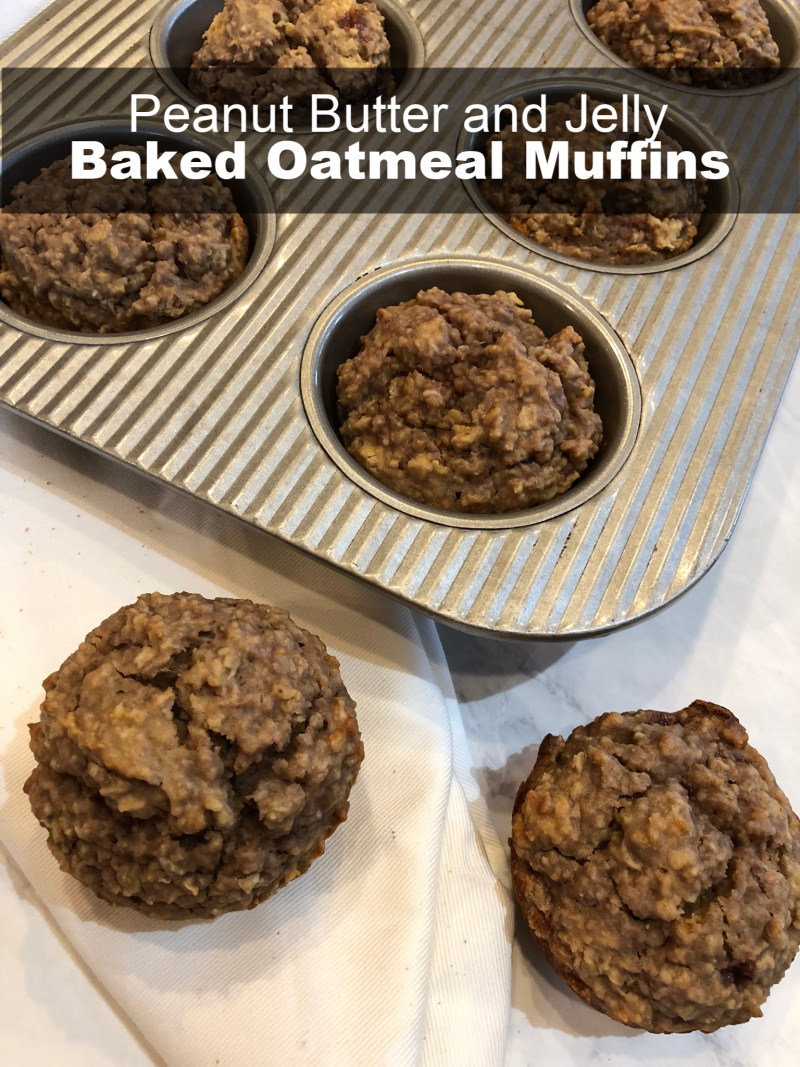 Peanut Butter and Jelly Baked Oatmeal Muffins are a quick and easy breakfast that can be made ahead.
Ingredients
3 cups quick cooking oats- use gluten free quick oats if you are gluten free
1/2 cup brown sugar
1 cup milk
2 tablespoons butter, melted
2 eggs
2 teaspoons baking powder
3/4 teaspoon salt
2 teaspoons vanilla
1/2 cup peanut butter ( this works well with soy butter or other peanut butter alternatives)
3/4 cup jelly, any kid that you enjoy will work
Instructions
Preheat oven to 350 degrees.
Line muffin pan with lines or grease well.
In a bowl combine all ingredients except jelly. It doesn't matter the order you mix them in. Just put the ingredients in a bowl and stir well to combined.
Once well combined stir in jelly. Stir just until it is mixed in evenly.
Scoop into prepared muffin pan filling each cup about 3/4 full.
Bake for 15-18 minutes or until muffins are set.
Cool in pan for a couple of minutes.
Serve warm or let cool completely and reheat for an quick breakfast.
For freezing let muffins coll completely, wrap muffins well, and freeze.
Nutrition Information:
Yield:
15 muffins
Serving Size:
1 muffins
Amount Per Serving:
Calories:

207
Total Fat:

8g
Saturated Fat:

2g
Trans Fat:

0g
Unsaturated Fat:

4g
Cholesterol:

30mg
Sodium:

254mg
Carbohydrates:

29g
Fiber:

2g
Sugar:

13g
Protein:

6g