Need some easy make ahead breakfast ideas? I am sharing some of my favorite make ahead breakfast that all freeze well.
The saying is that breakfast is the most important meal of the day, but most people struggle to get breakfast on the table everyday.
In the middle of the morning craziness it can be hard to serve a breakfast that everyone will enjoy.
One of the ways that I have found to make the mornings a little less crazy is to make breakfast ahead of time. I love to take a few hours each month to put a few breakfast things in the freezer.
It makes our mornings so much easier when we can just quickly grab and reheat something before starting our day.
Today I am sharing a few of our favorite make-ahead breakfasts. These recipes are all easy to make and kids love them!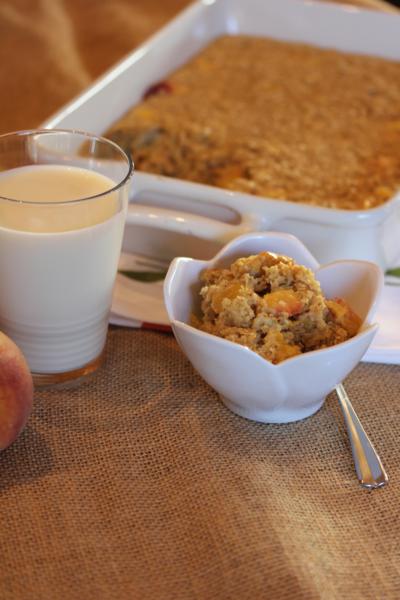 I have talked about my freezer baked oatmeal before, but I have to mention it again because it really is one of my favorite make-ahead breakfasts. You might have guessed that my family loves baked oatmeal and that I have quite a few recipes.
Over the years, I have shared over fifteen baked oatmeal recipes. One of the things I love about baked oatmeal is how easy it is to make ahead.
You can easily mix up all the ingredients that night before and pour them into a 9×13 pan. Refrigerate it overnight and bake in the morning.
You can also make it and bake it and just reheat it throughout the week. I love doing this and I often make two or three pans and keep them in fridge for my kids to reheat during the week for a quick and easy breakfast.
Baked oatmeal also freezes great. Just bake it, let it cool, freeze it, defrost, and reheat as needed.
Here are some of my favorite baked oatmeal recipes.
Pancake muffins have been a favorite of my kids for years. Kids and adults love these. If you have never made pancake muffins you need to. They make pancakes easy!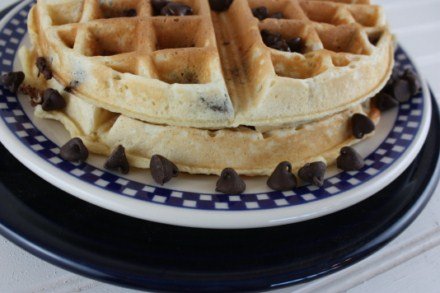 Banana Waffles are another favorite of ours that I like to make in a large batch to make ahead and freeze. My kids just take them out and reheat them in the microwave, toaster, or toaster oven for breakfast.
I also have a gluten free banana waffle that is so good no one will know it is gluten free.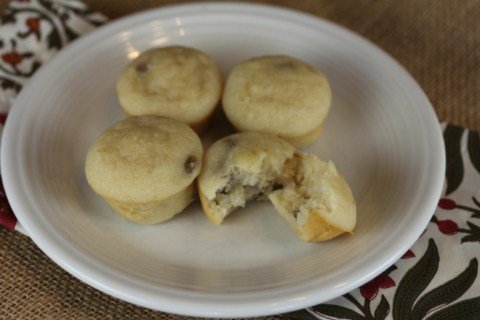 Maple sausage pancake muffins are a little different version of pancake muffins that my kids love. You can easily make these in a large batch to reheat during the week or make a large batch to freeze. So easy and so good!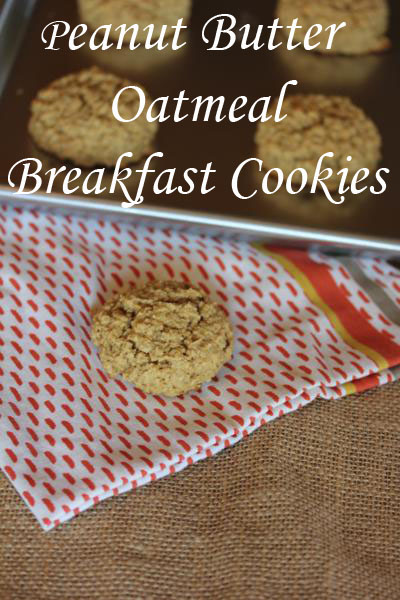 Cookies for breakfast? Yes, please! My kids love these Peanut Butter Oatmeal Breakfast Cookies and they freeze great!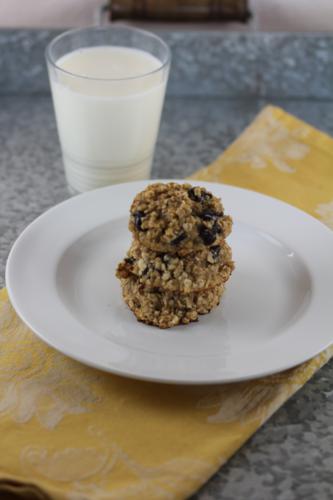 Banana Oatmeal Breakfast Cookies are another breakfast cookie that my kids love. I mean really how can anyone not like a cookie for breakfast.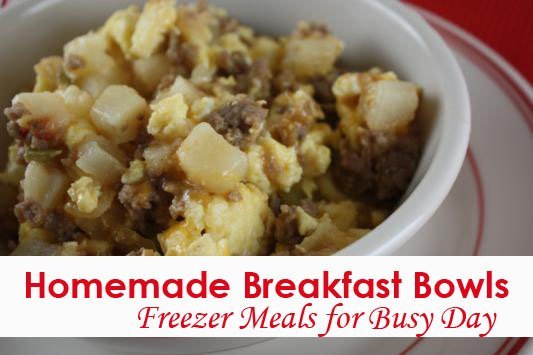 I am sure many of you have seen the breakfast bowls in the freezer section at the grocery store. Did you know that you can easily make them at home? The homemade version is cheaper to make and lets you control the ingredients.
They are easy to make in a large batch to reheat during the week. I also love to freeze homemade breakfast bowls in small containers that we can just take out of the freezer as needed. My husband also likes to take these for lunch because he can just heat them up at work.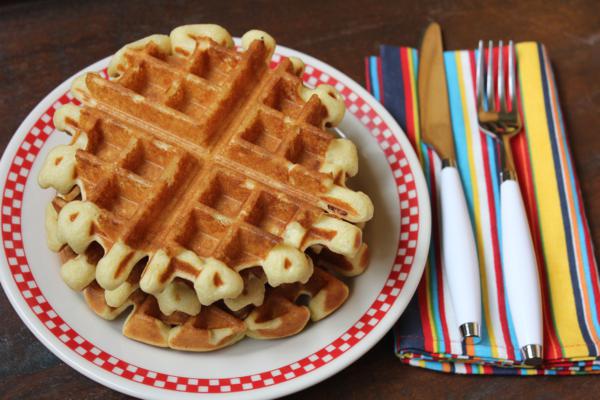 Waffles in general are a favorite breakfast of ours. We love to eat them as breakfast, breakfast for dinner, and freeze them ahead for reheating during the week. I have shared quite a few waffle recipes over the years including a light and fluffy waffle, a dairy free waffle, and a gluten free dairy free waffle. All three are delicious and freeze great!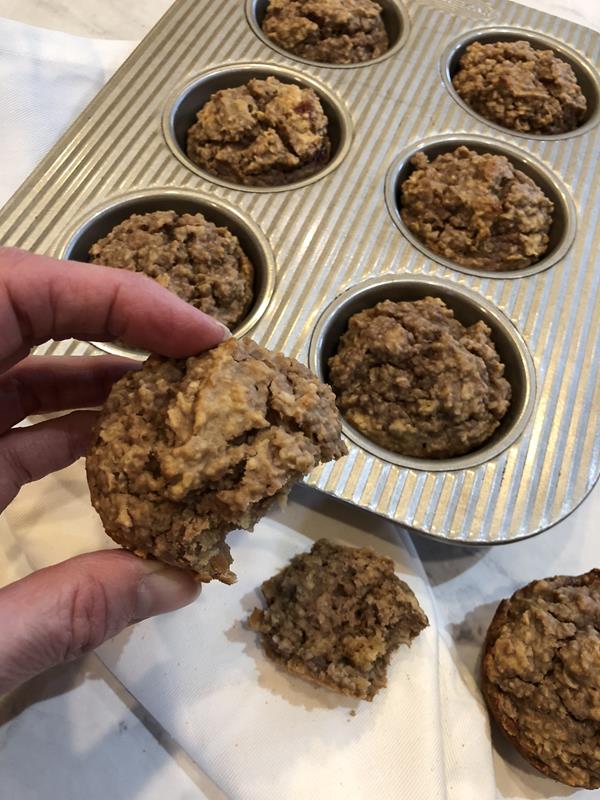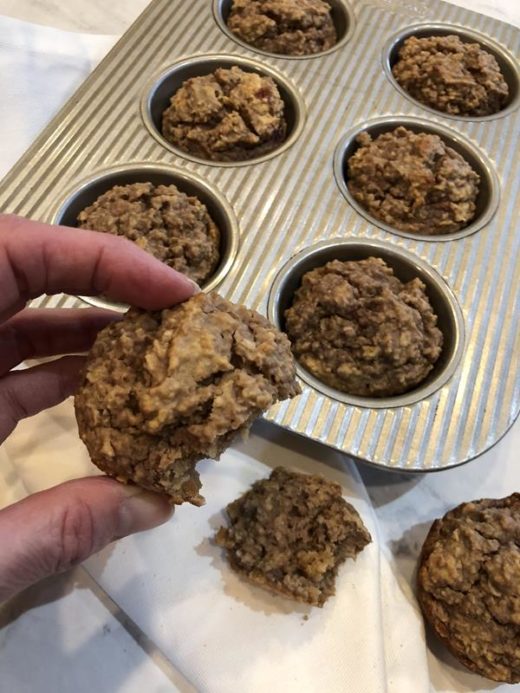 Peanut Butter and Jelly Oatmeal Breakfast Muffins combine the classic flavors of a PB&J into a delicious breakfast muffin. These can be made ahead and reheated during the week or made ahead and frozen.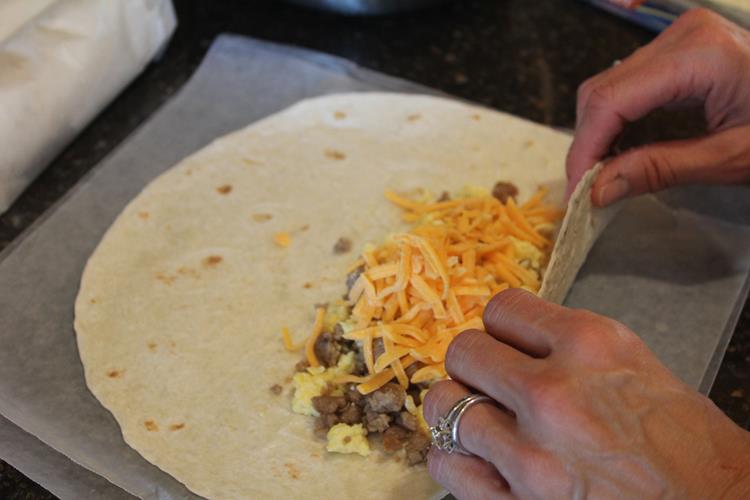 I mentioned Homemade Frozen Breakfast Burritos last week in my easy freezer friendly meals post, but I had to mention them again because they are one of my son's favorite freezer meals. My husband also loves these for breakfast and even for lunch.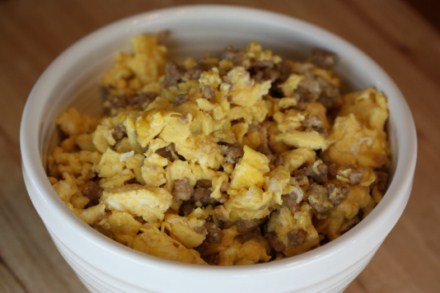 Eggs and Sausage is one of my favorite things to keep in the freezer. I love how easy they are to make in a big batch and how easy they are to freeze. Plus, I just love to eat them. You can eat them as is or make a breakfast burrito out of them. I also love to make and freeze my scrambled eggs with onions, sausage, and peppers.
What is your favorite breakfast to make ahead or keep in the freezer?
Need more tips for filling the freezer? Check out these ways to stock your freezer.