Pizza Chicken is a quick and easy dinner that your family will love.
If you stick the word pizza in just about anything my son loves it. Pizza, pizza soup, mexican pizza, breakfast pizza, pizza fries, and just about anything else that has the name pizza in it. There is just something about pizza that kids love.
This chicken is no different. It is called pizza chicken and it is just that. Chicken with all the flavors of pizza. You really can't go wrong with that!
I can't take credit for this idea though. I wish I had thought of it years ago, but I got the idea from magazines and other websites over the last few months. I am not sure how I missed it, but apparently pizza chicken has been a thing for awhile.
There are a lot of different versions of this, but they are the same basic idea. Chicken on the bottom. Tomato sauce of some sort, pepperoni or sausage on top, and then some cheese on top of that.
When I make this I tend to use what I have. I don't really follow a recipe. Pizza or spaghetti sauce works. Pepperoni or sausage works. My family prefers pepperoni though.
For the cheese we like mozzarella, but again you can use what you have. We like chicken tenders if I find a good sale on them, but any boneless skinless chicken works. Take the basic idea and use what you have on hand or what your family likes.
No matter how you make it pizza chicken is a quick and easy dinner your family is sure to love!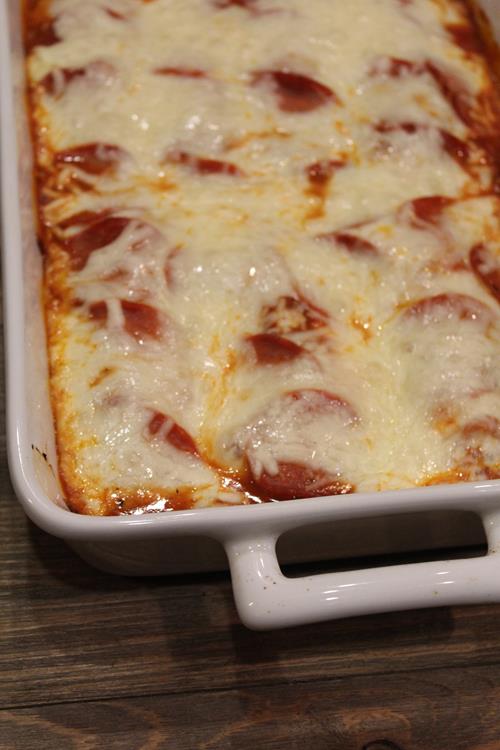 Pizza Chicken
24 ounces spaghetti or pizza sauce
2-3 lbs chicken tenders or boneless skinless chicken breasts cut into strips
4 ounces sliced pepperoni ( I like to use turkey pepperoni)
2 cups shredded mozzarella cheese
Preheat oven to 375 degrees.
Spread half of the sauce into a 9×13 pan.
Place chicken on top of sauce.
Pour remaining sauce on top of chicken.
Layer pepperoni on top of sauce.
Sprinkle with cheese.
Bake for 18-22 minutes or until chicken is done. (Chicken breasts or larger pieces of chicken may take longer.)