Pumpkin Chocolate Chip Baked Oatmeal is an easy and delicious breakfast your family will love.
Baked oatmeal turns oatmeal haters into people that love oatmeal. Yes, it really does.
Several people in my family do not like oatmeal. They actually hate oatmeal. But they love baked oatmeal.
I have heard the same thing from so many readers. My baked oatmeal recipes have turned so many oatmeal haters into oatmeal lovers.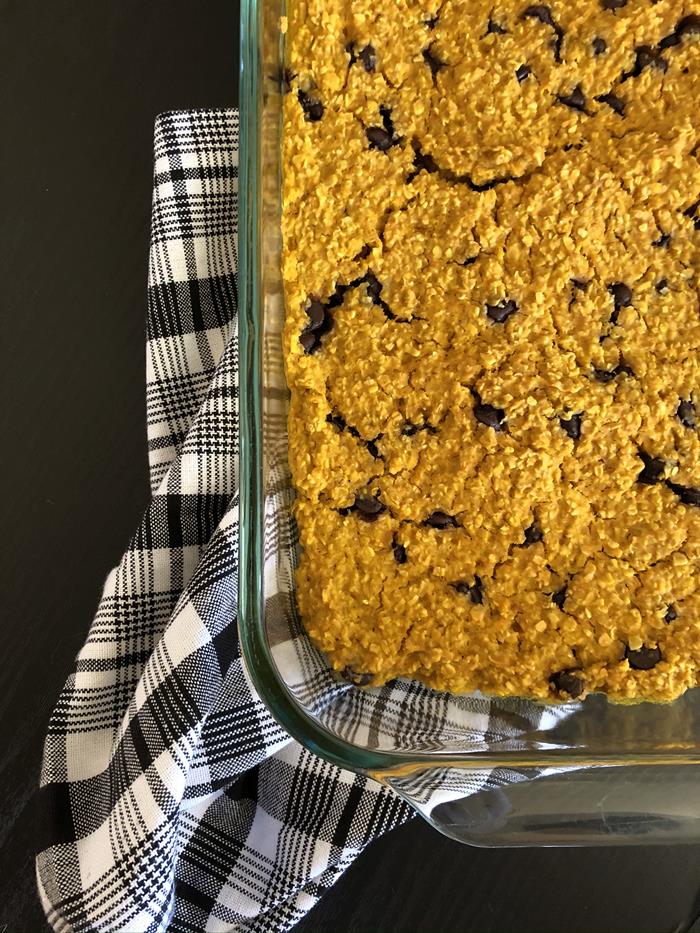 Pumpkin Chocolate Chip Baked Oatmeal is perfect for fall and winter. It also makes a great holiday breakfast.
If you don't love pumpkin be sure to check out my other baked oatmeal recipes. I have so many different variations and they are all ones that my family loves.
Why do so many people love baked oatmeal? The texture. The texture is very different from a bowl of normal oatmeal.
Baked oatmeal is kind of a cross between a bowl of oatmeal and a cake or bar. It not mushy. It can be scooped out or cut into squares.
It also reheats well. I almost always make several pans of baked oatmeal and my family reheats it for lunch during the week.
Baked oatmeal also freezes well, so make extra for the freezer.
Baked oatmeal can also be made gluten free by using gluten free oats.
I like to use quick oats for baked oatmeal, but you can also use regular oats. The texture will just be slightly different.
Have more questions about baked oatmeal? Be sure to read my post all about tips and recipes for making baked oatmeal.
Now for my Pumpkin Chocolate Chip Baked Oatmeal Recipe!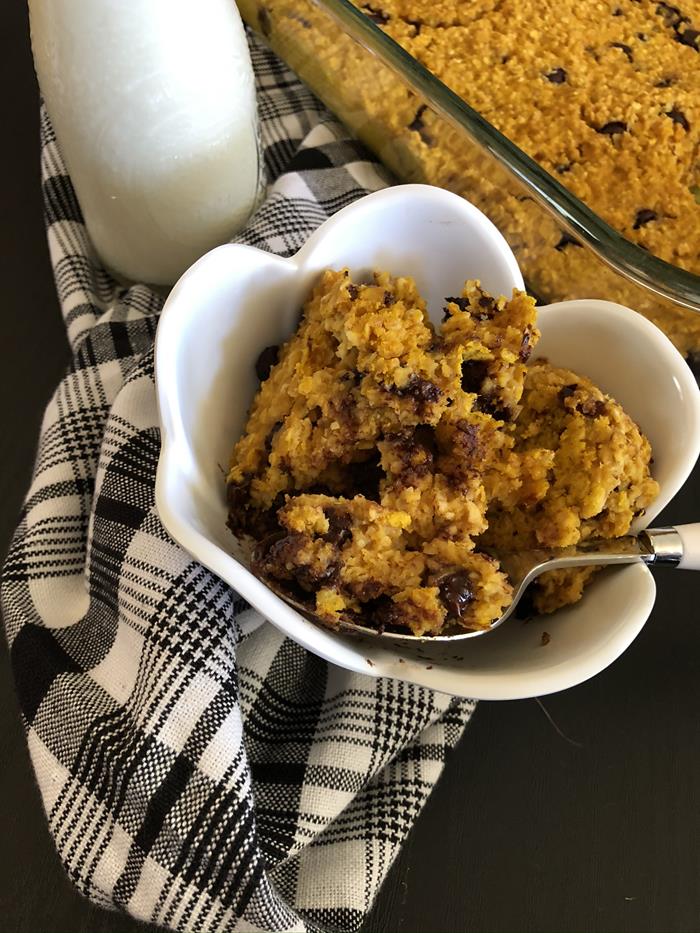 Pumpkin Chocolate Chip Baked Oatmeal
Pumpkin Chocolate Chip Baked Oatmeal is a quick and easy breakfast your family is sure to love! It turns oatmeal haters into people that love oatmeal!
Ingredients
3 cups quick cooking oats (use gluten free quick cooking oats for gf version)
1/2 cup brown sugar
1 cup milk
2 tablespoons butter
2 eggs
2 teaspoons baking powder
3/4 teaspoons salt
2 teaspoons vanilla
3/4 cup canned pumpkin
3/4 cup chocolate chips
Instructions
In a large bowl mix together all ingredients except the chocolate chips. Stir to combine well.
Stir in chocolate chips.
Spread into a greased 9×13 pan.
Bake at 350 for 20 minutes.
Serve with milk and enjoy!