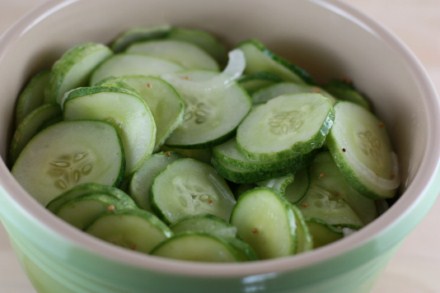 Refrigerator pickles, bread and butter cucumbers, bread and butter pickles, refrigerator cucumbers, there are many names for this dish. This basic cucumber recipe has been around for years and there are many variations.
My parents made a version of these all the time during the summer when I was growing up. We grew cucumbers in the garden and this was my dad's favorite way to serve them.
I am now growing cucumbers in my own garden and this is one of my family's favorite ways to eat them. My husband and girls will eat these by the handful for lunch, dinner, and even for a snack.
I recently made a big bowl of these for a church picnic and there were none left by the end of the evening. Everyone loved them.
The one thing I really love about these is that I can make a large batch and my family can eat them for several days. They will last for about two weeks in the refrigerator.
Do you have a version of refrigerator pickles? If so what do you call them?

Refrigerator Pickles
2-3 pounds cucumbers, sliced, this will be about 8 cups
1 medium onion, sliced
salt
2 cups sugar
1 cup cider vinegar
1 teaspoon mustard seed
In a colander set cucumbers over a medium bowl, toss cucumbers, and onion with about 1 1/2 teaspoons salt. Let sit about 30 minutes, tossing occasionally. This will help some of the liquid to drain from the cucumbers. In a small bowl, combine sugar, vinegar, and mustard seed. Add sugar and mix well. Place cucumbers into a large bowl or into jars. Pour vinegar mixture over the cucumber/onion mixture. Refrigerate at least 24 hours or for up to two weeks. Serve and enjoy.