A class swiss steak recipe is made gluten-free with this easy to make Slow Cooker Swiss Steak Recipe.
One of my goals over the next few months is to share more gluten-free main dishes in my gluten-free section. I know my readers are just like me. We all need quick and easy gluten-free meals that are family friendly and inexpensive to make.
So often people think of gluten-free food as food that needs special ingredients and a lot of work, but it does not have to be. Gluten-free can be quick, easy, and delicious without spending a fortune on groceries.
When I first went gluten-free I was overwhelmed at what we could not have, but I quickly realized that with some simple changes, along with reading labels carefully, many of our favorite foods could easily be made gluten-free.
Over the next few months, I plan to share some great new gluten-free main dishes along with some old favorites that I have adapted to be gluten-free. I have so many recipes in the main section of my site that can be made gluten-free with just a few changes.
I hope that sharing the changes needed to make them gluten-free it will help you in several ways. First, I hope it gives you new gluten-free family favorites. I also hope it will help those new to gluten-free in learning how to adapt recipes and make them safe for the gluten-free life.
The gluten-free recipe I want to share today is a simple slow cooker swiss steak that is so easy to make gluten-free. Not only is it easy to make, but it is also pretty inexpensive to make.
I grew up eating swiss steak and I love to now serve it to my family. It was one of those recipes that were so easy to adapt to gluten-free. The original recipe I shared last year in my main section called for flour. The easy replacement is a gluten-free flour blend or a combination of rice flour and cornstarch. Either one works well in this recipe because you just coating the meat in the flour mixture.
The second change I made was to make sure my Worcestershire sauce was gluten-free. In the US Lea and Perrins is gluten-free, at least according to their website. And I have never had a problem with it. There may be other brands that are gluten-free, but I use Lea and Perrins.
With two simple changes, I made a family favorite that we have made for years into an easy gluten-free meal.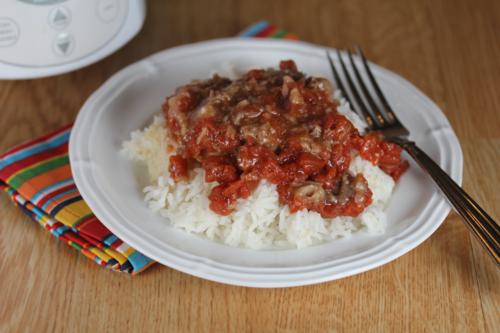 Yield: 6 servings
Slow Cooker Swiss Steak Recipe Gluten Free Recipe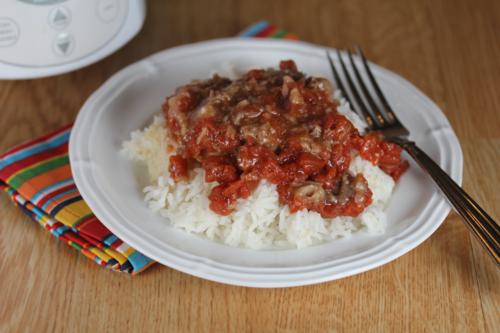 A classic swiss steak recipe made gluten free with this easy to make slow cooker swiss steak recipe.
Total Time
7 hours
8 minutes
Ingredients
1/4 cup gluten-free flour blend or 2 tablespoons rice flour and 2 tablespoons cornstarch
1/2 teaspoon salt
1/4 teaspoon pepper
1 1/2 pounds round steak, cut into chunks or strips
1 onion, chopped
1- 14 ounce can diced tomatoes
2 tablespoons gluten-free Worcestershire sauce
Instructions
In a shallow dish combine flour or cornstarch and rice flour with salt, and pepper.
Dredge the steak in the flour mixture until coated on both sides.
Place steak in a slow cooker.
Add the onions and diced tomatoes.
Cook on low for 7-8 hours or until tender.
Serve over rice or gluten-free noodles.
Nutrition Information:
Yield:
6
Serving Size:
1
Amount Per Serving:
Calories:

295
Total Fat:

11g
Saturated Fat:

4g
Trans Fat:

0g
Unsaturated Fat:

5g
Cholesterol:

102mg
Sodium:

355mg
Carbohydrates:

14g
Fiber:

2g
Sugar:

3g
Protein:

36g
Nutritional values are approxomite and aren't always accurate.