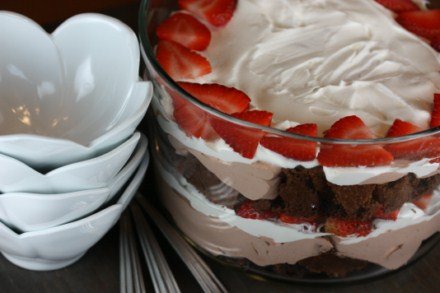 You can almost always find a container of COOL WHIP whipped topping in my freezer. One of the things that I love about COOL WHIP is how easy it is to take an everyday food and turn it into a special treat for my family.
One of my favorite ways to use COOL WHIP whipped topping is in trifles.
Trifles are the perfect way to take an everyday store bought treat, or mix, and turn it into an dessert that your family will love.
They are quick and easy to make, so they make a great dessert to make anytime.
Strawberry Brownie Trifle
1 (19.8 ounce) package brownie mix ( I use my gluten free brownie mix recipe)
1 (3.9 ounce) package instant chocolate pudding mix
1/2 cup water
1 (14 ounce) can sweetened condensed milk
2 (8 ounce) container COOL WHIP whipped topping, thawed
3 cups sliced strawberries
Prepare brownie mix according to package directions and cool completely. Cut into 1 inch squares.
In a large bowl, combine pudding mix, water and sweetened condensed milk. Mix until smooth, then fold in one 8 ounces COOL WHIP whipped topping until no streaks remain.
In a trifle bowl or glass serving dish, place half of the brownies, half of the pudding mixture, have the strawberries, and half of the other 8 ounce container of COOL WHIP whipped topping. Repeat layers. You can place some extra strawberries on top if desired. Refrigerate 2-4 hours before serving.
Note: For today's recipe I used brownies, but you could easily make this same recipe using a store bought pound cake and it would still be very delicious.