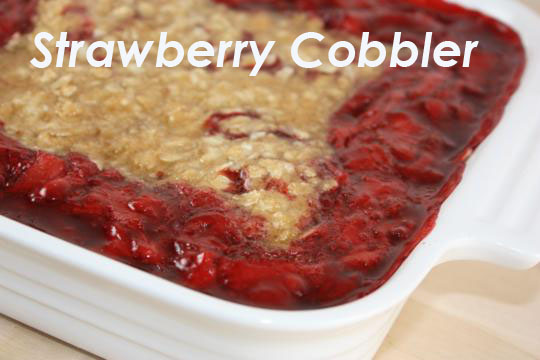 When I saw this recipe in Paula Deen's magazine I knew I wanted to try it. I grew up picking and eating strawberries, yet I do not remember ever having a strawberry cobbler. We ate peach, blackberry, and other types of cobbler, but never strawberry.
All I can say is I am so glad I found this recipe. Strawberry cobbler will definitely be a dessert I make again during the spring and summer.
Like most cobblers, this recipe is quick and easy to make. I think it is best served warmed with a little ice cream, but feel free to eat it however you want to.
I did change a couple of things in the recipe, but we love what I came up with. Sorry Paula, I just can't leave a recipe alone.
Am I the only one that had never heard of strawberry cobbler? Have any of you had it before?

Strawberry Cobbler
2 1/2 – 3 lbs strawberries, sliced
1/2 cup sugar
2 tablespoons cornstarch
2 tablespoons water
3/4 cup brown sugar
3/4 cup quick cooking oats
1/2 cup flour ( I used a gf blend and it worked great)
1/2 cup butter
In a saucepan combine strawberries and regular sugar. Let sit for 30 minutes.
After sitting 30 minutes, cook over medium heat for 5 minutes.
In a bowl combine cornstarch and water. Stir into berry mixture and bring to a boil.
Boil 1 minute or until mixture is thickened.
Spoon mixture into 8×8 or similar pan.
In a bowl combine brown sugar, oats, and flour.
Cut in butter to form a crumbly mixture.
Spread evenly over strawberry mixture.
Bake at 350 for 25-30.
Best served warm with ice cream.