Need an easy old fashioned dessert perfect for spring and summer? Strawberry cobbler is easy to make, tastes great, and is a great dessert to make during strawberry season.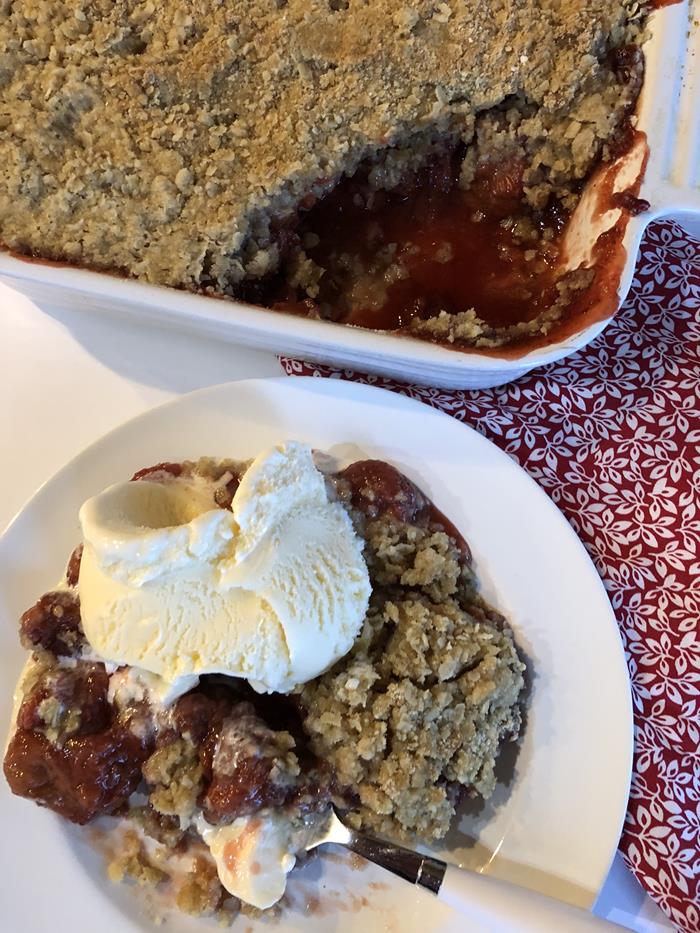 Strawberry cobbler has been a favorite dessert in our family for years. We love making strawberry cobbler during the spring and summer.
When I saw a recipe years ago in Paula Deen's magazine for strawberry cobbler I knew I needed to try it.
I grew up picking and eating strawberries, yet I do not remember ever having a strawberry cobbler. We ate peach, blackberry, and other types of cobbler, but never strawberry.
However, once I tried strawberry cobbler it quickly become a favorite. I still make blackberry, blueberry, and other cobbler recipes, but strawberry cobbler is perfect for strawberry season.
I have adapted the recipe over the years, but it is the same basic idea.
What Is a Cobbler Exactly?
The answer to what exactly is a cobbler is kind of complicated. Some people will tell you that a cobbler has a biscuit topping while a crisp or crumble has a streusel topping, usually made with oats.
I think the answer to what is a cobbler is regional. In Oregon where I grew up, pretty much any dessert that was fruit with a crumb, streusel, or biscuit like topping was called a cobbler.
Most of the cobblers made on the west coast actually don't have a biscuit like topping. They are usually made with more of a streusel or cake like topping.
The southern and eastern parts of the U.S. are known more for the biscuit like topping on a cobbler. But streusl toppings are popular as well.
The term cobbler has become a pretty general term for a fruit dessert with a cake, biscuit, or streusel topping. It doesn't matter if you call them cobbler, crisps, or crumbles, they are a delicious dessert.
How To Make a Cobbler
Most cobblers, this recipe is quick and easy to make. Most cobblers have a bottom mixture of fruit and sugar. You then place the crumble streusal mixture on top and bake it.
Cobblers are best served warmed with a little ice cream, but feel free to eat it however you want to.
Can I Make It Gluten Free?
Yes you can make strawberry cobbler gluten free. I include the directions below. You use gluten free oats and a gluten free flour blend and you will have a delicious gluten free dessert.
When Is Strawberry Season?
California and Florida have a much longer strawberry season than most other parts of the U.S. For most areas of the U.S. May and June are prime Strawberry season.
In the southern part of the U.S you can find strawberries in late April and into May. In the more northern states strawberry season is usually June and can continue in early July.
Other Strawberry Recipes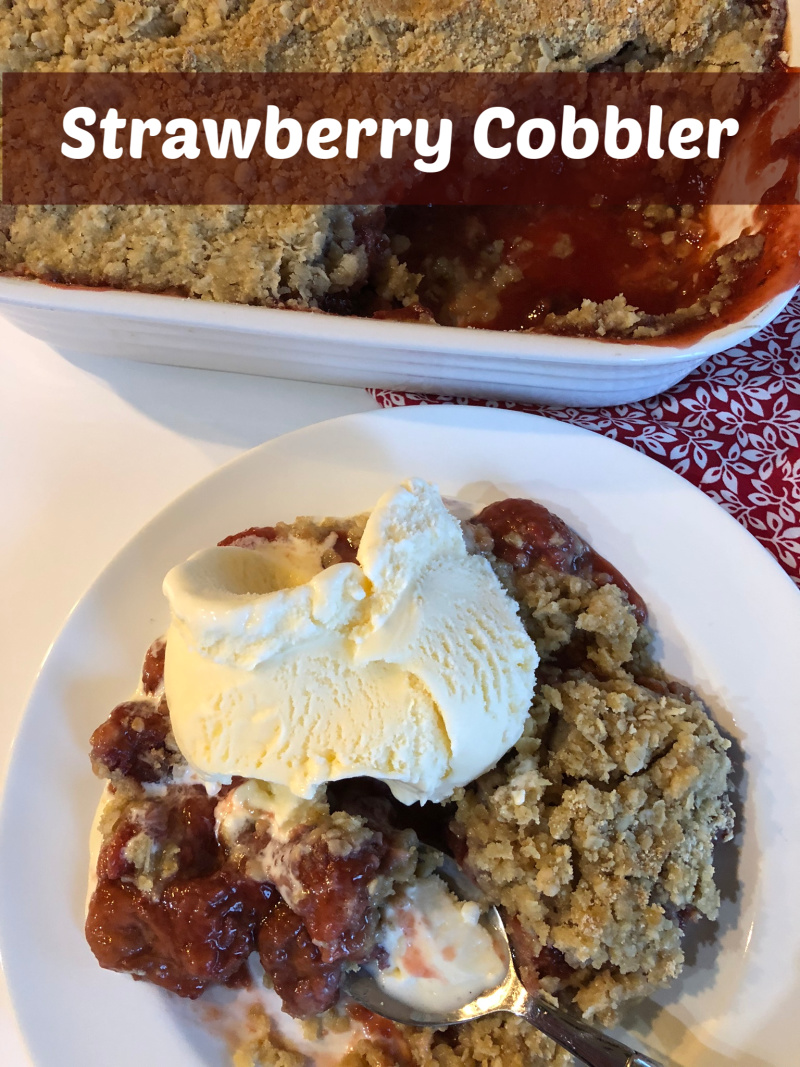 Yield: 6 servings
Strawberry Cobbler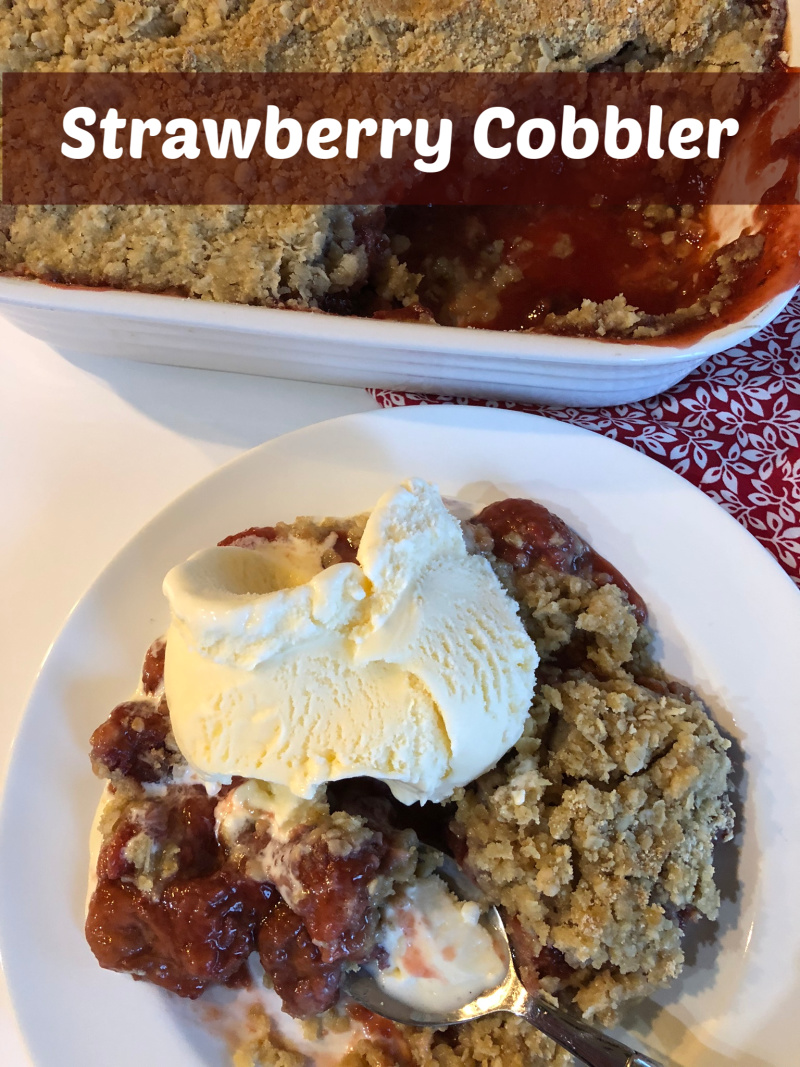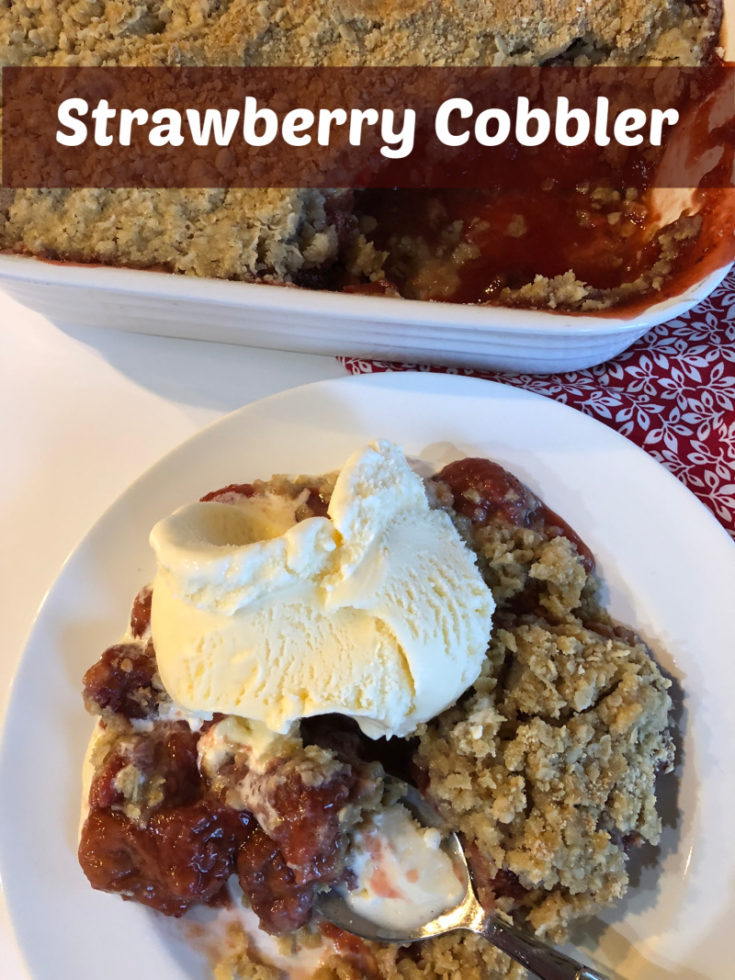 Strawberry cobbler is a simple old fashioned dessert perfect for spring and summer.
Ingredients
2 1/2 – 3 lbs strawberries, sliced
1/2 cup sugar
2 tablespoons cornstarch
2 tablespoons water
3/4 cup brown sugar
3/4 cup quick cooking oats ( Use gluten free oats for gf version)
1/2 cup flour ( I used Bob's Red Mill 1 to 1 gf blend and it worked great)
1/2 cup butter
Instructions
In a saucepan combine strawberries and regular sugar. Let sit for 30 minutes.
After sitting 30 minutes, cook over medium heat for 5 minutes.
In a bowl combine cornstarch and water. Stir into berry mixture and bring to a boil.
Boil 1 minute or until mixture is thickened.
Spoon mixture into 8×8 or similar pan.
In a bowl combine brown sugar, oats, and flour.
Cut in butter to form a crumbly mixture.
Spread evenly over strawberry mixture.
Bake at 350 for 25-30.
Best served warm with ice cream.
Originally published May 2010. Updated May 2019 and May 2021.