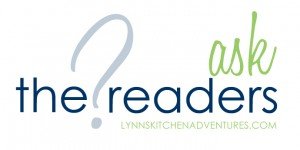 Along with the other features I have planned for 2013, I also hope to bring back my Ask the Readers feature. It never really went totally away, I just stopped posting it as often. For this year though I hope to share a couple of Ask the Readers questions a month.
I love learning from all of you and Ask the Readers is a great way to share our knowledge with each other and brings a sense of community to this site that I love.
If you have a question you would like to submit for my Ask the Readers feature, you can find out more information and submit it here.
Now for today's Ask the Readers question. This question come from one of you. This is a subject I am clueless on, so I am hoping some of you might be able to help.
Does anyone eat sulfite-free? If you do, do you have a good resource for finding a safe food list. It seems extremely complicated, however my husband is supposed to try a sulfite-free diet to see if his severe asthma and allergy symptoms improve.
Do you have any thoughts, tips, or resources for eating a sulfite-free diet that you can share?