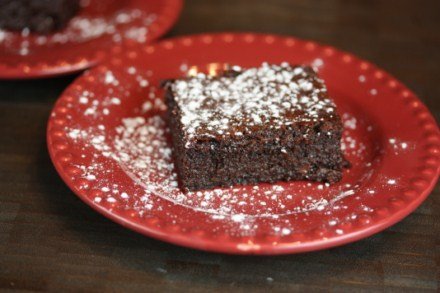 If you love chocolate this brownie is for you.
So dense and rich. And oh so good!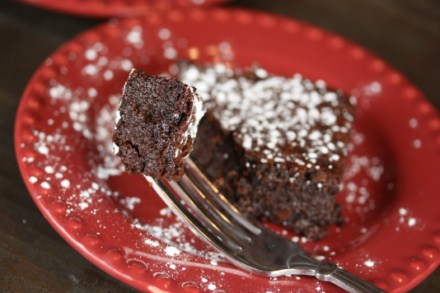 These are so good that my husband, who is not a huge chocolate fan, requested that I make them for his birthday a few weeks ago. And of course I willing made them because in my opinion you can never have too much chocolate.
Triple Chocolate Flourless Brownies
1/4 cup unsweetened cocoa
1/4 teaspoon baking soda
1/4 teaspoon salt
1 cup butter
1 1/4 cups sugar
1 1/4 cups bittersweet chocolate, cut into chunks (this is 60% cacao type chocolate, I use ghirardelli chips)
4 eggs
1/2 cup cold water
1 teaspoon vanilla
1/2 cup dark chocolate chips
Preheat oven to 350 degrees.
Line an 8×8 square pan with parchment paper and spray the parchment paper with oil. Set aside.
In a bowl mix together cocoa, baking soda, and salt. Set aside.
In a heat proof bowl place butter, sugar, and bittersweet chocolate. Microwave until chocolate is melted. I stir this every 30 seconds or so until it is melted.
Once the chocolate is melted whisk in eggs, water, and vanilla. Then whisk in cocoa mixture. Fold in chocolate chips.
Pour batter into prepared pan and bake at 350 degrees for 40-45 minutes. Cool in pan and then carefully life parchment paper out of pan to remove brownies and cut into squares.
This is a rich and dense brownie so you can cut these small.
Adapted from Martha Stewart