I decided to bring back What's For Dinner Tonight. I shared these posts a couple of years ago and readers really enjoyed them.
What's For Dinner Tonight were posts where I shared real-life pictures of the food we eat.
As in I took pictures of our dinners and other meals as I cooked them.
The pictures were not staged. The food was not perfectly plated. They were real-life pictures of the food and meals we ate.
Often the food was on the stove or counter. Sometimes the pan of food would be half gone before I remembered to take a picture of it.
Instagram is full of beautiful pictures that take hours to photograph and edit. The reality though is that it is not what real life looks like. My everyday meals don't look like that and I am pretty sure that yours don't either.
I often share these everyday pictures on Instagram stories, but not everyone is on Instagram. Plus, the algorithm is crazy; even if you are on Instagram, you may not see what I post.
So, I have decided to go back to old school blogging with these posts and will occasionally share my What's For Dinner Tonight pictures here.
It might be once a month or it might be more often. It will just depend on how many pictures I take.
These posts will not be picture perfect. They will be real life photos of what I am cooking and what we are eating.
They will give you a look at our everyday life. Sometimes life is crazy and that is reflected in our meals.
I hope it helps give you ideas for realistic meals and food that you can serve your family. And I hope that it will make you feel better about life not always being perfect.
Kitchens are messy. Kids are picky eaters. Life happens. I hope that you enjoy a real-life look into my kitchen.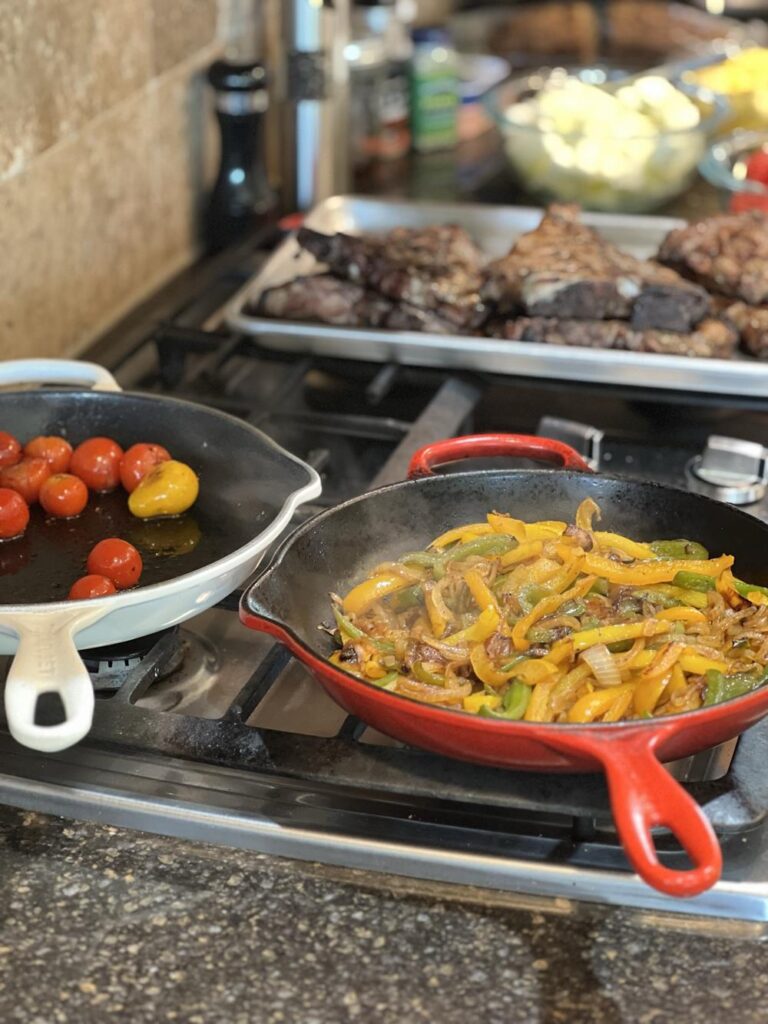 All three kids were recently home for a weekend dinner so we grilled steak. A favorite for everyone.
I served it with fruit and melon. I also served peppers and onions that I cooked in a little oil with salt and pepper. I love onions and peppers this way.
We had some garden fresh cherry tomatoes so I also cooked those for a few minutes with some oil and herbs.
It was an easy and delicious family dinner!
This photo is staged because I shared this recipe recently and didn't have any other photos. If you look closely though you can see my reflection in the spoon, so it is definitely an unedited photo.
This is my BBQ Ranch Chicken that we love this time of year. It is a great recipe to cook once and eat twice because you can serve it in different ways.
I served it with melon and my Oklahoma Cowboy Caviar and chips.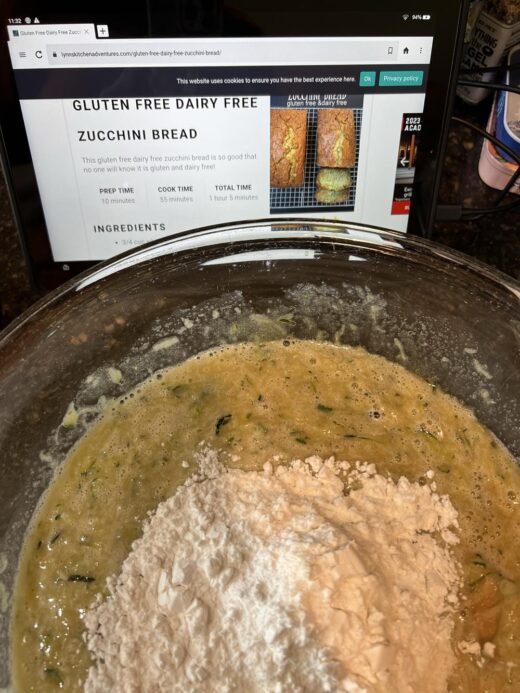 This is not dinner. It is my Gluten Free Zucchini bread. We have had a lot of zucchini from the garden this year so I have been making zucchini bread and stocking the freezer with it.
If you are not gluten free this is a regular zucchini bread recipe that I made for years. It is really good too.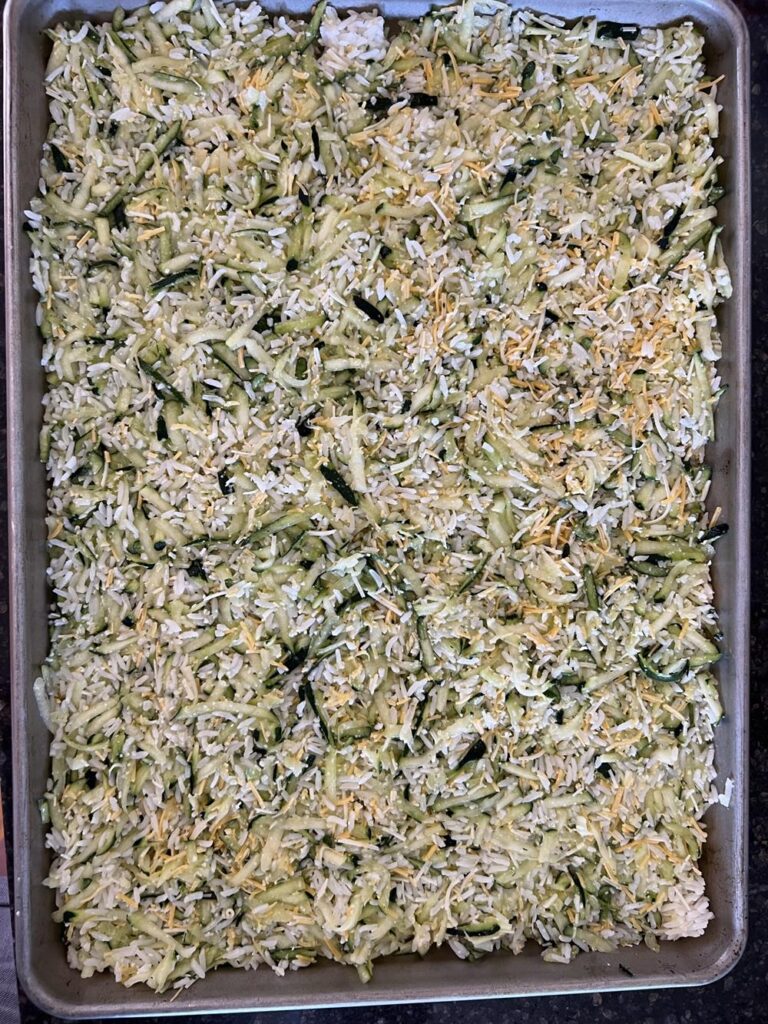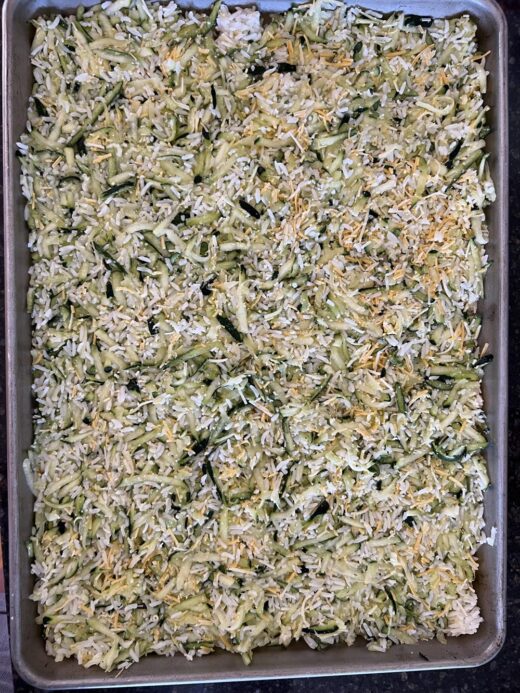 Lots of zucchini in the garden means that we have Zucchini Pizza. This is a must make at least couple of times during the summer.
I have been making this recipe for years. It is a family favorite. My husband loves the leftovers for lunch the next day.
The crust is rice, zucchini, cheese, and a few other ingredients.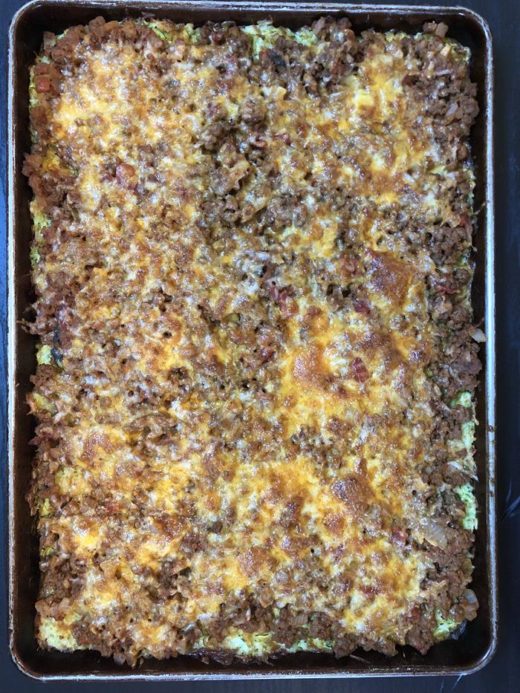 You top it with meat, sauce, and cheese and bake it. It is not a pretty meal, but it is delicious.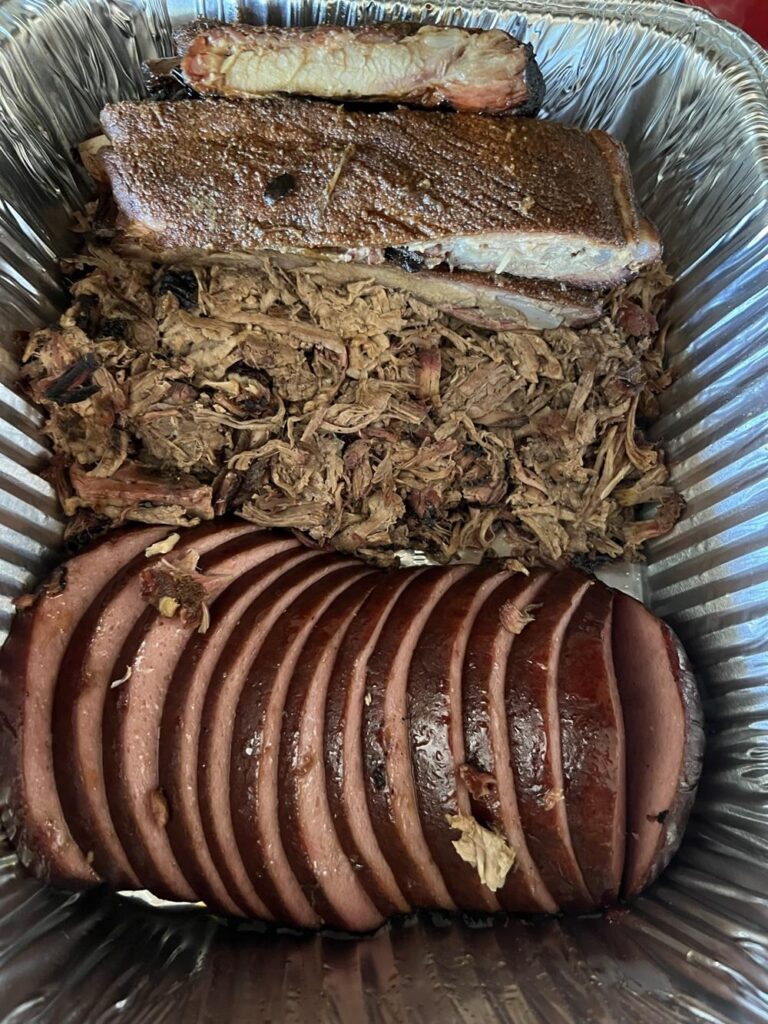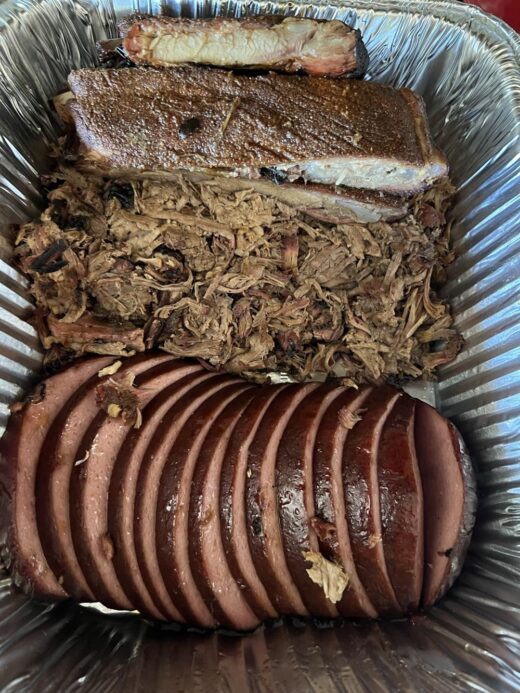 I have had a lot of ups and downs with my health over the last year. I think we are finally figuring some things out. One of which is that I now have super low blood pressure. As in it is often 86/53… Add to that a heart rate that is sometimes 126+ and it is no wonder that I have felt bad the last year.
We have finally been able to bring my blood pressure up and my heart rate down and I am feeling better. But I still have an occasional day where neither is under control and I don't feel well.
When I recently had a day like that we bought BBQ from a local BBQ place. Ribs, chopped brisket, and yes, bbq bologna. We got enough for several meals so that I did not have to cook for a few days.
We don't eat out often, so I really enjoyed having a few nights off from cooking.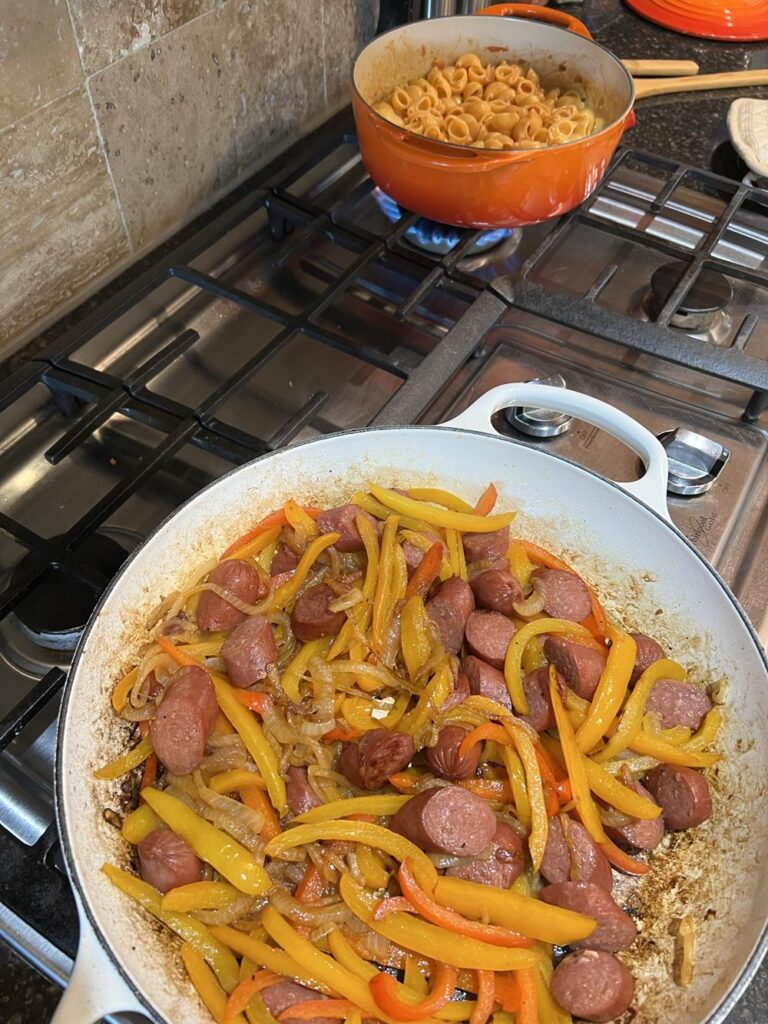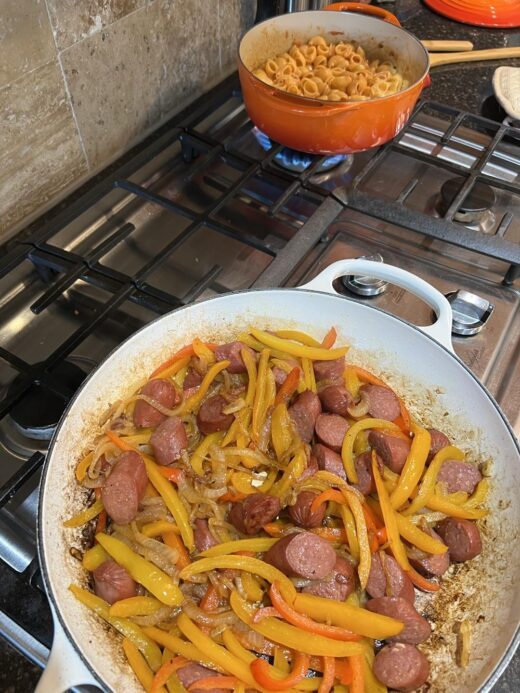 It has also been really hot in Oklahoma the last few weeks. Most days it has been in the triple digits with heat indexes of over 110.
Thankfully this week it is supposed to "cool" down to the 90s. You know it has been hot when 95 degrees is cooling down…
When the weather is hot the menu plan often goes out the window and I make something super easy. This night was an example of that.
I had some sausage in the freezer that I took out and cooked with peppers and onions. I thought my husband and son would eat it on bread as sandwiches, but they mixed it with the pasta side dish that I had made.
The pasta was just gluten-free pasta with a jar of sauce that I had. I ate the pasta separately from the sausage and vegetables.
We all enjoyed it and I enjoyed how easy it was to make.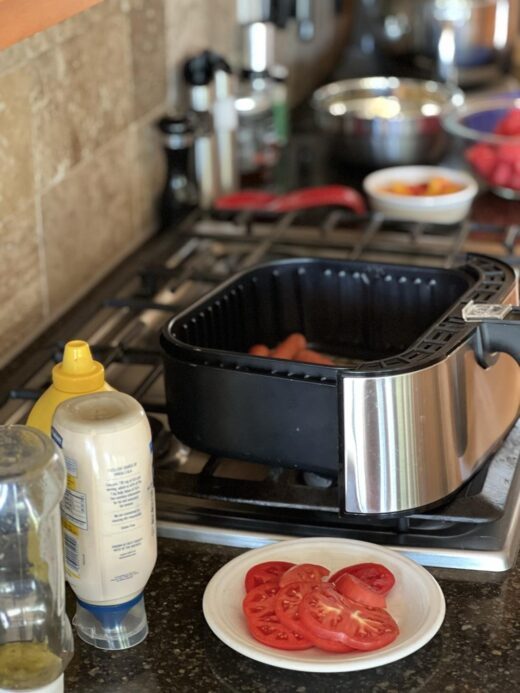 One day last week it was 105 degrees. I was gone most of the day. Between the heat and just being tired, I did not want to cook. So I made air fryer hot dogs.
Normally I would have grilled the hot dogs, but I had no desire to stand out in 105-degree weather. Instead, I cooked them for about 5 minutes in the air fryer. It was the first time that I had made them that way and we liked them. Well, we liked them for hot dogs.
We don't eat a lot of hot dogs, but they do make for an easy summer meal. I am glad to know that I can make them in the air fryer if I don't want to grill them.
We had melon and tomatoes with the hot dogs. I love summer fruits and vegetables. It makes meals super easy.
I hope that you enjoyed a look at my kitchen life.