This week's cooking with Martha Stewart recipe is for her daughter Alexis's Chocolate Chip Cookies. Not only am I sharing the recipe I am sharing the gluten free version too.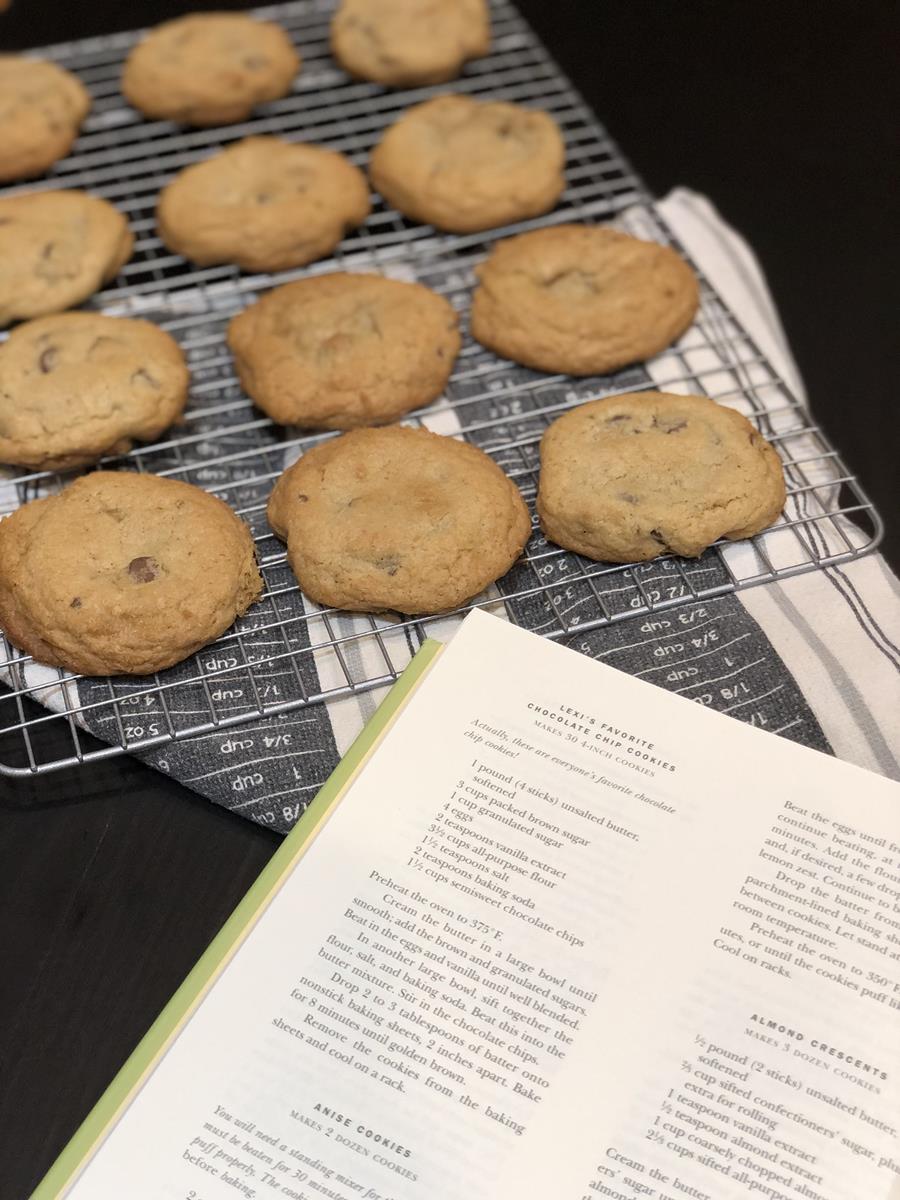 When I first shared about my year of Martha Stewart Cooking Challenge I said I would keep it real. I am going to share the successes and the failures.
Today is very much a keeping it real post. I am sharing what we liked and didn't like about this recipe.
Martha Stewart's Chocolate Chip Cookie Recipe
I am not sure if this recipe should be called Martha Stewart's Chocolate Chip Recipe or Alexis's Chocolate Chip Cookie Recipe.
This Alexis's brown sugar chocolate chip cookie recipe is probably Martha Stewart's most popular recipe. Or at least the most published.
The recipe I used was from The Martha Stewart Cookbook. This cookbook was published in 1995, so it is was one of Martha Stewart's older cookbooks.
Since it is no longer published the price on this cookbook is ridiculous. I love the cookbook, but I would wait until you can find a used copy for a great price.
Alexis's Chocolate Chip Cookies are in multiple of Martha Stewart's Cookbooks. She always credits her daughter, but she has shared this recipe many times.
It is in her cookbooks and it has been on her show. She has even shared videos online of her making it. Martha loves these cookies.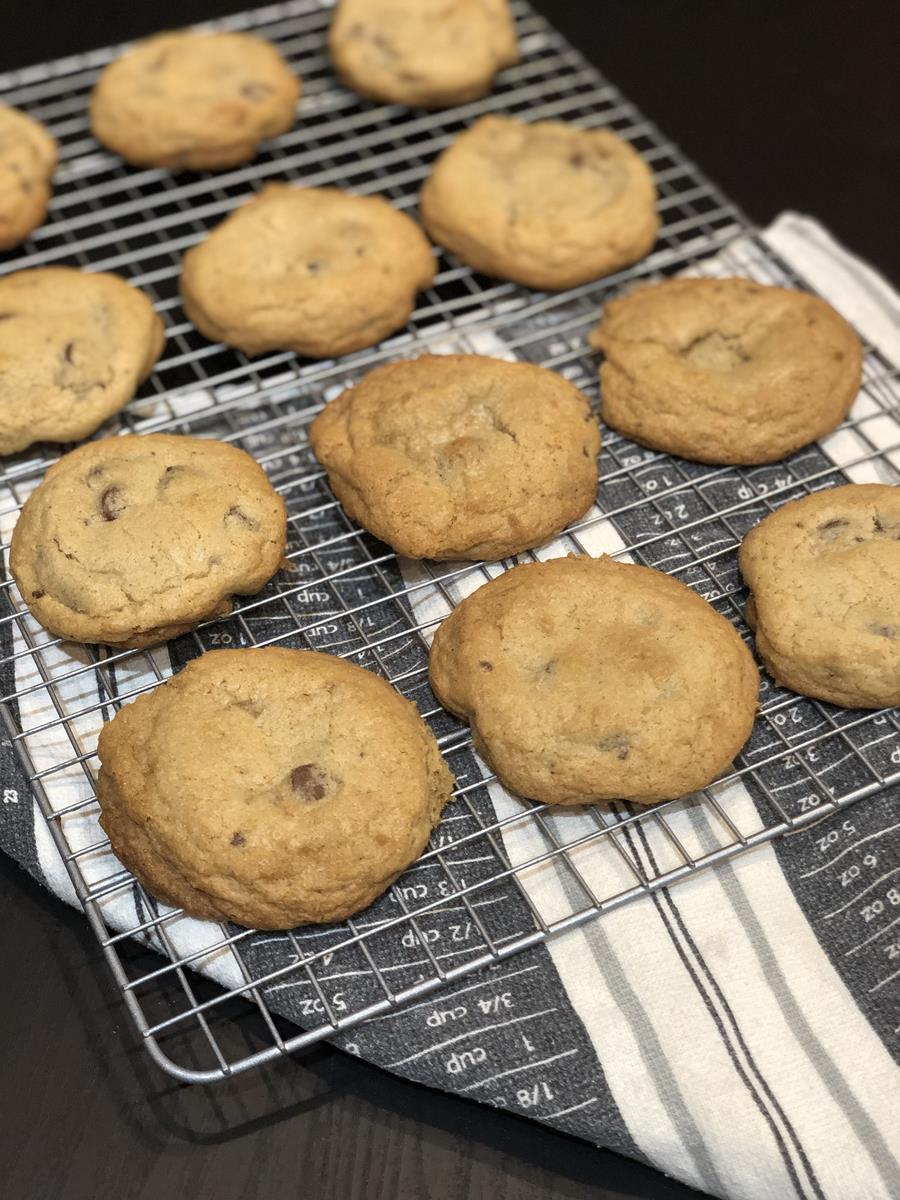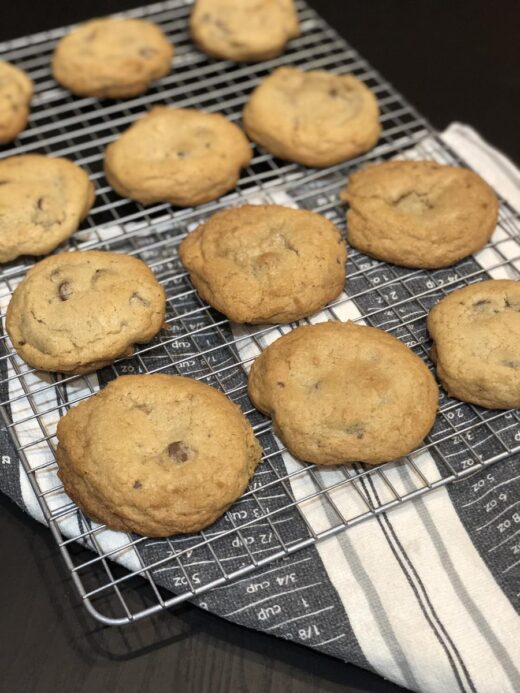 My Thoughts
I made these cookies years ago before I was gluten free. That would mean that last time I made them was probably 2008 or earlier.
The recipe makes a thin crisp cookie. They are not a pretty cookie, but they are really good. If you like thin crisp cookies you will probably like the recipe.
I like variety in my chocolate chip cookies. Sometimes I like thin and crisp and sometimes I like soft and chewy. For a thin crisp cookie I liked Alexis's Chocolate Chip Cookies.
But I will say it has been over twelve years since I had the regular version of these cookies. It wasn't until recently that I tried them gluten free.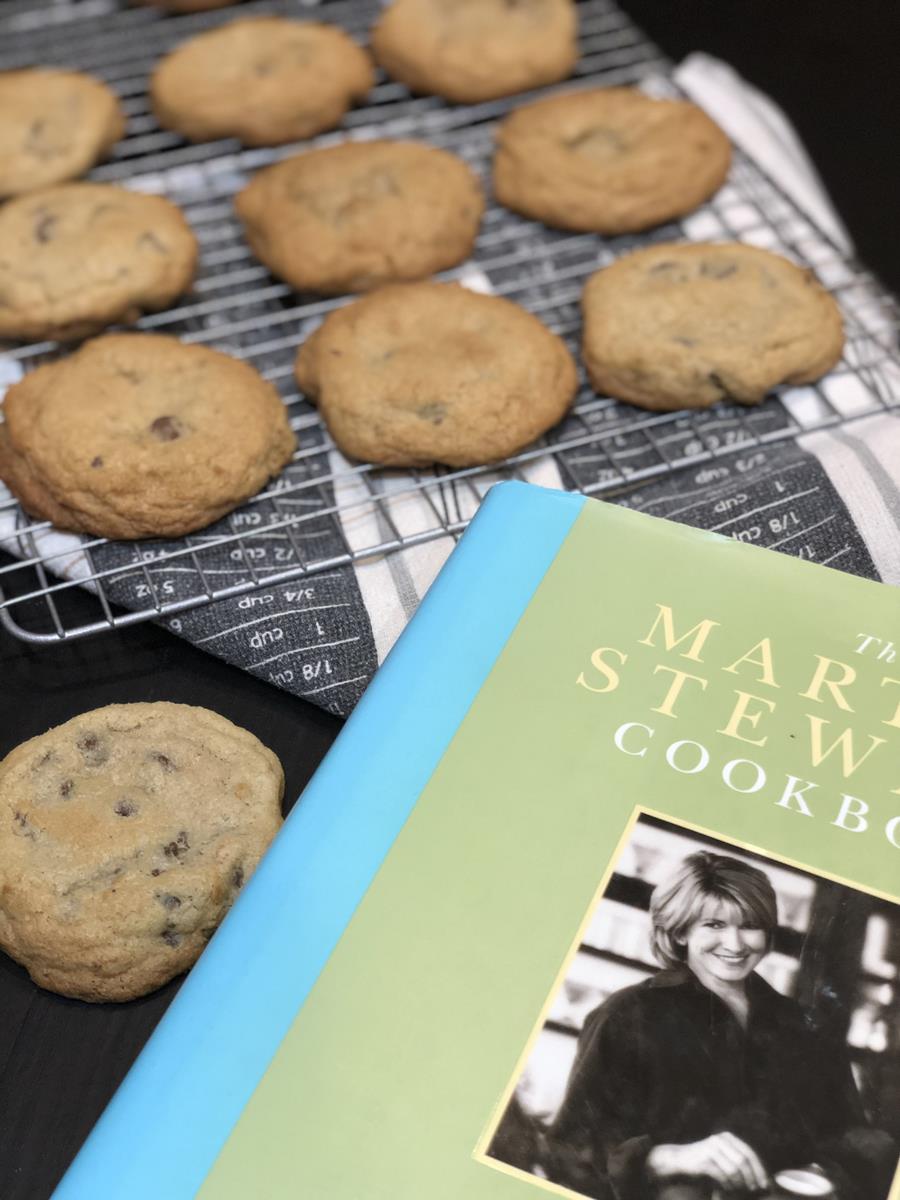 Alexis's Chocolate Chip Cookies Gluten Free
Now we get to the keeping it real part…
Alexis's cookies didn't turn out the same gluten free. They are not thin and they are not crisp.
We actually liked Alexis's Chocolate Chip Cookies made gluten free, they just were not the same as the original version. They were not at all the same.
The gluten free version was delicious. It has a lot of butter and sugar, which is probably why it tastes so great, but they turned out lighter and fluffier when made gluten free.
You can tell in my picture that they are not thin and crisp like they are meant to be. I am not sure why either. I am guessing that it needs gluten to get the right texture. No matter what I tried, they didn't turn out thin and crisp.
We really enjoyed them, so I will make them again, but if you make them gluten free don't expect a thin crisp cookie.
If you have made this recipe, regular or gluten free, I would love to hear what you thought of it.
Ingredients
This recipe contains a lot of butter and sugar. You might try halving the recipe the first time you make it so that you don't waste ingredients if you don't like the recipe.
butter
brown sugar
sugar
eggs
vanilla
flour or gluten free flour blend
salt
baking soda
chocolate chips
More Thoughts
Martha Stewart uses high quality chocolate. I use whatever I have on hand.
I have seen this recipe with both 1 1/2 cups chocolate chips and 2 cups chocolate chips. I will always error on the side of too much chocolate.
For the best gluten free version I used King Arthur's Gluten Free Measure for Measure Flour Blend.
More Gluten Free Cookie Recipes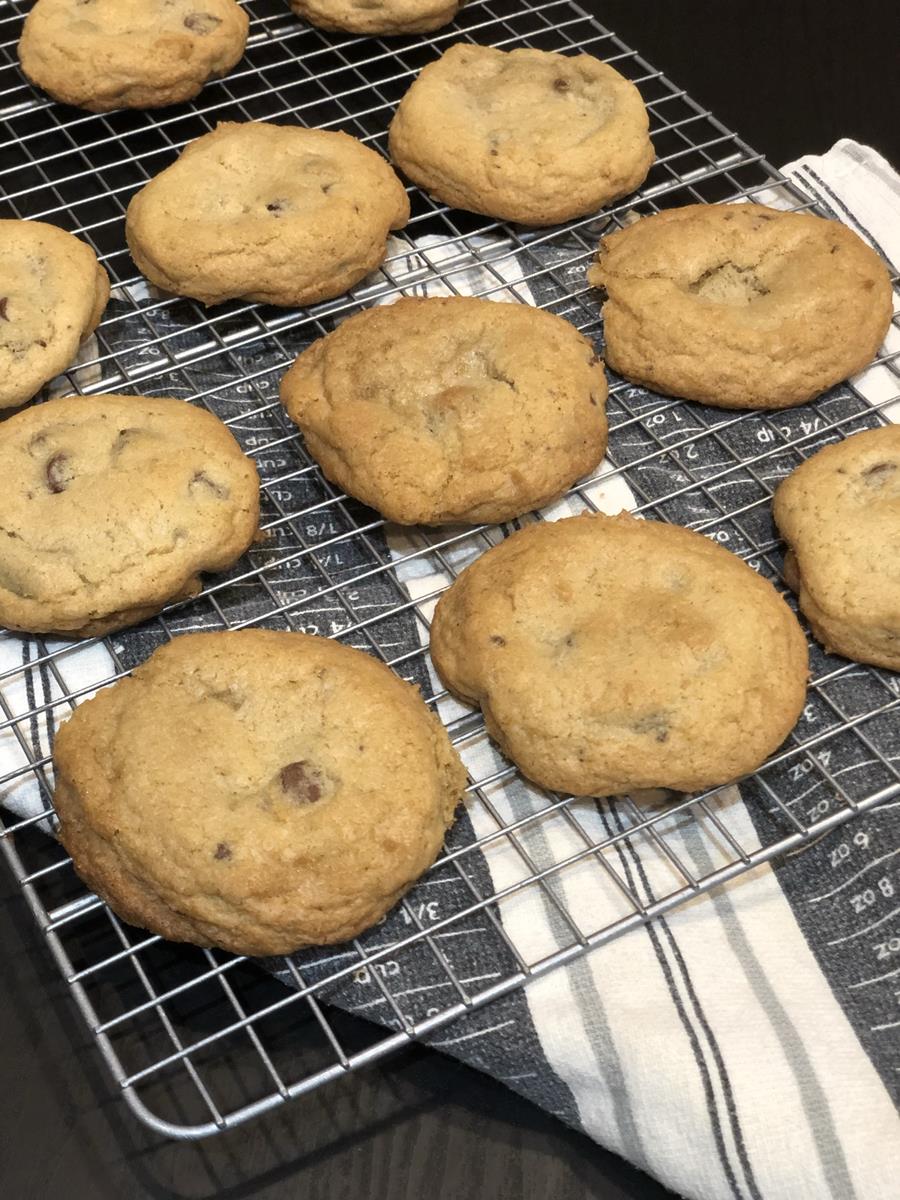 Yield: 50 cookies
Alexis's Chocolate Chip Cookies with gluten free option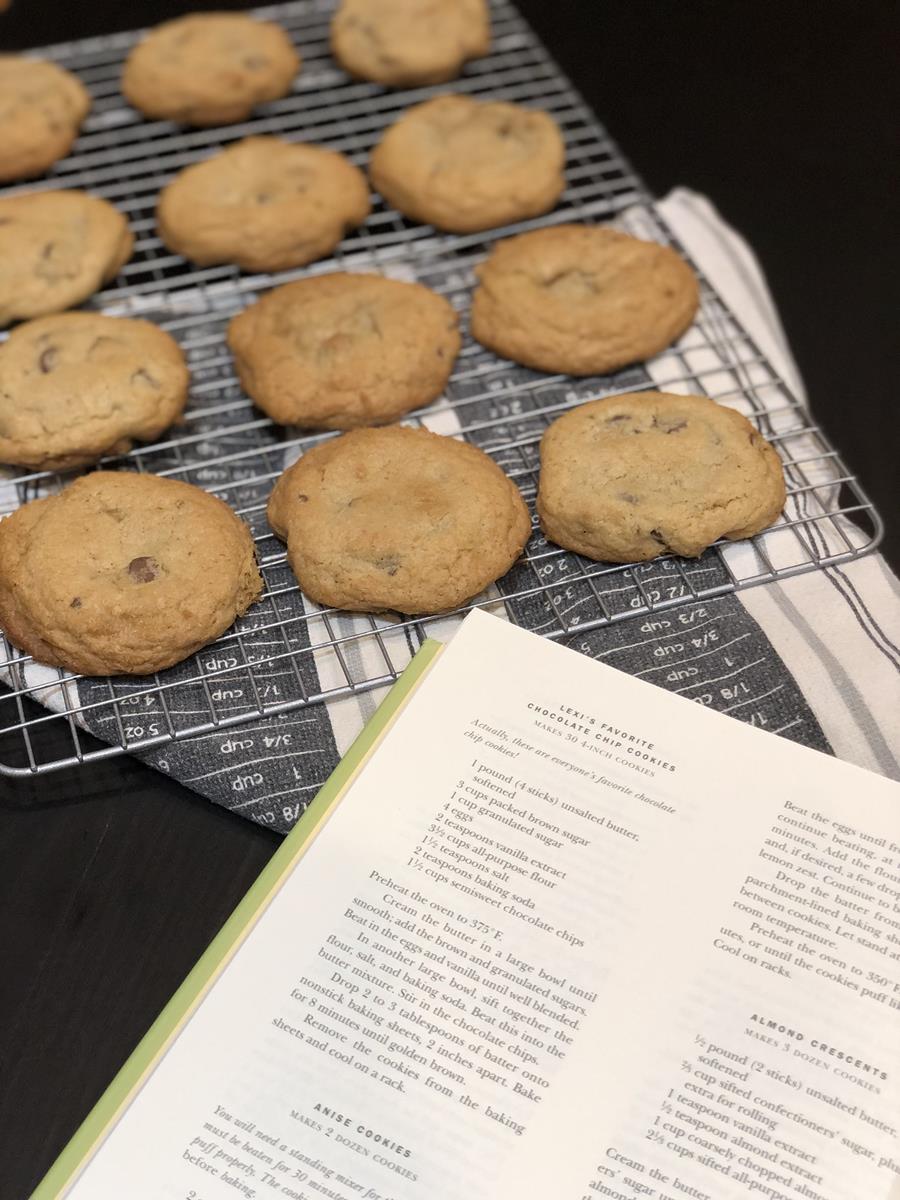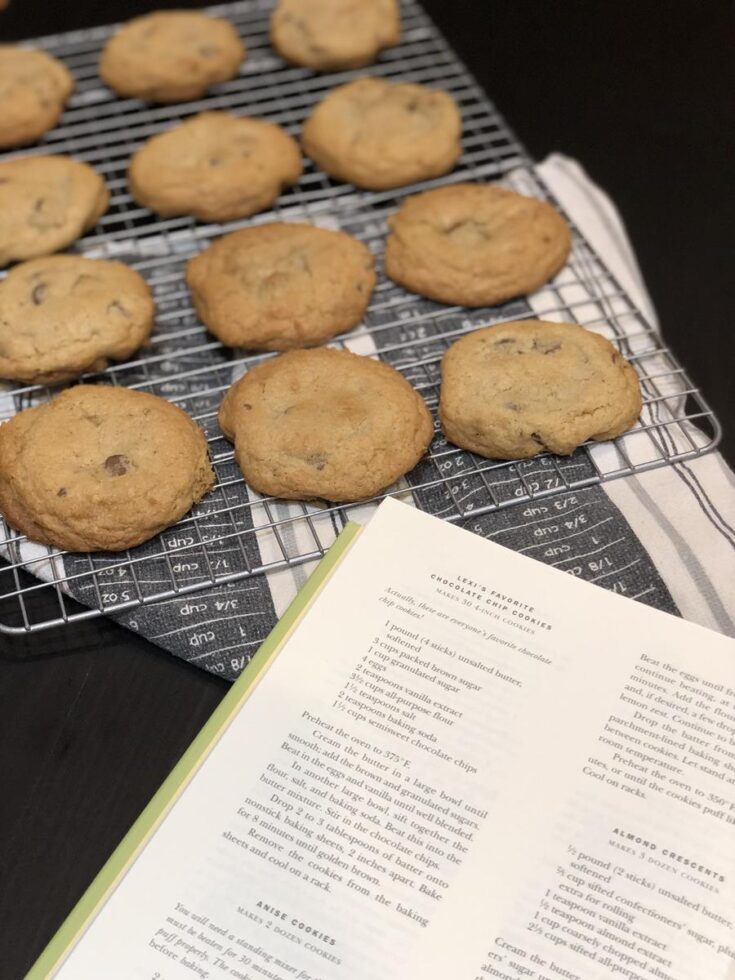 Alexis's Chocolate Chip Cookies, aka Martha's Chocolate Chip Cookies, can be made gluten free.
Total Time
2 hours
22 minutes
Ingredients
2 cups butter, room temperature
3 cups light brown sugar
1 cup granulated sugar
4 eggs
2 teaspoons vanilla extract
3 1/2 cups all-purpose flour or King Arthur Gluten-Free Flour Blend
1 1/2 teaspoon salt
2 teaspoons baking soda
2 cups chocolate chips
Instructions
In a bowl combine flour, salt, and baking soda. Set aside.
Cream butter, brown sugar, and granulated sugar until smooth. This takes several minutes.
Add in eggs and vanilla. Beat until combined.
Slowly beat in flour mixture.
Stir in chocolate chips.
Using a 1/4 cup scoop or measuring cup, scoop dough onto cookie sheet, spacing about 2 inches apart. You want a lot of space between cookies to allow for spreading.
Cover and refrigerate for at least one hour or up to two days.
Preheat oven to 375 degrees.
Remove cookies from the fridge and baking for 11-12 minutes or until lightly golden.
Remove from baking sheet and let cool on cooling rack.
Notes
Gluten free version: For best results use King Arthur Measure for Measure gluten free blend.
Nutrition Information:
Yield:
50
Serving Size:
1
Amount Per Serving:
Calories:

203
Total Fat:

10g
Saturated Fat:

6g
Trans Fat:

0g
Unsaturated Fat:

3g
Cholesterol:

34mg
Sodium:

182mg
Carbohydrates:

28g
Fiber:

1g
Sugar:

18g
Protein:

2g