Turn oatmeal haters into oatmeal lovers with these easy baked oatmeal recipes and tips.
I shared my first baked oatmeal recipe back in 2008. Since then I have shared twenty-three different versions of baked oatmeal.
Yes, twenty-three versions. We really do love baked oatmeal. It is a favorite with my family and with my readers.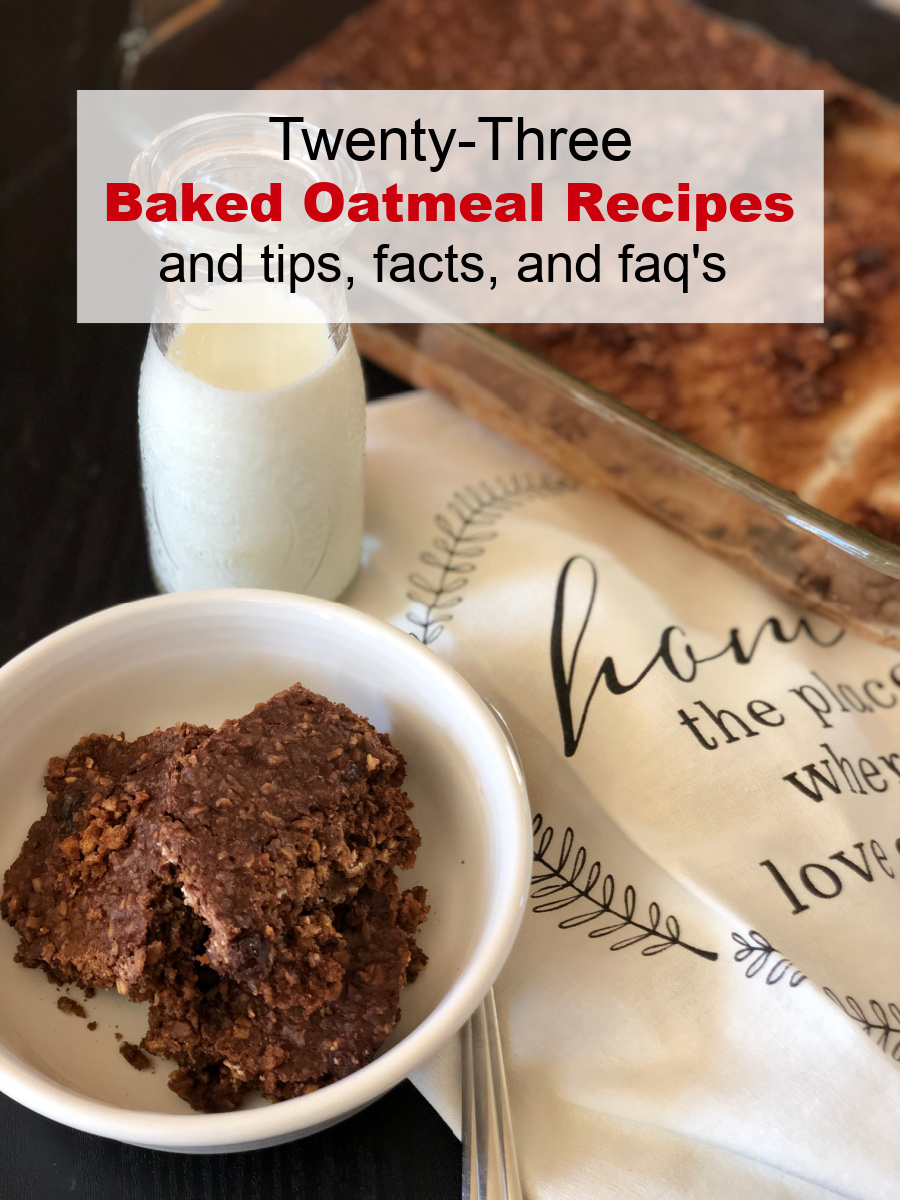 I have said for years that I wanted to put all my baked oatmeal recipes and tips into one place. I finally got it done. I put together a list of my baked oatmeal recipes, tips for making it, frequently asked questions and more.
If you love baked oatmeal this is baked oatmeal recipes and tips post is the post you need to save, bookmark, pin, share, etc.
What is baked oatmeal?
Baked oatmeal is a cross between a bowl of oatmeal and a dessert. It is a breakfast casserole of sorts.
It is not mushy like a bowl of oatmeal. If you don't like oatmeal for breakfast because you have only had mushy oatmeal, you need to give baked oatmeal a try.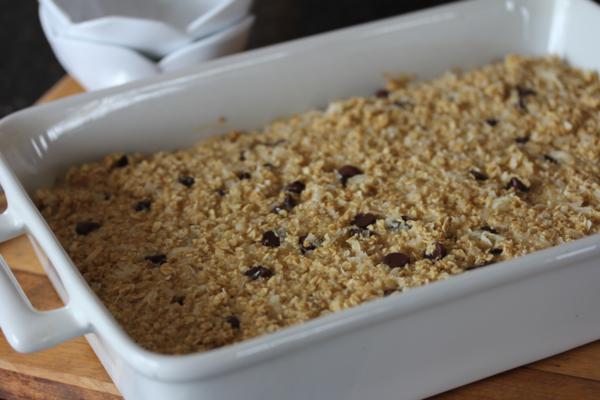 Ingredients
Every one of my baked oatmeal recipe varies slightly, but these are the basic ingredients that you need.
oats, quick cooking or old fashioned
sugar
liquid
eggs
butter or oil
baking powder
salt
vanilla
add-ins like fruit, peanut butter, chocolate chips, etc.
Instructions
There are a lot of different instructions out there for making baked oatmeal. I keep it simple. For most of my recipes, I just put all the ingredients in one bowl, stir, spread it in a pan, and bake it.
Baked oatmeal is a hard recipe to mess up. It really is an easy mix in one bowl and pour it in a pan meal.
Frequently Asked Questions
Is baked oatmeal gluten free?
Yes and no. In order to make baked oatmeal gluten free you need to use gluten free oats. Not all oats are gluten free. So be sure to use gluten free oats if you are gluten free.
You also need to read labels to be sure that all your ingredients are gluten free. I eat gluten free and so do several in my family. We eat my baked oatmeal recipes all the time, but I always read labels to make sure the ingredients are gluten free.
Is it dairy free?
Most of my recipes are not dairy free, but many of them can easily be made dairy free. My daughter eats dairy free, so I make her dairy free baked oatmeal all the time.
You can use a dairy free milk in place of the milk. I love to use coconut milk. Nut milks will work as well. You can even use water in place of milk in baked oatmeal.
If the recipe has butter you can use a butter substitute or coconut oil. I usually use coconut oil.
Can I use old fashioned oats in baked oatmeal?
Yes, you can use either quick oats or old fashioned oats. Most of my recipes call for quick oats because that is what my family prefers, but you can use old fashioned oats instead.
Each one will give you a different texture, but they both work. You can also use a mix of both. Use what you have on hand or what your family likes.
Can I make it ahead of time?
Yes, baked oatmeal is a great make-ahead breakfast. In fact, if I am using old fashioned oats in my baked oatmeal, I prefer to make it the night before and keep it in the refrigerator over night. I just put it in the oven in the morning and it works fine. I love doing this because it makes a quick and easy breakfast in the morning.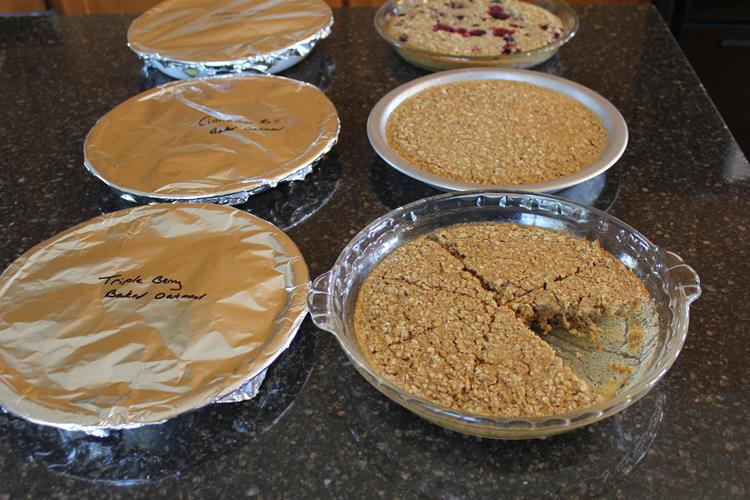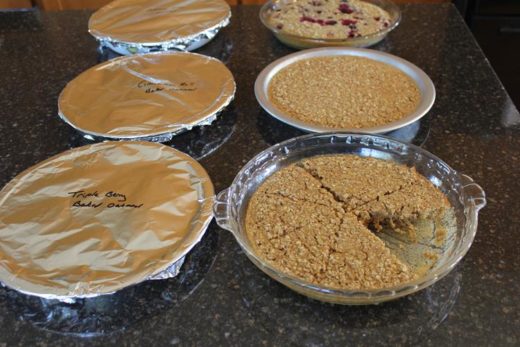 Can I freeze it?
Yes, you can freeze the baked oatmeal after it is cooked. Baked oatmeal makes a great freezer breakfast. You can bake it and freeze the whole pan or you can cut it into squares after it is cooled, wrap it in plastic wrap or a freezer bag, and freeze. Take it out and heat it as needed.
One of my favorite ways to freeze it is in pie pans. I divide one recipe into two pie pans. My family prefers it this way because I can easily take out two or three flavors at a time and everyone gets their favorite flavor.
Does it reheat well and if so how do I reheat it?
It reheats great. My family does it all the time. When I make it I usually I bake a double or triple batch and let my kids reheat it in the microwave for breakfast for several days.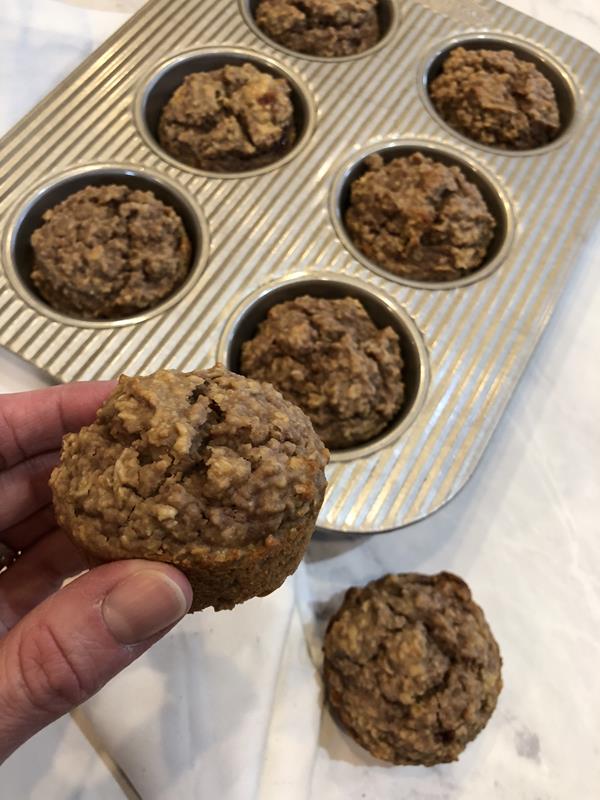 Can I make baked oatmeal in muffin pans?
Yes, this is exactly what I do for my peanut butter and jelly oatmeal muffins. This works with just about any of my recipes.
Just scoop the oatmeal batter into muffin pans and bake for 15-18 minutes.
Recipes
Baked Oatmeal Recipes
Baked Oatmeal turns oatmeal haters into oatmeal lovers. If you don't like a mushy bowl of oatmeal give baked oatmeal a try. One of these baked oatmeal recipes is sure to become a favorite.
First published February 2009. Updated February 2021.