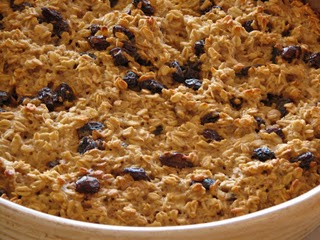 I originally posted this recipe in April of 2008. I have had a lot of new readers recently so I decided to repost this recipe of Life As Mom's recipe swap. This is a favorite at our house. I hope you enjoy it too.
I have been wanting to post one of my baked oatmeal recipe and just have not had time. I finally had some time, so here it is. It is based on a recipe I got from a gourmet magazine. If you do not like raisins leave them out and make as directed then serve with fruit on top of it. Blueberries or raspberries are really good. I make this the night before, refrigerate, and cook in the morning. You can also cook it right away, but I think the texture is better if it sits overnight.

Baked Oatmeal
3 cups rolled oats (not quick)
1 cup raisins
1/4 cup sugar
2 teaspoons baking powder
1 teaspoon cinnamon
3/4 teaspoon salt
1/2 cup applesauce
1/2 cup vanilla yogurt (you can also use plain)
1/2 cup milk
1/4 cup oil
2 eggs
Mix together oats, raisins, sugar, baking powder, cinnamon, and salt. In a separate bowl whisk together applesauce, yogurt, milk, oil, and eggs. Stir into oat mixture. Pour into greased pan. The original recipe said to bake in an 8×8 pan. We like it a little crunchy so I use an 11×7 or 9×13 pan. Refrigerate overnight. Bake at 350 for 45-50 minutes. You can also bake right away but only cook for about 40 minutes. Serve with brown sugar sprinkled over top.