Sometimes the simple recipes like this BBQ Chicken Grilled Cheese Sandwich make the best recipes.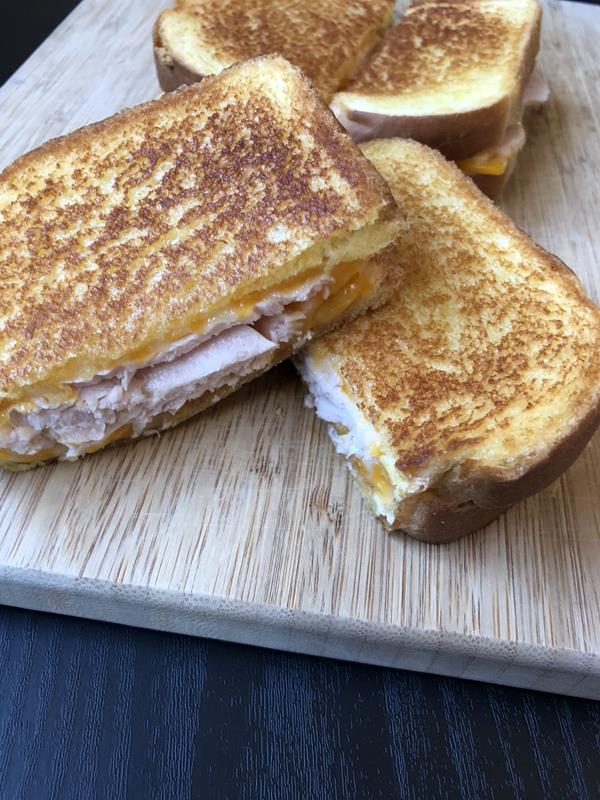 Do you have one night a week that you take off from cooking? Or at least from cooking a regular dinner? If you don't, I highly recommend it. We all need a day off of cooking once in awhile.
For me it is usually Sunday night. I rarely cook much for dinner unless we have company. I keep it easy.
We eat leftovers or everyone just finds whatever they want for dinner. If I don't have many leftovers, or my kids don't want to fend for themselves, I make something simple like grilled cheese sandwiches.
Last Sunday I realized that I had some sliced chicken that needed to be used up. I didn't have enough for everyone and I didn't have a lot on hand to go with it.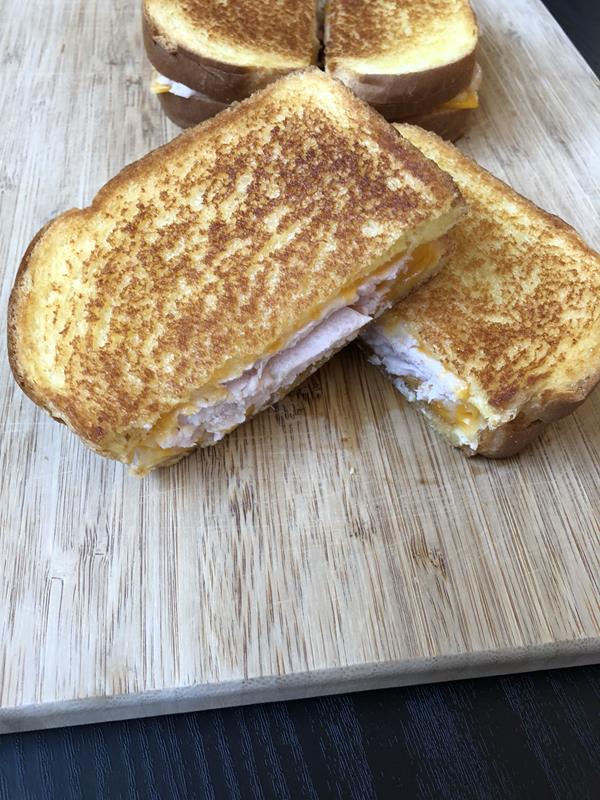 I looked in the fridge and saw some sliced cheese and some bbq sauce. I decided that sandwiches would be perfect for using up that last bit of chicken and would help it stretch to feed everyone.
My family is not a fan of cold sandwiches. It isn't really that they don't like them, but they eat them often for lunch, so they don't love them for dinner.
However, if I heat the sandwich up and turn it into a grilled cheese type of sandwich they usually love it.
That is exactly what I did on Sunday. I took my idea of a bbq chicken and cheese sandwich and turned it into a grilled bbq chicken and cheese sandwich.
I had just plain cooked and sliced chicken and spread bbq sauce on the bread, but you could easily use leftover bbq chicken or pork for this. Slow cooked bbq chicken or my Instant Pot bbq chicken would be perfect for this sandwich.
The reality is that this sandwich is so simple that it is not really a recipe. It is more of an idea for a sandwich combination that you might not have tried.
I know you love simple recipes. I also know that you love tips for making life in the kitchen easier. Meals like this are how I keep cooking and feeding my family easy and delicious.
Food does not have to be fancy or complicated to be delicious! Sometimes you just have to take a basic sandwich and cook it to make it a little more special.
Need to make grilled cheese sandwiches for a crowd? Make my oven grilled cheese. It makes cooking grilled cheese for a large group, a bunch of teens, or a large family easy.
Yield: 2 sandwiches
BBQ Chicken Grilled Cheese Sandwich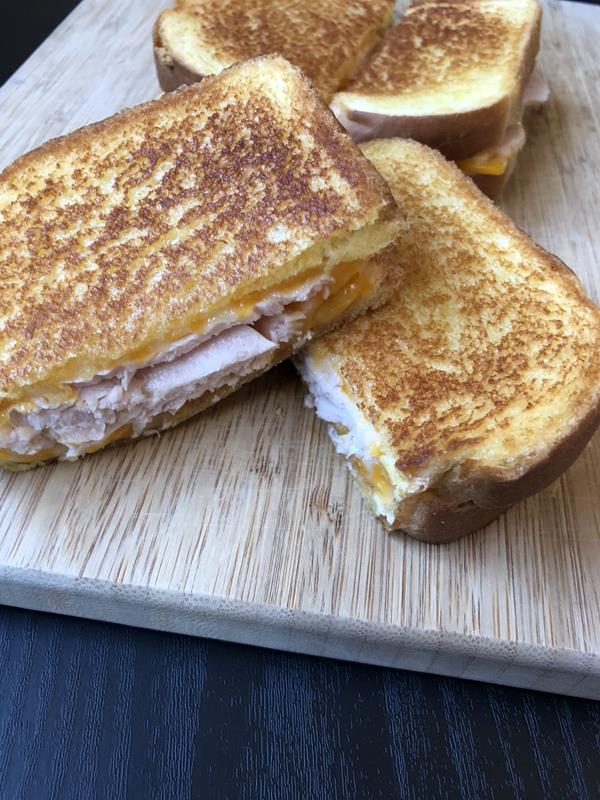 BBQ Chicken Grilled Cheese Sandwich is a quick and easy lunch or dinner.
Ingredients
4 slices bread
1 cup cooked chicken, sliced
4 slices cheddar or desired cheese
2 tablespoons bbq sauce ( more if desired)
1 1/2 tablespoons butter, softened
Instructions
Heat skillet or pan over medium heat.
Butter one side of each piece of bread.
Place two pieces of bread in the skillet or pan. Buttered side down.
Spread bbq evenly over each piece of bread.
Place one slice of cheese on top of bbq sauce.
Place chicken on top of cheese.
Place remaining cheese on top of chicken.
Put remaining bread on top. Buttered side out.
Cook for 3-4 minutes per side or until gold brown and cheese has melted.
Notes
To make this gluten free use gluten free bread and make sure your bbq sauce is gluten free.
This sandwich is also really good with sliced turkey.
Nutrition Information:
Yield:
2
Serving Size:
1
Amount Per Serving:
Calories:

703
Total Fat:

43g
Saturated Fat:

22g
Trans Fat:

1g
Unsaturated Fat:

17g
Cholesterol:

156mg
Sodium:

1056mg
Carbohydrates:

40g
Fiber:

2g
Sugar:

10g
Protein:

38g