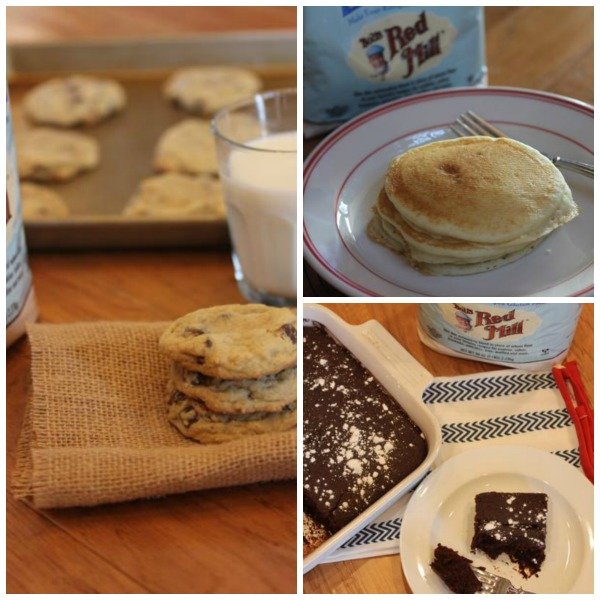 Note: This post is sponsored by Bob's Red Mill but all thoughts and opinions are my own.
If you have read my site for long you probably know that I have mixed feelings on gluten free flour blends. I love the idea and convenience of them. I love the thought of having just one flour to replace regular all purpose flour in baking. A one product fits all baking needs really does sound wonderful, but it is not as easy as it sounds. It is actually a difficult task.
In the five years that I have been gluten free I have tried many gluten free blends. Both homemade ones and premade ones. Some were good. Others were terrible. Most though worked well in some things, but not so great in other things. For most blends, I have found what may work well in a pancake won't work so well in a cookie. And what works in a gluten free bread may not work so well in a cake or muffin. It really is hard to find a one size fits all product when it comes to gluten free baking. Blends work okay in most things, but not all things.
This is why most of my recipes call for individual gluten free flours and not a blend.
When it comes to individual gluten free flours Bob's Red Mill is by far my favorite. Almost all the gluten free flours, oats, cornmeal, xathan gum, and more that I use are Bob's Red Mill brand. I have toured their facility and I love what they do for the gluten free lifestyle. So, when I found out a few months ago that Bob's Red Mill had a brand new gluten free blend available I was thrilled. Bob's Red Mill has actually had a gluten free flour blend for years, but this is a totally new gluten free flour blend.
Many people love the old blend. If you are one of them, don't worry, they still sell it. But I was not one of those that loved the old flour blend.
The old gluten free flour blend has bean flour in it and it is the one gluten free product of Bob's Red Mill that my family did not enjoy. The good news about this new blend is that there are no beans!!! So if the old blend was not a favorite of yours, I think you will love this new blend.
You may be wondering why I am talking about loving this blend when I mentioned above that I am usually not a big fan of blends. Well this new blend of Bob's Red Mill is different. Totally different in my opinion.
Back in 2011 when my sister and I toured Bob's Red Mill we were told that they were working on a new gluten free blend, but they did not know when it would be available. My sister and I were so glad they were working on a new blend. But then I kind of forgot about it because that was three years ago and I had not heard anything else about it.
That is until recently.
When I saw the new blend a few months ago I realized this was the blend they had mentioned to me three years ago.
That right there is one of the main reasons why I love this new blend. They took the time to perfect this blend. Three plus years. They did not quickly put a product together just to get in one the shelves. It had nothing to do with hurrying up to get in on a gluten free trend. Bob's Red Mill took time to get this blend right. And it shows.
The other thing I love about this new blend is the ingredients.
Sweet White Rice Flour, Whole Grain Brown Rice Flour, Potato Starch, Whole Grain Sweet White Sorghum Flour, Tapioca Flour, Xanthan Gum
If you have tried many of my gluten free recipes than you know I love sweet rice flour. It gives baked goods like cookies and cakes that best texture. It helps make them tender and light. Bob's Red Mill is the first blend I have seen that includes sweet rice flour in it. And not only is it in the blend, it is listed as the first ingredient. This is one of the things I think that makes this blend work so much better than the others that I have tried. And since it is Bob's Red Mill, they also include things like brown rice flour and sorghum flour in the blend.
Bob's Red Mill sent me some of this gluten free blend to experiment with and I have loved it so far.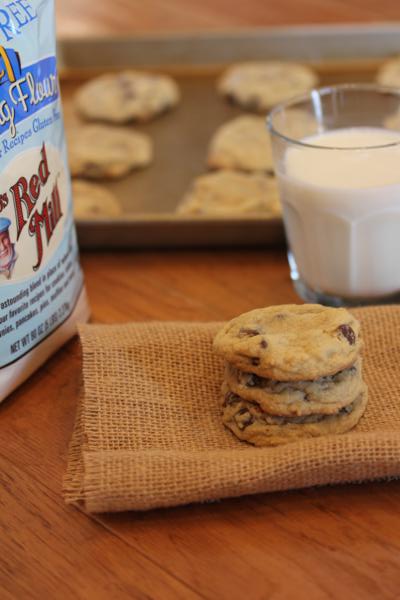 Gluten free chocolate chip cookies turned out delicious! I used the blend in place of the gluten free flours and gum in my recipe and it worked great.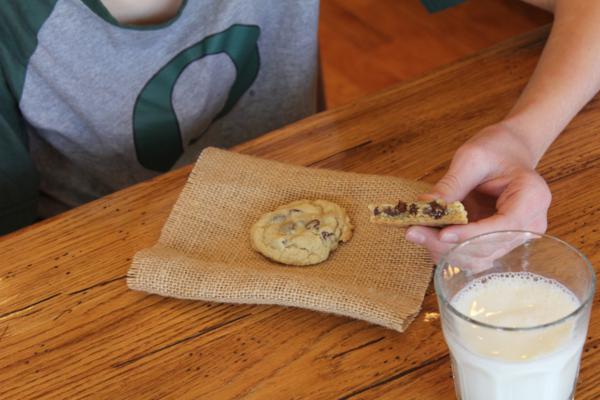 Even my gluten eating son loved these. I lost count how many he ate the day I made them. When a gluten eating person loves a gluten free recipe, you know it is good.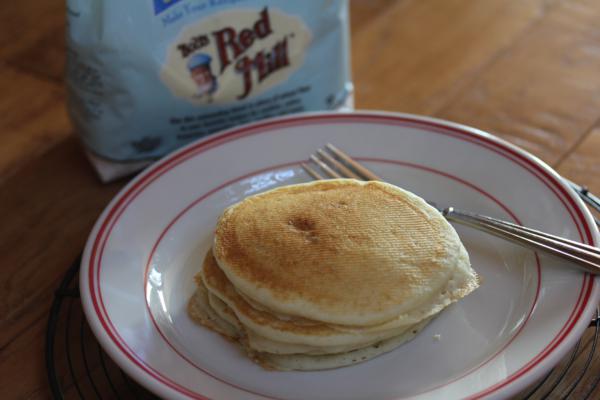 My gluten free pancakes were delicious and easy to make with the blend. They turned out great for Saturday morning pancakes.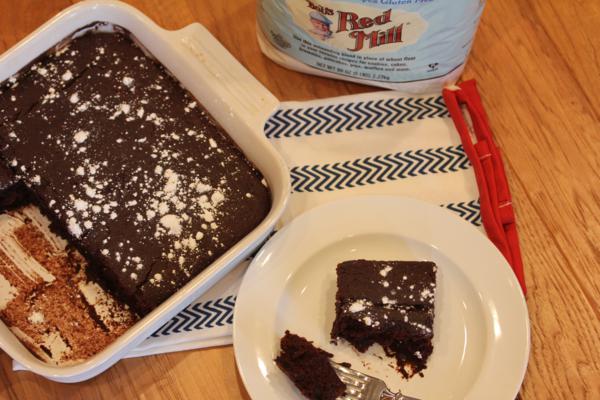 Wacky cake, gluten free waffles, and my mom's coconut bars all turned out great with this blend.
I also used the blend in gluten free rolls. They turned out pretty well, but I do think bread products might need a little extra xathan gum added to the recipe. But that is easy to do when using it for things like bread and pizza dough.
Now after reading all that you may be wondering if I will be throwing out all my gluten free flours and just using this blend. The answer to that is no. I do love this blend, and it will be a staple in my kitchen, but I plan to use the individual gluten free flours as well. I am not sure I will ever be a 100% gluten free blend cook.
This will be my go to gluten free blend though when I need quick and easy. It will also work great for when my kids are cooking. And I think it will be a great product for those new to gluten free or don't like to experiment with individual gluten free flours. This is by far the best gluten free blend that I have tried.
The new Bob's Red Mill gluten free 1 to 1 flour is available is some stores already, but it should be available most places that sell Bob's Red Mill gluten free products soon. If it is not in your area now, it should be soon. It will be great for all your holiday baking!