Today's recipe for my Cooking Through My Collection series is a simple, old fashioned type dessert. The recipe is called Chocolate Buttermilk Brownies and it comes from the cookbook Grandma's Great Desserts
. (Affiliate link)
This cookbook was published by Taste of Home about 20 years ago and it is one of my most used cookbooks. My sisters and I have used many recipes from this cookbook over the years. It is no longer available, but if you ever see this cookbook used for a good price, buy it.
Most of the recipes in this book are simple old fahsioned recipes that use everyday pantry ingredients. They really are the type of recipes our grandmothers used to make. Those are the kind of recipes that I love because they are basic recipes that use basic ingredients.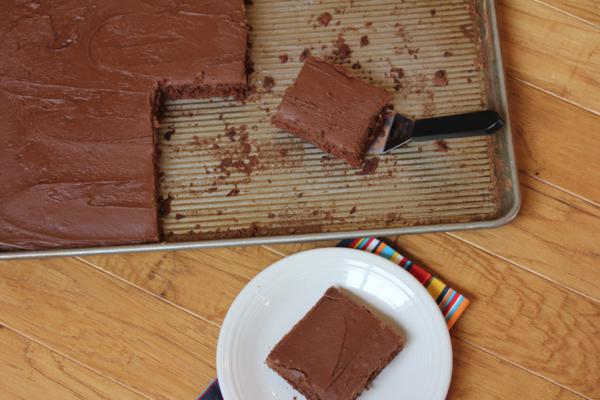 The recipe I am sharing today from the cookbook is called buttermilk brownies. When I made it I was expecting it be brownie like. Rich and fudgy. What it ended up being was more of a sheet cake. This is not a bad thing. In fact, it was delicious. The result just didn't quite match the title.
I think this might be a case of what we call brownies today may not be the same thing as what they called brownies 50+ years ago. Today when we think of brownies we think of something similar to what you get from a box. Back then I am guessing brownies meant something a little different from what we know them as today.
Part of what made these brownies more cake like to me was the frosting. Most brownies today don't have a frosting. I think we may need to change that though because frosting makes everything better. Or at least most things. Especially when it is a cooked sheet cake type frosting.
The texture of this was also a bit more cake or sheet cake like, but no matter what you call these they are delicious.
To make these gluten free I just used Bob's Red Mill 1 to 1 Baking Flour
. That is an Amazon affiliate link, but I buy it at Sprouts or the health food store. It is my favorite gluten free flour blend. It has worked in pretty much everything I have tried it in and it works great in these.
Now for the Chocolate Buttermilk Brownie recipe.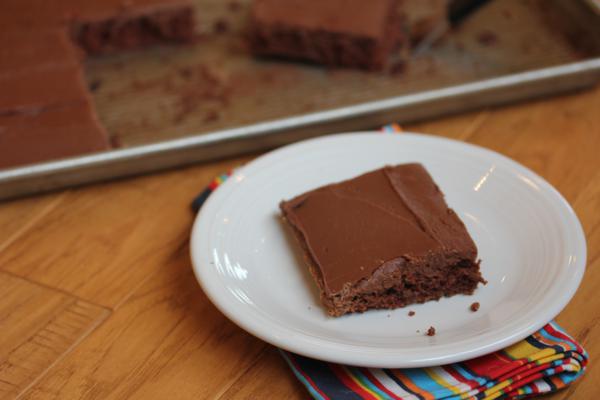 Chocolate Buttermilk Brownies

A simple old fashioned chocolate dessert.



Preparation Time: 10 minutes
Cook time: 20 Minutes
Total time: 30 Minutes
12 servings
Ingredients:
1 cup butter, cut into chunks

1/4 cup baking cocoa

1 cup water

2 cups sugar

2 cups flour or gluten free flour blend

1 teaspoon baking soda

1/2 teaspoon salt

1/2 cup buttermilk

2 eggs

1 teaspoon vanilla

1/2 cup butter, cut into chunks

1/4 cup baking cocoa

1/4 cup buttermilk

3 ¾ cup powdered sugar

1 teaspoon vanilla

pinch of salt
Instructions:

1. Preheat oven to 350.
2. In a saucepan combine 1 cup butter, ¼ cup cocoa, and water. Bring just to a boil stirring constantly. Remove from heat and let cool.
3. In a bowl combine 2 cups sugar, flour, baking soda, and salt.
4. Pour butter mixture over flour mixture and stir well to combine.
5. Mix in buttermilk, eggs, and vanilla. Stir until well combined.
6. Spread into a greased 15×10 inch jelly roll pan or cookie sheet with sides.
7. Bake for 18-20 minutes.
8. For frosting combine remaining butter, remaining cocoa, and remaining buttermilk in a pan.
9. Spread frosting over warm cake.