Double Chocolate Fudge Cake anyone?!
If you love Cracker Barrel's Double Chocolate Fudge Cake you will love this copy cat version of it. It has been years since I have had the real version of this cake, but from what I can remember of it, this tastes very much like the real thing.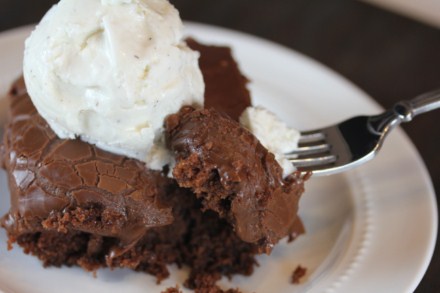 This cake is so good. It is rich, dense, and so very chocolatey.
Add some ice cream to it and it is even better.
This is a pretty typical coca cola cake, but the milk chocolate chips in this is what gives it that rich chocolate taste and makes it extra special. So, be sure to use milk chocolate in it.
If you are gluten free I even have a gluten free version of this and it tastes just like the real thing as well.
Copycat Cracker Barrel Double Chocolate Fudge Cake
Cake:
1/4 cup butter, softened
1 1/2 cups milk chocolate chips
3 eggs
1 2/3 cup sugar
2/3 cup oil
1 teaspoon vanilla
1 1/2 cups coca cola
2 cups flour
1/3 cup baking cocoa
1 1/2 teaspoons baking powder
1/2 teaspoon baking soda
1/2 teaspoon salt
Melt butter and chocolate chips in a large bowl in the microwave, stirring every 30 seconds until melted.
Stir in eggs and sugar. Beat on medium speed until well mixed. Mix in oil and vanilla.
Add coca cola and stir well.
Add flour, cocoa, baking powder, baking soda, and salt. Mix just until combined.
Pour into a 9×13 pan and bake at 350 for 32-35 minutes or until cake is done.
Frosting:
1 1/3 cups milk chocolate chips
6 tablespoons butter, softened
1 teaspoon vanilla
2 cups powdered sugar
1/3 cup coca cola
Melt chocolate and butter in microwave stirring every 30 seconds until melted.
Add powdered sugar, vanilla, and coca cola and mix until smooth. This will be easier to get smooth using an electric mixer.
Spread over cooled cake.
Let cake sit several hours before serving so that frosting will set up.