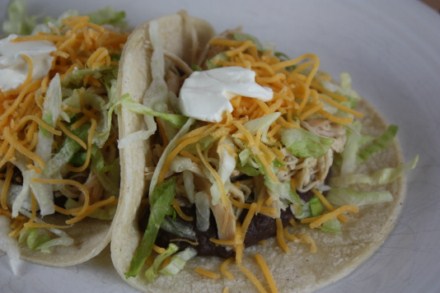 It seems like some of my best meals happen by accident. You know the kind you throw together at the last minute. That is exactly what happened with these crockpot chicken tacos.
I recently forgot to defrost a roast to put in the crockpot. Not only did I forget to defrost it, it did not hit me until 1:00 in the afternoon, as I was walking out the door for the afternoon, that I had nothing  prepared for dinner.
I quickly looked in the pantry and saw a jar of green taco sauce. I knew I had chicken breast in the freezer. So, I took a couple of frozen chicken breasts and put them in the crockpot. Then I poured the jar of green taco sauce on top. I put the lid on and set it on high.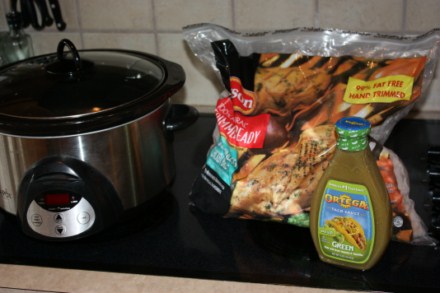 I left the house and came back around dinner time (about 5 hours later), hoping that my quick crockpot meal had worked.
The chicken smelled great. The meat had cooked enough that is was falling apart, so I simply shredded the chicken and served it with taco shells, refried beans, cheese, sour cream, and lettuce.
As we were eating dinner my husband kept saying, "These are really good chicken tacos". I was so glad he liked them, because they were so easy to make. You can not get much more simple than a two ingredient crockpot meal.
These will definitely be on our menu plan again soon. They will be perfect for those days that I am in a hurry.
I think next time I am going to try them with my homemade taco sauce.
What is your quick and easy, go to crockpot meal?
This post linked to $5 Dinner Challenge and Tuesday Tastes.