If you love peach pie and haven't had it since going gluten free these Gluten Free Peach Pie Bars are a must make! They are a cross between a pie and a shortbread bar and they are gluten free!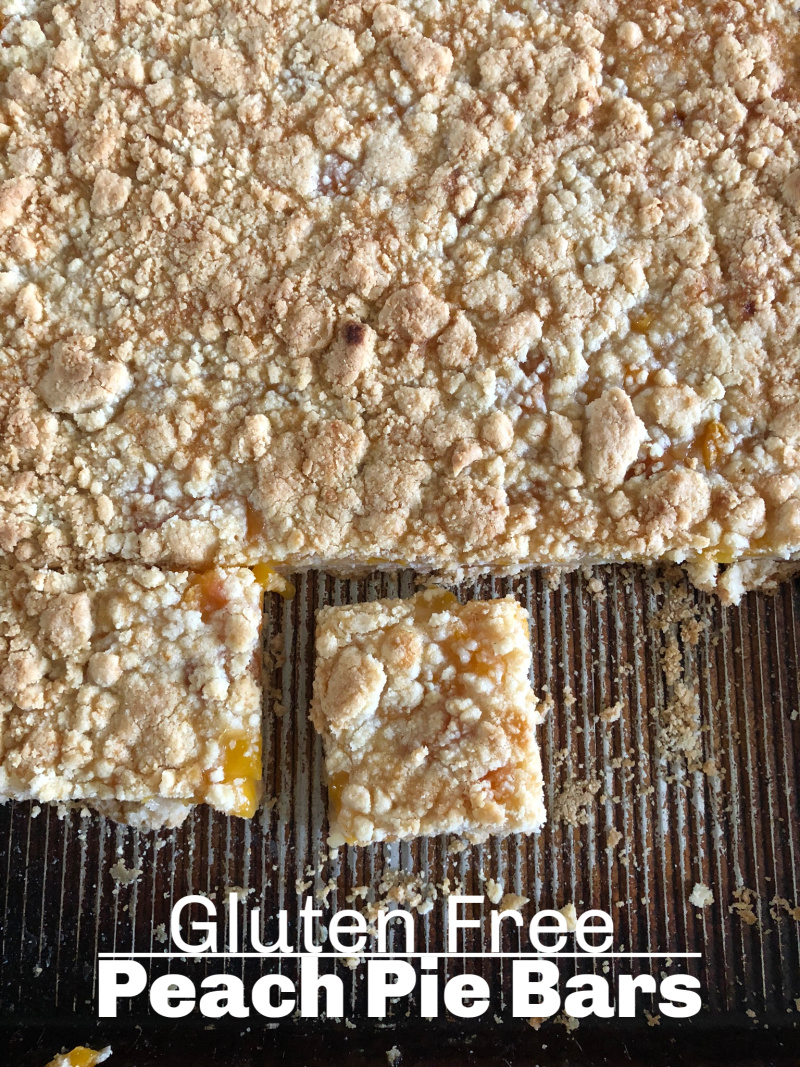 Summer desserts might be my favorite. I love all the fruits available to make delicious desserts.
Pie has been a popular summer dessert for years. From no bake pies to summer fruit pies they are a dessert that has been made for generations.
Do you miss pie since going gluten free? I have a gluten free pie crust recipe that I love, but gluten free pie is not the easiest dessert to make.
This recipe for gluten free peach pie bars make gluten free peach pie easy and delicious. This recipe is a cross between a pie and a shortbread and it is easy to make gluten free.
This recipe needs one simple change to make gluten free. Bob's Red Mill 1 to 1 Gluten Free Flour Blend.
I thought about giving this a try with individual gluten free flours, but I decided to give it a try with the Bob's Red Mill gluten free blend and it worked great.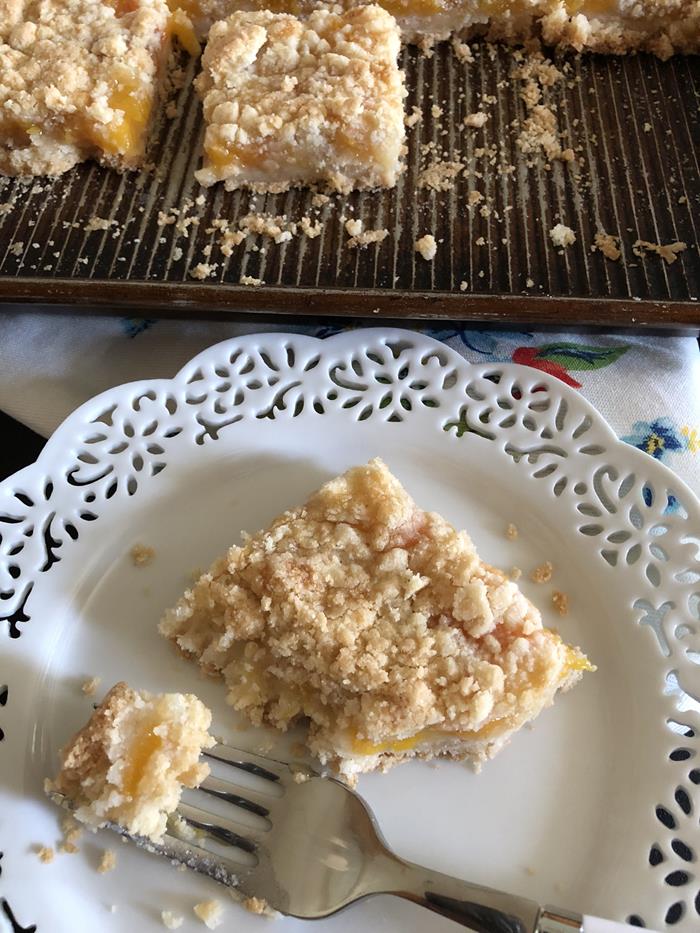 I have mixed thoughts on gluten free blends. In some recipes blends just don't work well and the individual flours give you the best result. In other recipes though blends work great. This recipe is on of those.
When it comes to gluten free flour blends Bob's Red Mill 1 to 1 is my favorite overall blend.
There are other blends that work, but I find that Bob's Red Mill 1 to 1 gives me the best and most consistent results in recipes, so it is the one that I keep on hand.
And this is not sponsored, I just love the Bob's Blend.
Now for the gluten free peach pie bars!
These are so good that no one will know that they are gluten free. I have taken these to a church gathering and a ton of non gluten free people ate and loved them. I even had several people ask me for the recipe.
Gluten free can be easy and delicious food that everyone enjoys!
Need some more easy gluten free peach recipes? We love my peaches and cream baked oatmeal. Just be sure to use gluten free oats. Gluten free peach muffins are another favorite at our house.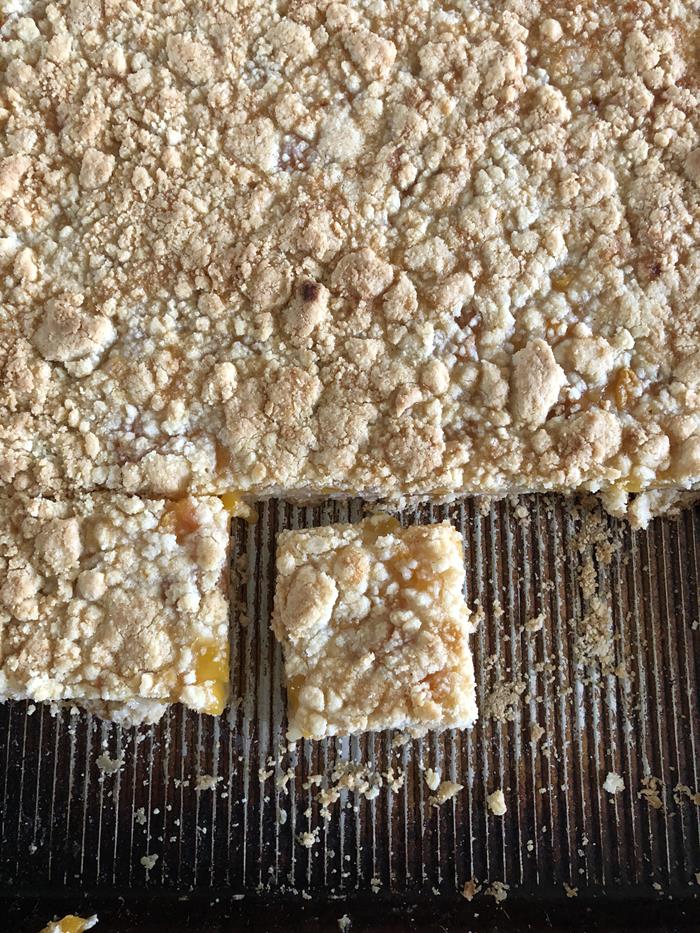 Yield: 34
Gluten Free Peach Pie Bars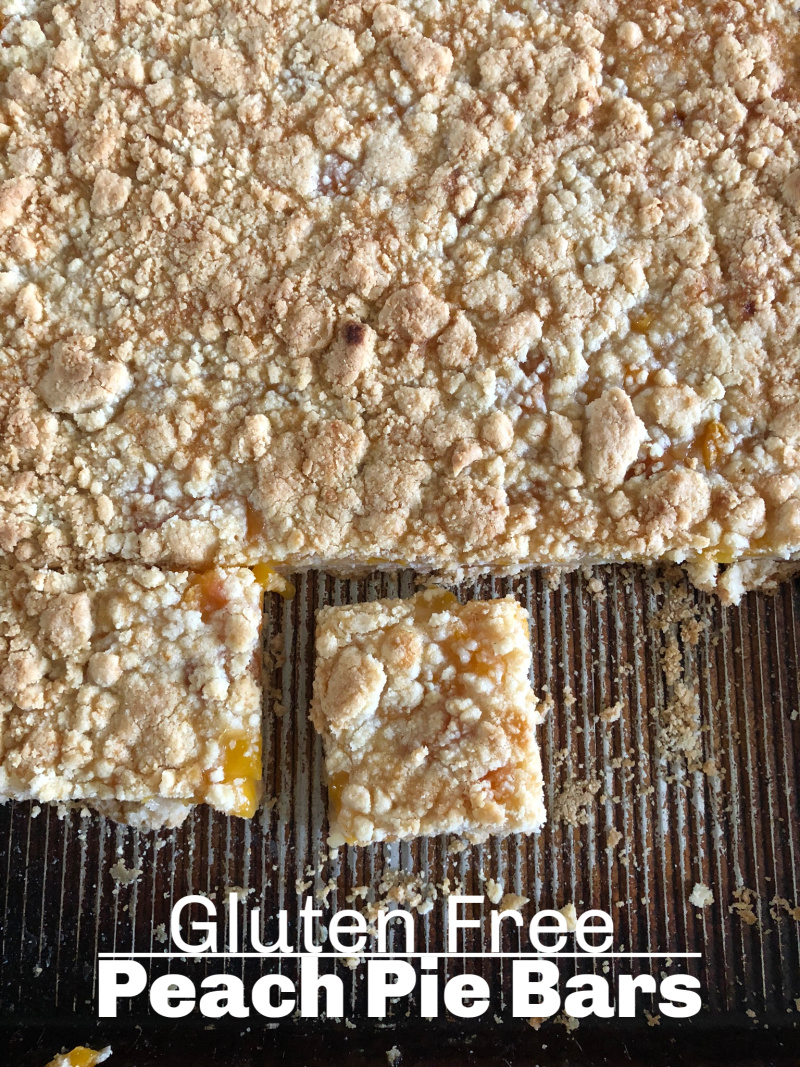 Gluten free peach pie bars are the flavors of a peach pie in an easy to make bar recipe.
Total Time
1 hour
5 minutes
Ingredients
1 1/2 cups plus 2 tablespoons butter, softened
2 cups sugar
4 cups Bob's Red Mill 1 to 1 Gluten Free Flour Blend
1 teaspoon salt
6 cups peaches peeled and cut into 1/2 inch pieces
1 cup sugar
1/4 cup Bob's Red Mill 1 to 1 Gluten Free Flour Blend
2 tablespoons lemon juice
1/2 teaspoon salt
Instructions
Preheat oven to 375 degrees..
In a mixing bowl beat butter and 2 cups sugar until light and fluffy.
Scrape down the bowl and add 4 cups gluten free flour and salt. Mix just until a dough forms, but still contains a few clumps.
Press 5 cups of mixture into the bottom of a jelly roll type of pan or a cookie sheet pan with that is 17x12 or similar size. Set remaining dough aside for topping.
In a bowl combine ingredients for peach filling: peaches, remaining sugar, 1/4 cup gf flour, lemon juice, salt. Stir to combine well.
Spread peach filling over crust.
Sprinkle/crumble remaining dough mixture over peaches. Press slightly into filling. The topping will not completely cover filling.
Bake for 45-50 minutes or until bars are set and the top is lightly browned.
Let cool completely. Cut into squares. Serve. Refrigerate any leftovers or refrigerate until serving.
Notes
This recipe can be halved and made in a smaller pan. You may need to adjust the cooking time depending on the thickness that you make the bars.