If you love peach pie these Peach Pie Bars are a must make! They are a cross between a pie and a shortbread bar and they are so good.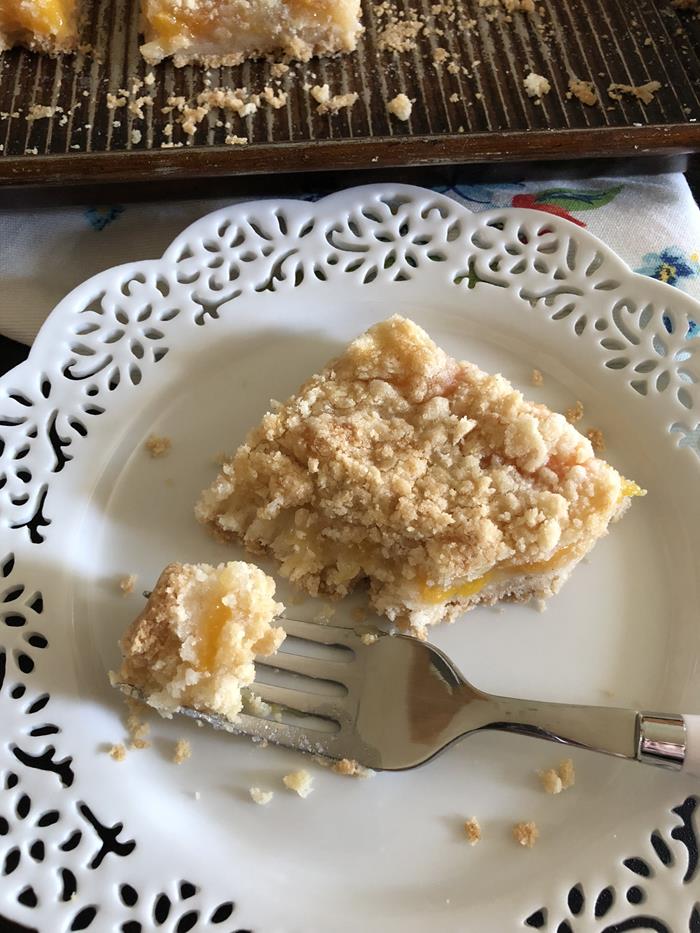 One of my favorite things about summer is all the fresh fruits and vegetables that are available. Fresh berries, peaches, melons, and all kinds of vegetables are so good this time of year.
Oklahoma is not known for growing the best fruits. The weather here is often so hot during the summer. We can grown really good watermelons, tomatoes, and peppers, but besides that it can be a bit tricky to garden in this part of the country.
When it comes to fruit trees apples do okay and with some work you can also grow peaches. And I do mean with some work. We have several peach trees that have never given us peaches worth eating.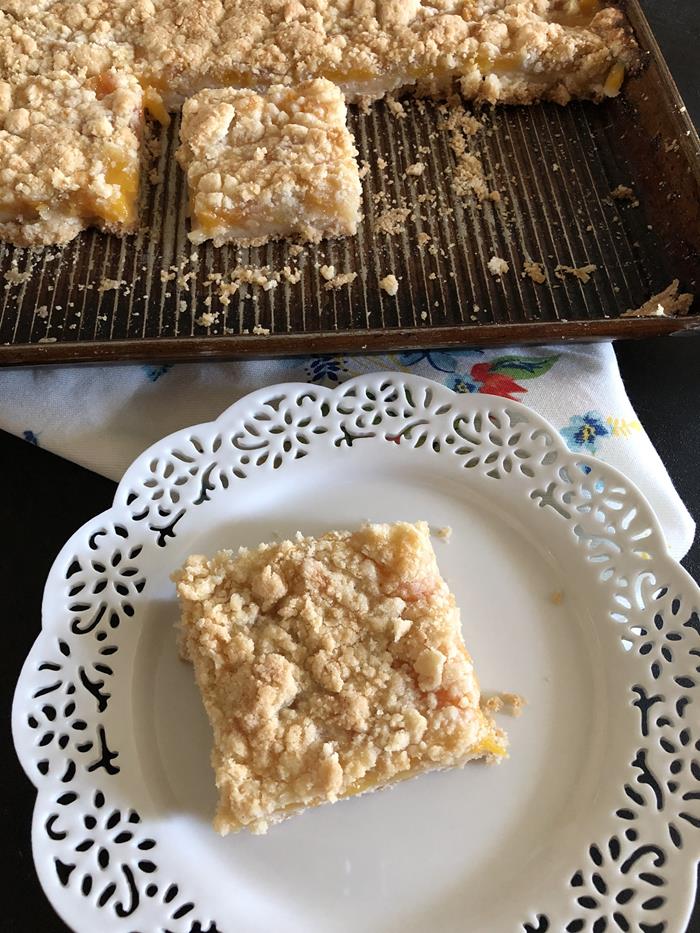 However, there is a large well known peach orchard in eastern Oklahoma that grows the best peaches. Every summer I try to make it to the orchard for peaches. Fresh from the orchard peaches are the best.
Last week I made the trip and this year's peaches were so good. We ate them for breakfast, lunch, and dinner all week.
I did end up having quite a few ripen all at once and I decided to make a dessert for a church small group meeting.
I decided to make Peach Pie Bars and they were a hit! They were so good.
I based this on an old Martha Stewart recipe. Her recipe makes a really thick bar and I prefer a thin one. So I changed up the recipe slightly to make a thinner bar. We like them a lot better this way.
This recipe makes a large pan full so it is a great summer dessert to feed a crowd. This would be perfect for a family or church gathering.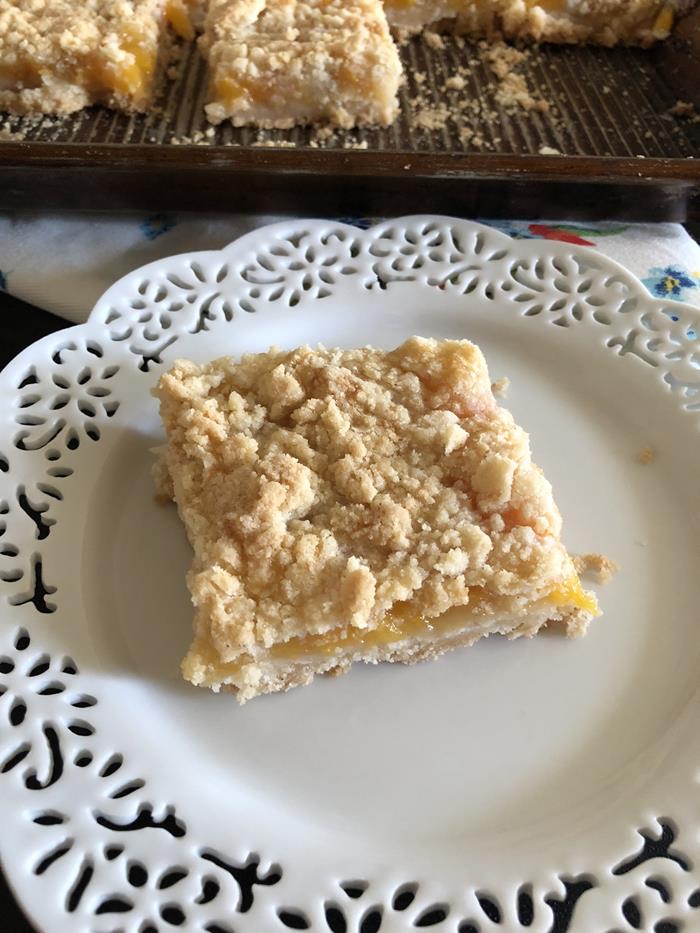 Depending on how large you cut these bars I think you could serve at least thirty people.
These are a cross between a pie crust and a shortbread type of crust. One of my kids said they were like lemon bars, but with peaches.
The filling is different than lemon bars, but the crust is a lot like a lemon bar crust. If you love shortbread type of crusts I think you will love these..
I am also sharing how you can make these gluten free. Click here for the Gluten Free Peach Pie Bar recipe.
Need more peach recipes? Try one of these.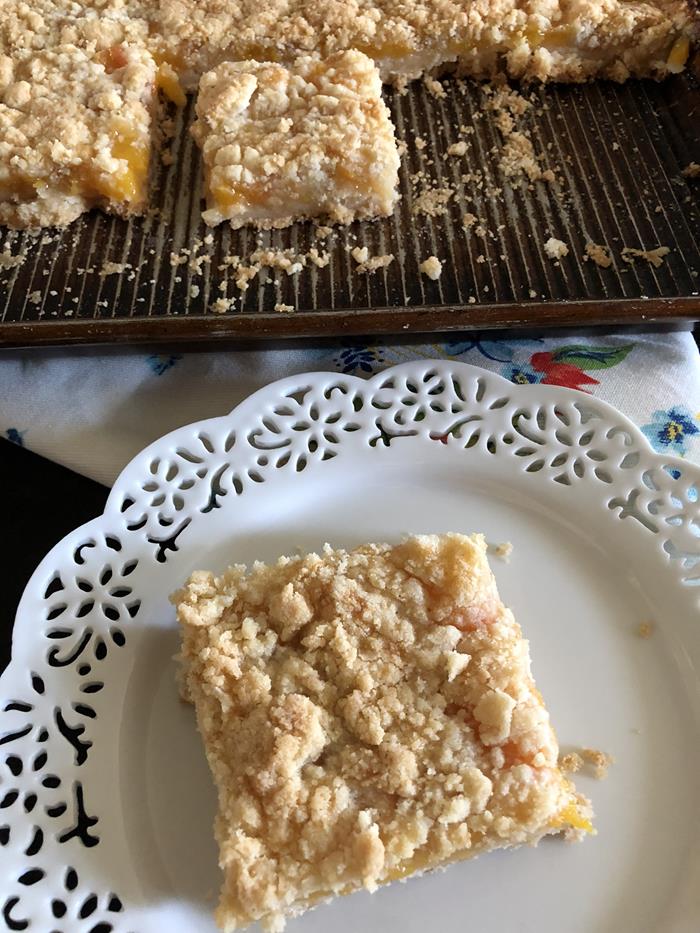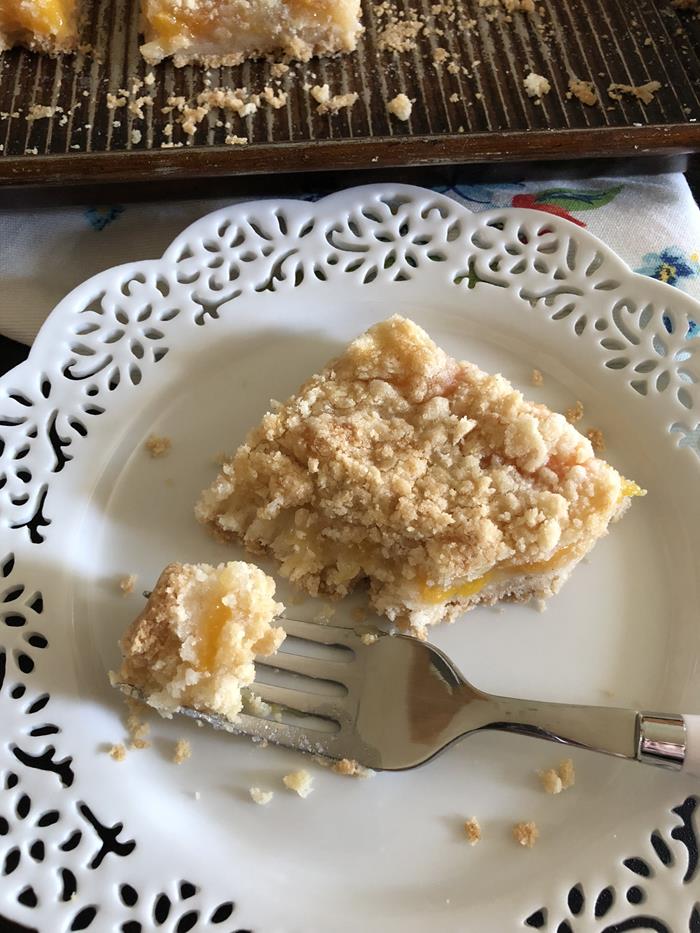 Peach Pie Bars are a cross between a pie and a shortbread type of bar. They are a delicious summer time dessert.
Total Time
1 hour
5 minutes
Ingredients
Crust
1 1/2 cups plus 2 tablespoons butter, softened
2 cups sugar
4 cups all purpose flour
1 teaspoon salt
Filling
6 cups peaches peeled and cut into 1/2 inch pieces
1 cup sugar
1/4 cup all purpose flour
2 tablespoons lemon juice
1/2 teaspoon salt
Instructions
Preheat oven to 375 degrees..
In a mixing bowl beat butter and sugar until light and fluffy.
Scrape down the bowl and add flour and salt. Mix just until a dough forms, but still contains a few clumps.
Press 5 cups of mixture into the bottom of a jelly roll type of pan or a cookie sheet pan with that is 17x12 or similar size. Set remaining dough aside for topping.
In a bowl combine filling ingredients, peaches, 1 cup sugar, flour, lemon juice, salt. Stir to combine well.
Spread peach filling over crust.
Sprinkle/crumble remaining dough mixture over peaches. Press slightly into filling. The topping will not completely cover filling.
Bake for 45-50 minutes or until bars are set and the top is lightly browned.
Let cool completely. Cut into squares. Serve. Refrigerate any leftovers or refrigerate until serving.