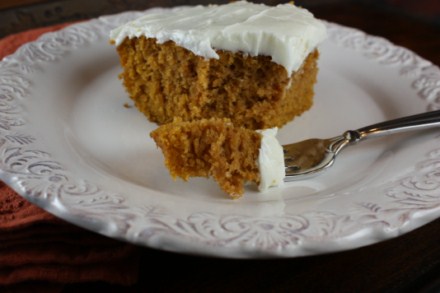 One of my favorite recipes to make in the fall was Paula Deen's Pumpkin Bars. It is really more of a cake than a bar, but they were delicious and I knew they were one recipe I wanted to adapt them to be gluten free.
I recently spent some time tweaking the recipe making it gluten free and the gluten free version turned out so good.
I want to clarify though that when I say I tweak and adapt a recipe, that it takes time and it is not always easy. I have received several emails recently asking how I adapt my favorite recipes to be gluten free. I wish I had a magic formula, really I do. My answer is it takes time. It takes trial and error and a few disasters.
I read a lot of gluten free books and cookbooks and get ideas of what might work, but it doesn't always work. Yes, sometimes it does and I have a great recipe to post, but often I have to start over and try again. This is the reason that I only post a few times a week. It takes time to recreate my recipes to be gluten free.
Don't get me wrong, I love adapting my family's favorite recipes and posting about them. I love the challenge, and I love it when I finally get it right and my family can't tell that a favorite food is gluten free, but it is not always easy.
There are a few things I have found that make some recipes more adaptable than others, and I hope to share some of those over the next few weeks and months.
But I want to make sure that you know that my goal is not to discourage anyone from gluten free baking. My goal is to help show you that gluten free food can and should be good. You can and should enjoy it. And with a little work you can recreate some of your favorite foods to be gluten free.
Now back to the pumpkin bars. These would be perfect not only for fall, but for the holidays. You could easily serve these to a large group and I doubt anyone would know that they are gluten free. I hope you enjoy this pumpkin recipe as much as my family did.
Gluten Free Pumpkin Bars
4 eggs
1 1/2 cups granulated sugar
1 cup vegetable oil
15-ounce can pumpkin
1 cup rice flour
1/2 teaspoon xanthan gum
1 cup cornstarch
2 teaspoons baking powder
2 teaspoons ground cinnamon
1 teaspoon salt
1 teaspoon baking soda
Preheat the oven to 350 degrees.
Using an electric mixer at medium speed, combine the eggs, sugar, oil and pumpkin until light and fluffy.
In a separate bowl stir together the rice flour, cornstarch, xanthan gum, baking powder, cinnamon, salt and baking soda.
Add the dry ingredients to the pumpkin mixture and mix at low speed until well combined.
Spread the batter into a greased 9×13 cake pan.
Bake for 30 minutes.
Let cool completely before frosting.
Lynn's Favorite Frosting
1 package (8 ounces) cream cheese, softened
1/2 cup butter, softened
2 teaspoons vanilla extract
3-3/4 to 4 cups confectioners' sugar
For frosting, in a mixing bowl, beat the cream cheese, butter and vanilla.
Gradually beat in enough confectioners' sugar to achieve desired consistency.