We are keeping it simple with this recipe today for a Grilled Peanut Butter and Cheese Sandwich.
Yes, this recipe is for a grilled peanut butter and cheese sandwich. I know. I know. It sounds really odd, but it is so good!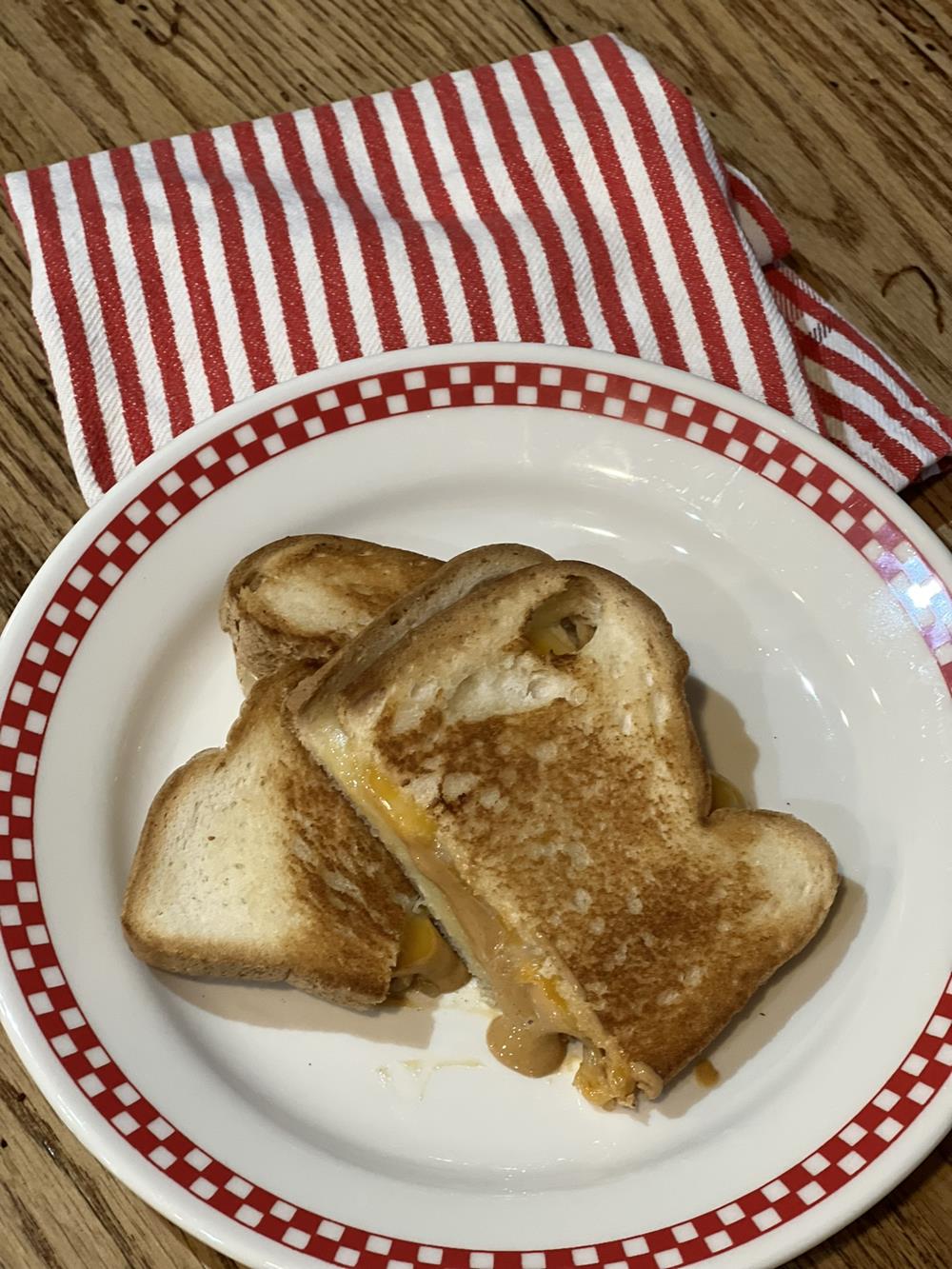 Let me start by saying that you don't really need an exact recipe for this. This is more of an idea than an exact recipe, but I am sharing an exact recipe if you want one.
This sandwich came about because I was home alone for dinner recently and didn't really feel like cooking myself something.
I was going to have one of my favorite combos, which is peanut butter and cheese, but I wanted something a little more than that. So I decided to turn it into a grilled sandwich.
Let me go back a little bit though because peanut butter and cheese is an odd combination.
My dad loves peanut butter, cheese, and pickle sandwiches with some mayonnaise and mustard on them. He doesn't eat them often, but I remember growing up he would occasionally eat one. I asked him about it the other day and he said he still enjoys eating one occasionally.
My dad learned to eat these sandwiches from my aunt. They used to eat them all the time. I am pretty sure a couple of my cousins still enjoy eating one occasionally.
I could never figure out why you would want to add pickles to anything with peanut butter, so my version has always just been cheese and peanut butter. In fact, I will often slice a piece of cheese and spread peanut butter on it.
Seriously it is so good. Give it a try!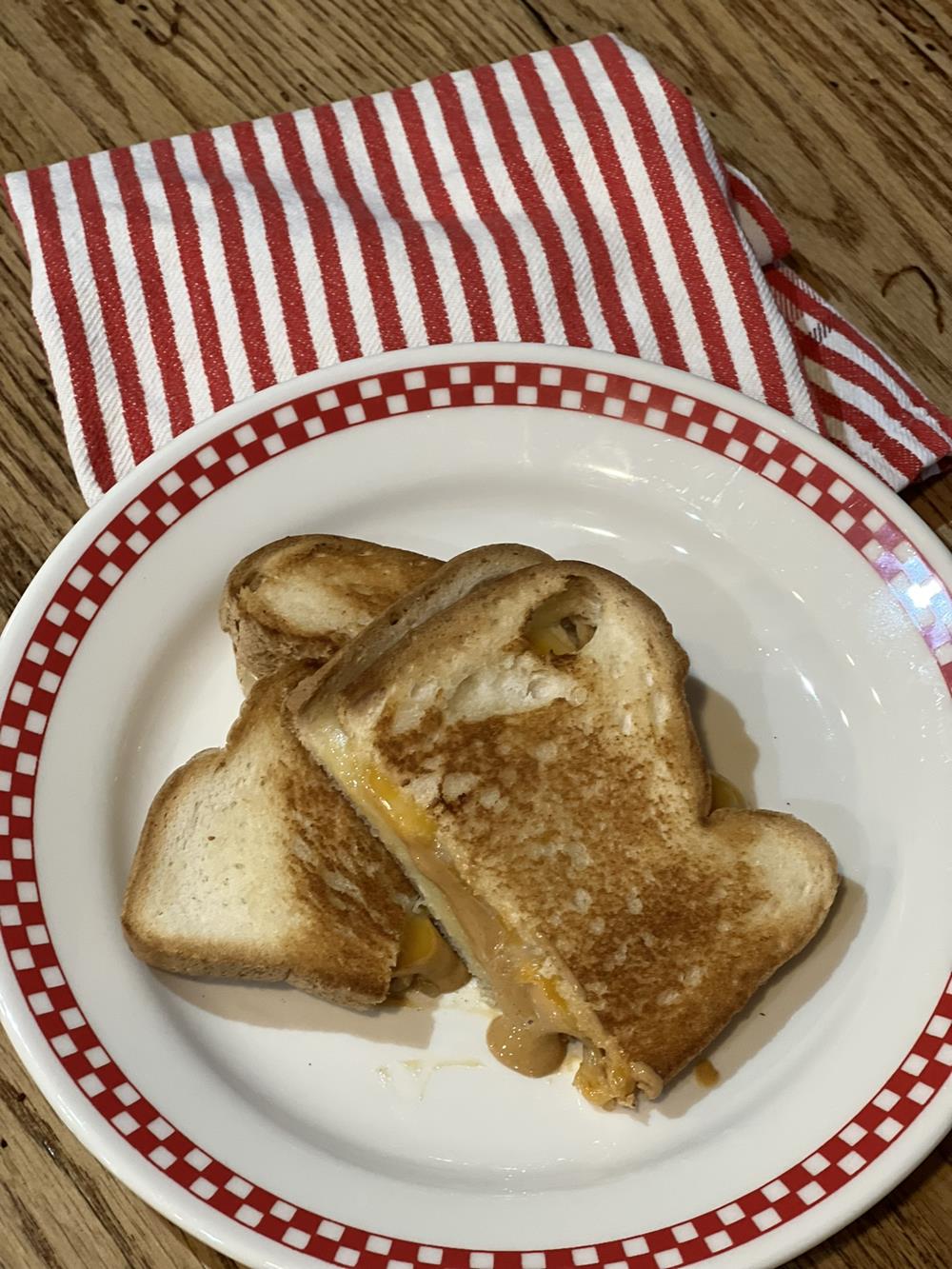 Turning it into a sandwich and grilling it might be my new favorite way to eat it though.
I will say that this sandwich is a little messy. The peanut butter kind of runs out of the sandwich, and it is hard to get a good picture of, but it is so good.
Grilled peanut butter and cheese sandwiches might be my new favorite quick and easy comfort food meal.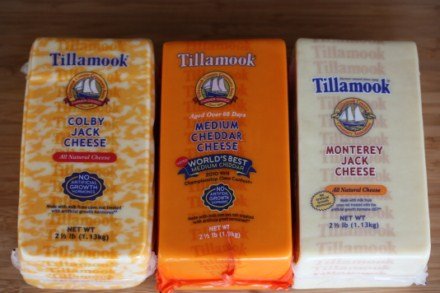 And the best cheese to use is Tillamook cheese. But I might be a little partial to Tillamook Cheese because I grew up not far from Tillamook, Oregon where the cheese is made.
Ingredients
Four ingredients are all you need for this delicious sandwich.
Bread
Butter
Cheese
Peanut Butter
More Sandwich Recipes
If you need more ideas for sandwiches I shared a whole list of our favorite homemade sandwiches.
Yield: 1 sandwich
Grilled Peanut Butter and Cheese Sandwich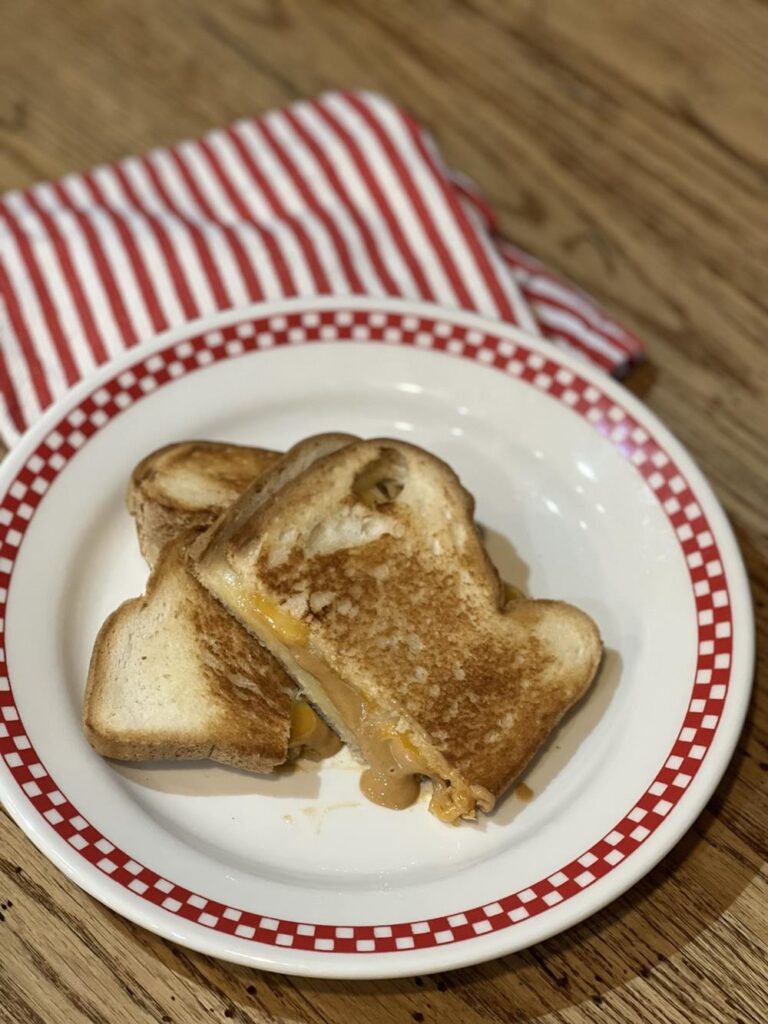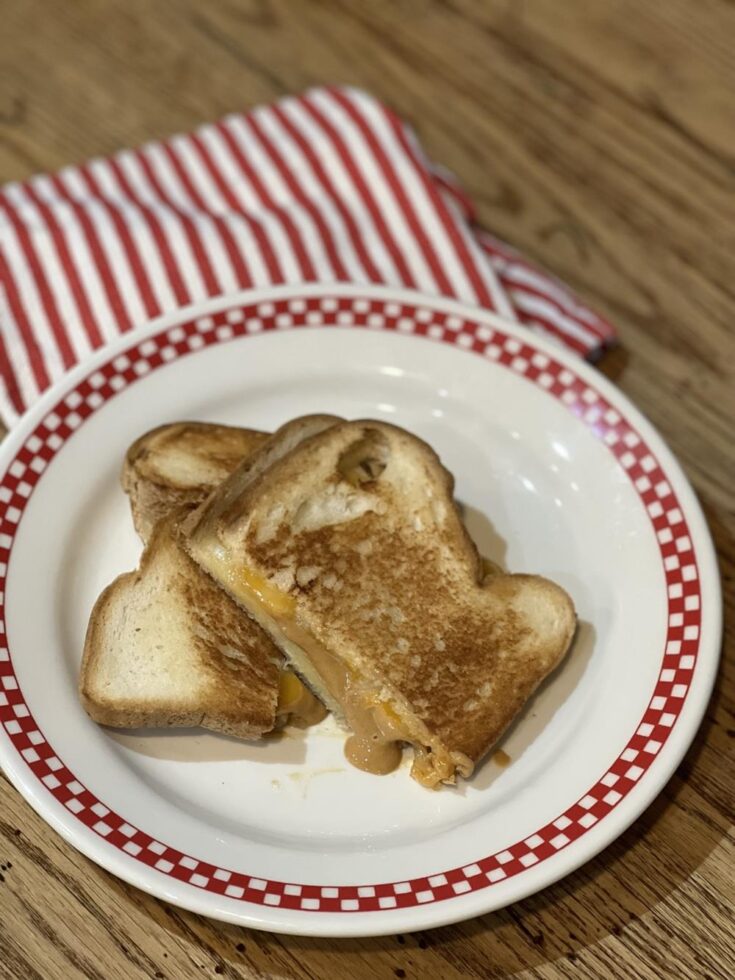 A few simple ingredients are all you need for this delicious sandwich.
Ingredients
2 teaspoons butter, softened
2 slices bread or gluten free bread for gf version
2 slices cheddar or other cheese
2 tablespoons ( or so) peanut butter
Instructions
Butter one side of a piece of bread.
Place buttered side down in a nonstick skillet, griddle or pan.
Place one piece of cheese on the bread.
Spread peanut butter on the cheese.
Place the other piece of cheese on top of the peanut butter.
Butter one side of the remaining piece of bread.
Place on the sandwich buttered side out.
Heat over medium heat for 2-3 minutes.
Flip the sandwich and cook 2-3 more minutes or until the bread is golden brown and the cheese is melted.
Nutrition Information:
Yield:
1
Serving Size:
1
Amount Per Serving:
Calories:

859
Total Fat:

63g
Saturated Fat:

36g
Trans Fat:

2g
Unsaturated Fat:

21g
Cholesterol:

165mg
Sodium:

1240mg
Carbohydrates:

48g
Fiber:

3g
Sugar:

7g
Protein:

27g
Nutritional values are approximate and aren't always accurate.