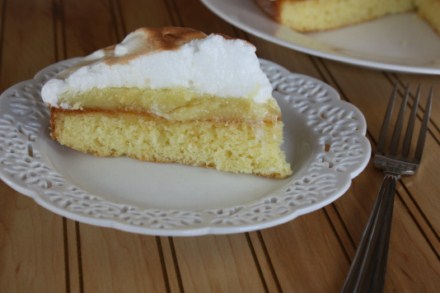 Lemon Meringue Cake is one of my all time favorite cakes.
I love just about anything lemon, but I especially love lemon meringue pie. I also love lemon cake. This recipe combines my love of lemon pie and lemon cake  into one dessert.
I have made this many times over the years and although it has several steps, it is actually a very easy, yet impressive dessert to make.
I had this cake for the first time at a friends house in Oregon, but the recipe originally came from an old Taste of Home Magazine. You know how much I love Taste of Home recipes, so it is no wonder that this recipe is one I love.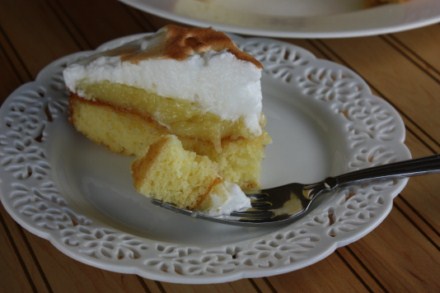 This cake works anytime of year, but it is a perfect cake for spring.
For my gluten free readers I posted in my allergy site how I adapted this to be gluten free recently.
Lemon Meringue Cake
Cake:
¼ cup butter
½ cup sugar
1 egg and 2 egg yolks ( save the whites for the meringue)
1 cup flour
1 teaspoon baking powder
1/3 cup milk
½ teaspoon vanilla
Filling:
2 egg yolks ( save the whites for the meringue)
1 cup water
¾ cup sugar
¼ cup cornstarch
¼ cup lemon juice
1 tablespoon butter
Meringue
4 egg whites
½ teaspoon cream of tarter
½ cup sugar
For the Cake:
In a bowl cream butter and sugar. Add egg and egg yolks. Mix well.
In a separate bowl combine the flour and baking powder. Add dry ingredients to creamed mixture, alternating with the milk. Start and end with the dry ingredients. Add vanilla.
Place batter into a greased and floured 8 or 9 inch round cake pan. Bake at 350 for 25-30 minutes or until done.
Let cool 5 minutes and remove from pan to a cooling rack.
For Filling:
In a saucepan combine egg yolks, water, sugar, and cornstarch. Whisk together and cook over medium high heat until thickened.
Remove from heat and add lemon juice and butter. Strain to remove any lumps.
Set aside for a few minutes while you make the meringue.
Meringue:
Beat egg whites until foamy.
Add cream of tarter and beat 1 minute.
Add sugar 1 tablespoon at a time beat until soft peaks form. This takes about 3-4 minutes.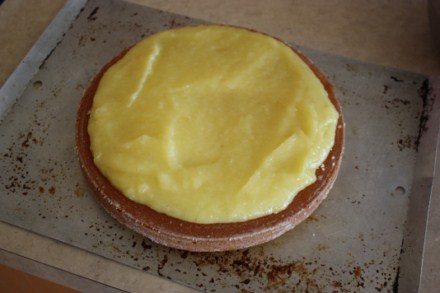 Place cake on a cookie or baking sheet. Spread filling on cake and spread to ½ inch from the edge.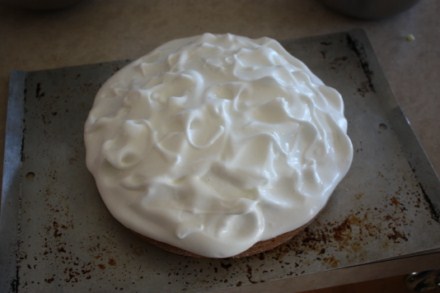 Spread whipped egg whites (meringue) over the top of filling, sealing to the edge of the cake.
Bake at 350 for 12 minutes or until meringue is slightly browned, keep an eye on it so it does not over brown. You can also do this under the broiler to brown it, just watch it very closely if doing it that way.