Marshmallow Brownie Bars are one of those easy desserts everyone will love. It takes a simply brownie to the next level. Really how can you go wrong with chocolate and marshmallows together in a rich and fudgey dessert?! Delicious!
I made these recently and sent a plate of them to work with my husband and they were gone in no time. Everyone loved them. And the real reason I sent them to work with him is so that I would stop eating them. Seriously I ate way too many of these.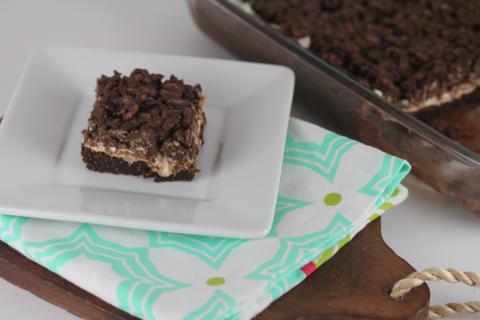 Marshmallow Brownie Bars
Brownie Batter for a 9×13 size pan, made according to directions, you can use a mix, homemade brownie mix, or gluten free brownie
4 cups marshmallows
1 1/3 cups semisweet chocolate chips
3 tablespoons butter
2 cups Rice Krispies ( I used gluten free Rice Krispies)
Cook brownies according to directions, but remove from oven 5 minutes before done.
Sprinkle with marshmallows and return to over for about 5 minutes or until marshmallows are warm and melted enough to spread.
Spread softened marshmallows across brownies.
Let cool completely.
In a bowl melt chocolate chips and butter in microwave at 50% power, stirring every 30 seconds until melted.
Stir Rice Krispies into melted chocolate until well combined. Spread mixture ove marshmallow layer on brownies.
Refrigerate for 2 hours or until firm enough to cut.
Serve and enjoy!