My son declared Martha Stewart's Triple Chocolate Cheesecake the best cheesecake ever! That is high praise considering that he is the pickiest eater in the family.
I had not planned on sharing this recipe for my Martha Stewart Cooking Challenge but after my son said it was the best cheesecake he had eaten, I knew that I had to share the recipe as part of my challenge.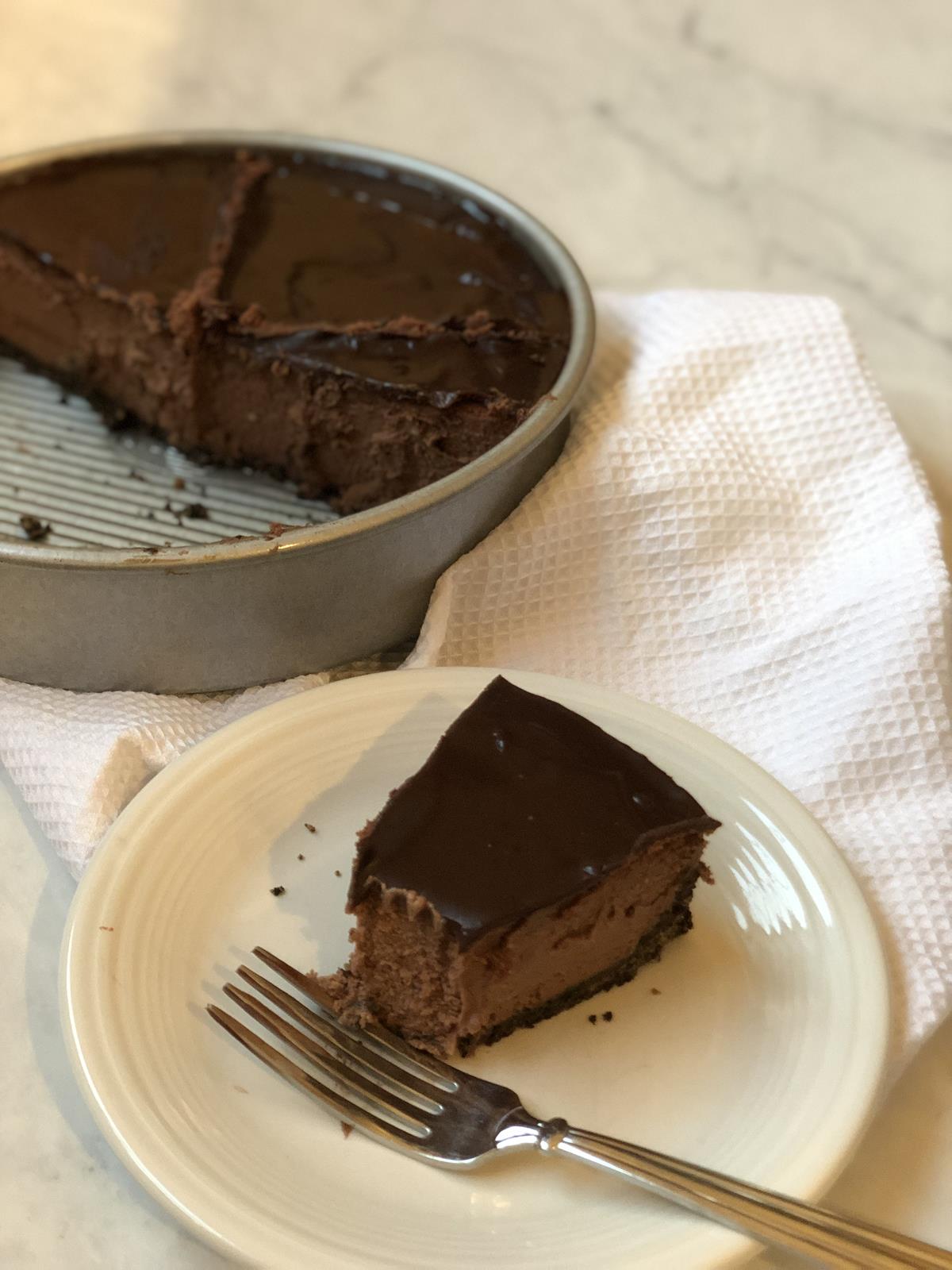 Martha Stewart's Cheesecake
My son loves cheesecake and he asked me to make one for Thanksgiving. I wanted to try a new recipe so I turned to Martha Stewart to look for one first.
When I saw Martha Stewart's Triple Chocolate Cheesecake recipe from an old Everyday Food magazine, I knew that it was the one that I wanted to try.
I almost didn't share the recipe though because the pictures are not great. I took them after our Thanksgiving meal. When it comes to holidays I don't usually take pictures to share here, because holidays are family time.
So the pictures that I got of this are not great. They have bad lightning and are simply of my piece of cheesecake on a plate with a fork.
I hope to make this again around Christmas and I will try to get better pictures. In the meantime ignore the not so great pictures and know that Martha Stewart's Triple Chocolate Cheesecake really is the best cheesecake that I have made.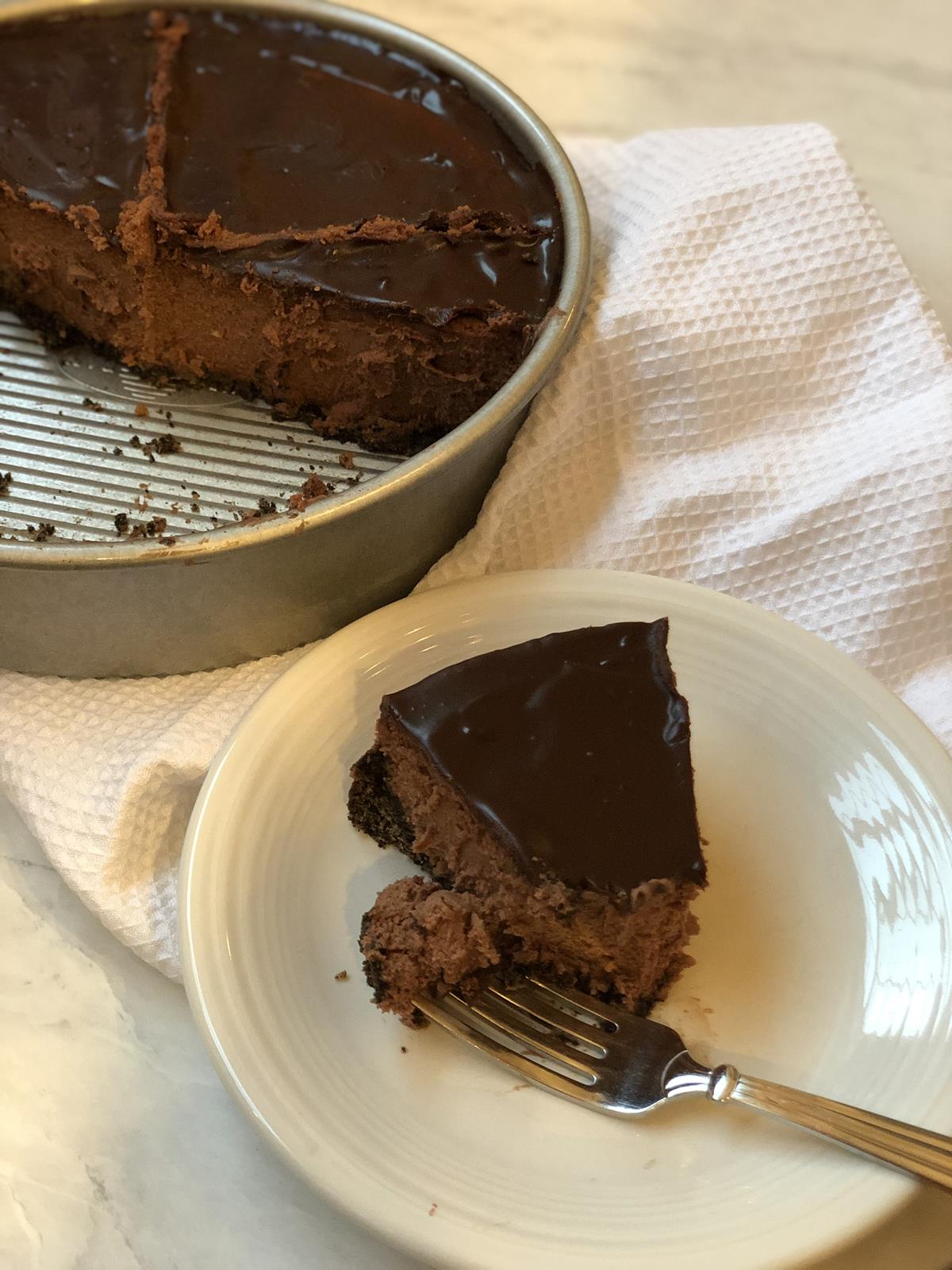 What I changed?
I really didn't change this a lot for this recipe, but I did change a couple of things.
The recipe calls for chocolate wafers. I wanted to make this gluten free so that the gluten free eaters in the family could enjoy it too.
I thought I had some gluten free chocolate cookies that I could use, so I didn't buy any at the store before making this.
When I went to make it I realized that I had a few gluten free graham crackers and a few gluten free sandwich cookies, but I didn't have enough of either one to make a crust. So I mixed them. It made the crust a little strange looking, but it tasted just fine.
I would say that either a chocolate crust or a regular graham cracker crust will work with this but if you use a graham cracker crust it won't be triple chocolate.
The second change I made for this was the pan that I cooked in it. My cheesecake pans have seen better days. They were a wedding gift over 25 years ago. I have not thrown them out, but they probably need to be. The side rings no longer close right so they do not lock tight.
Instead of using my cheesecake pans, I used a cake pan that was fairly deep. It worked but since the sides didn't come off it was not ideal.
It also almost overflowed in the oven, which would have been a mess. And it made cutting the cheesecake a little more challenging. It would have been prettier if I had made it in a cheesecake pan.
However, using a cake pan did prevent any water from the water bath from getting into the pan.
So my cake pan worked, but I am not sure that I would recommend it.
Ingredients
The ingredients in Martha Stewart's Triple Chocolate Cheesecake are fairly basic for a cheesecake. I think it is the combination of three different chocolate layers and the way she makes it that makes it the best cheesecake.
chocolate wafers or chocolate graham crackers
butter
cream cheese
sugar
salt
eggs
sour cream
semi sweet chocolate chips
heavy cream
Yield: 16 servings
Martha Stewart's Triple Chocolate Cheesecake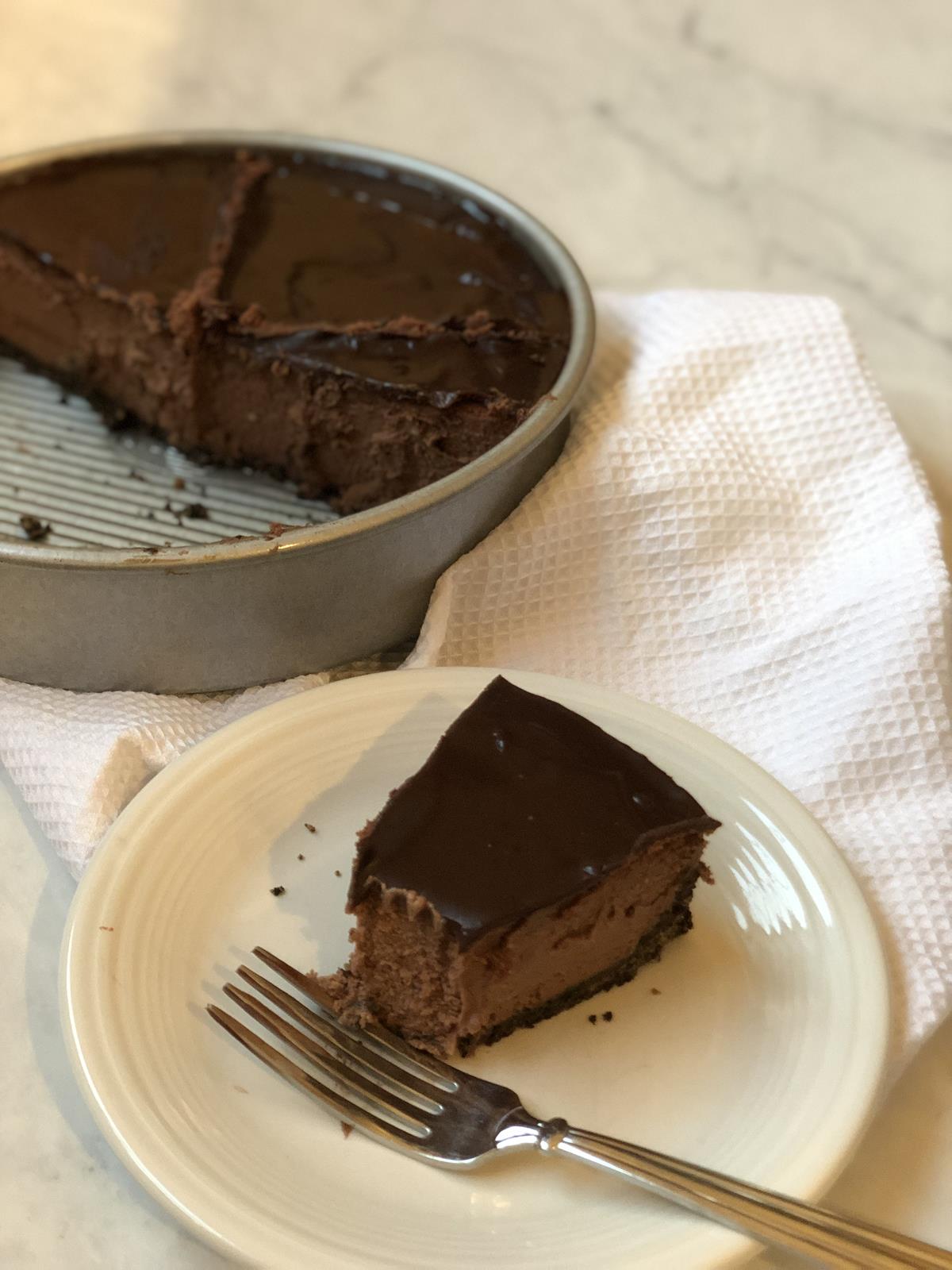 This triple chocolate cheesecake is the best cheesecake recipe that I have made.
Total Time
2 hours
15 minutes
Ingredients
9 ounces chocolate wafers or chocolate graham crackers ( use gluten free crackers for gluten free cheesecake )
6 tablespoons butter, melted
4 packages, 8 ounces each, cream cheese, room temperature
1 1/2 cups sugar
1/2 teaspoon salt
4 eggs
1 cup sour cream
8 ounces semi sweet chocolate chips melted
Ganache
1/2 cup heavy cream
4 ounces semi sweet chocolate chips
Instructions
Preheat oven to 325.
In a food processor pulse cookies until finely ground. Add melted butter and pulse until crumbs are moistened.
Press crust into a 9 inch cheesecake/springform pan.
Place the cheesecake pan on a baking sheet and bake for 10 minutes. Set aside.
Clean out the food processor bowl. Add cream cheese, sugar, and salt. Blend until smooth.
With the motor running add eggs and sour cream. Once blended add melted chocolate.
Mix until combined scraping down sides as needed.
Wrap the outside bottom and sides of the springform pan in foil. This keeps water from getting inside the pan when baking in the water bath.
Pour filling into the cheesecake pan.
Place boiling or really hot water into a roasting pan filling about halfway full.
Place cheesecake pan into the water.
Bake for 1 hour, just until set.
Turn off the oven and let cheesecake sit in the oven for 1 hour as the oven cools off. This helps prevent cracking.
Remove from oven. Let cool completely.
For the ganache heat the cream in a small sauce pan until it comes to a boil.
Add chocolate and stir until melted.
Set aside and let sit until slightly thickened.
Spread over cheescake.
Refrigerate until ready to serve..
Notes
Mixing this in the food processor is what gives it the best texture. It blends it super smooth and cream.
See note in post for why I cooked mine in a cake pan.
For gluten free version use gluten free crackers in the crust.
Nutrition Information:
Yield:
16
Serving Size:
1 piece
Amount Per Serving:
Calories:

364
Total Fat:

20g
Saturated Fat:

11g
Trans Fat:

0g
Unsaturated Fat:

8g
Cholesterol:

77mg
Sodium:

231mg
Carbohydrates:

46g
Fiber:

2g
Sugar:

37g
Protein:

4g
Nutritional values are approximate and aren't always accurate.