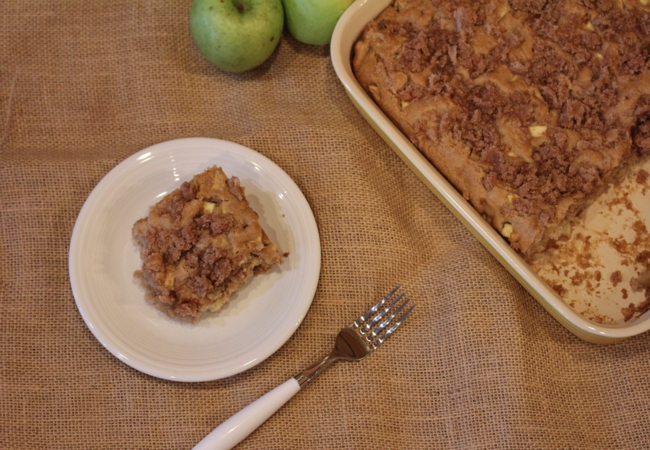 This recipe for mom's apple cake is a moist delicious apple cake that is inspired by a cake my mom has been making for years.
One of the things I love to encourage people to do is to experiment in the kitchen. It is so much fun to take a basic recipe and tweak it to use what you have on hand or what your family enjoys. Cooking like this is the way many of our grandmother's and great grandmother's used to cook. And it is a great way to save money in the kitchen.
Today's recipe is a good example of where I used my mom's basic cake recipe, but instead of following her recipe exactly, I used what I hand on hand. The original recipe that my mom made was for a rhubarb cake. She has been making the cake for years and it is a family favorite. I love that cake, but I didn't have any rhubarb. Rhubarb is a spring food and it doesn't grow well in Oklahoma anyway.
So what do you do when you want a piece of your mom's cake, but it is fall in Oklahoma. You use apples instead of rhubarb, because that is what you have on hand.
Now I will admit experimenting with recipes and changing out ingredients doesn't always go as planned, but often it does and when it does it, I am always glad I gave it a try.
The original rhubarb cake is a pretty simple cake with a basic coffee cake like topping. Rhubarb and apples have a similar texture and both are very moist in baked good, so I was pretty sure apples would work fine in this recipe. But before I tried it I gave my mom a quick call to see what she thought. She told me that she had never tried it, but she thought it would work fine.
So I gave it a try and it worked great! I think this might be my new favorite apple dessert. If you are gluten free be sure to check out my gluten free version of this apple cake recipe.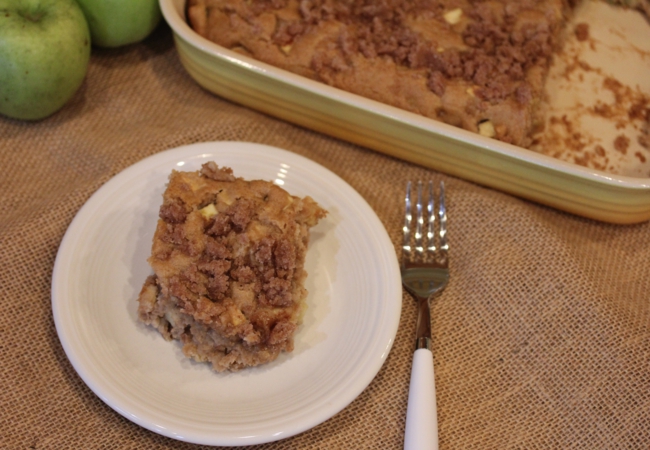 Mom's Apple Cake Recipe
2 1/2 cups flour
1 teaspoon baking soda
1 teaspoon salt
1 1/2 cups brown sugar
1 egg
2/3 cup oil
1 cup buttermilk (or sour milk by using 1 cup milk and add 1 teaspoon of vinegar and let sit for a few minutes to sour)
1 teaspoon vanilla
3 cups finely diced apples
1 teaspoon cinnamon
Topping mixture:
1 cup white sugar
2  tablespoons butter, melted
2 teaspoon cinnamon
Preheat oven to 325.
In a large bowl combine flour, baking soda, salt, brown sugar, egg, oil, sour milk, and vanilla. Mix by hand until well combined.
Stir in diced apples and cinnamon.
Spread into a greased 9×13 pan.
In a small bowl combine topping ingredients and sprinkle over cake batter.
Bake for 35 minutes.
Serve warm or room temperature.