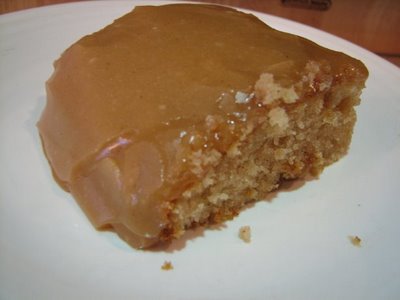 I was recently looking through cookbooks at the library. One of the books I picked up was a cookbook by the Red Hat Society. I was looking through it thinking it would be like a church cookbook and full of good recipes. And it was pretty good, but it was basically the same type of recipes that I had seen elsewhere.
But one recipe did catch my attention and I knew right away I wanted to check this cookbook out for this recipe alone. What was the recipe? It was Peanut Butter Sheet Cake. You see my husband loves peanut butter. He really, really, likes peanut butter. So I knew that it was a recipe I needed/wanted to try.
And I am so glad I did. This cake was really good, especially if you love peanut butter. It had great flavor and was good the first day, but I think it was even better the second day. The frosting is what made this so good. I already have plans of trying it on several other types of cakes.
If you really like peanut butter desserts, give this one a try.
Peanut Butter Sheet Cake
2 cups sugar
2 cups flour
2 eggs
1 teaspoon baking soda
1 cup sour cream
2/3 cup creamy peanut butter
1 cup butter
1 cup water
Frosting
1/2 cup butter
2/3 cups creamy peanut butter
6 tablespoons milk
2 1/2 cups powdered sugar
1 teaspoon vanilla
For cake:
Combine sugar and flour and set aside. In a medium bowl mix eggs, baking soda, and sour cream well. Set aside. In a small saucepan combine peanut butter, butter, and water. Bring to a boil. Add the boiled mixture to the flour mixture. Stir and add sour cream mixture. Pour into a 15×10 inch sheet/jellyroll type pan. Bake at 400 degrees for 20 minutes or until done. Test by inserting toothpick in the center of the cake.
Frosting:
Combine the butter, peanut butter, and milk in a saucepan. Bring to a boil stirring constantly. Add the powdered sugar and the vanilla. Mix well. It will be thick. Pour over cake while both are still warm. My frosting did drip over the sides a little, so pour and spread slowly. Let cool, slice, and serve.