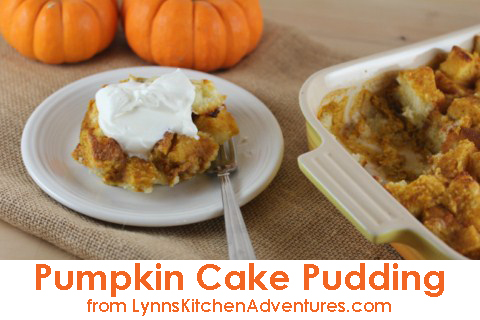 This pumpkin cake pudding might just be my family's new favorite pumpkin dessert. Think bread pudding, but made with cake instead of bread.
My mom loves bread pudding, my dad on the other hand does not like it, so my mom rarely makes it. My family loves bread pudding and I have been wanting to try a bread pudding type dessert, made with cake, for awhile, but have not had time to experiment with trying it.
My mom visited us a few weeks ago. Because it was her birthday and I knew she loved bread pudding type desserts, I knew it was time to give my idea a try. I decided to go with a pumpkin flavor because it was perfect for the fall and holidays.
All I can say is, DELICIOUS!
Okay, so I will say more than that, but really delicious is the best way to describe this.
Sometimes when I think of new recipes, they sound great in my head, but the end result is not great at all. This one though worked. It turned out better than I ever thought it would.
This is bread pudding, but better and richer. If you love bread pudding, this pumpkin cake pudding is a must try!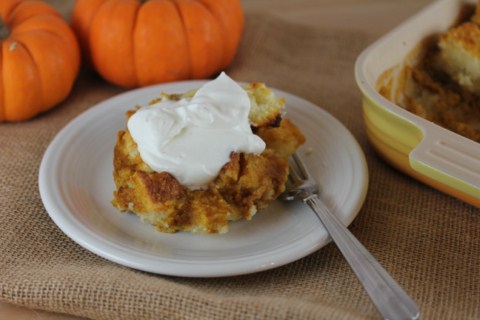 Pumpkin Cake Pudding
1 yellow cake mix, made and baked, according to package directions in a 9×13 pan ( I used a King Arthur gluten free yellow cake mix and it works great, I would guess any gluten free yellow cake would work as well.)
1 cup milk
1/2 cup cream
1/4 cup sugar
1 teaspoon cinnamon
5 eggs
1- 15 ounce can pumpkin
Cut cake that has been cooled into 1 inch, or so, squares and set aside.
In a large bowl combine milk, cream, sugar, cinnamon, eggs, and pumpkin. Whisk until well combined.
Carefully fold in cake pieces and fold gently until cake is completely covered.
Pour into a 9×13 pan and bake at 350 for 30-35 minutes or until it is set.
Serve warm with ice cream or whipped cream, or let cool and refrigerate until ready  to serve.
Enjoy!