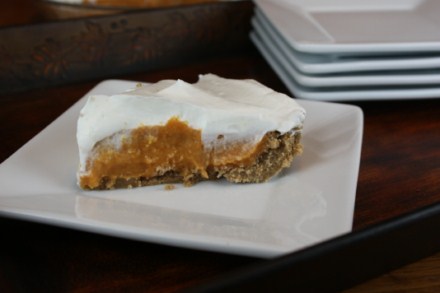 Pumpkin makes the perfect pie for the fall and holidays.
Most traditional pumpkin pies are baked. I love a good traditional pumpkin pie, but I also enjoy pies that are a little more unique and unusual like this pumpkin cream pie.
What I found in pumpkin cream pie is the perfect combination of traditional and unique. It has the great flavor of a baked pumpkin pie, but it is more of a pudding pie, which makes it less traditional.
This pie is light and creamy and has the perfect texture. Not only that this pie is so easy. Even someone that is a non baker could make quite an impression with this pie.

Pumpkin Cream Pie
1 Graham Cracker Crust ( I used gf crackers)
2 cups of milk
½ teaspoon vanilla extract
¼ teaspoon cinnamon
1/8 teaspoon cloves
½ cup sugar
salt-dash
4 egg yolks
¼ cup cornstarch
1-15 ounce can of pumpkin puree
1 tablespoon butter, softened
whipped cream, optional
To make the pumpkin cream:
In a pan combine the milk, vanilla, cinnamon, cloves, ¼ cup sugar, and salt. Heat over medium heat.
In a small bowl beat eggs, remaining sugar, and cornstarch together.
Gradually whisk ½ cup hot milk mixture into eggs.
Add egg and mixture into the remaining hot milk mixture.
Cook over medium, stirring consistently until heated through and thickened, about 3 – 5 minutes.
Remove from heat and immediately stir in pumpkin and butter.
Spread into prepared graham cracker crust.
Refrigerate for several hours or over night.
Serve with whipped cream.
Adapted from
Martha Stewart.
This post linked to WFMW and Gluten Free Wednesdays.