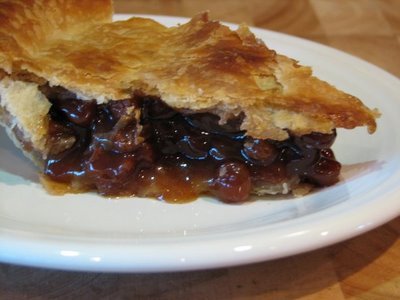 This recipe for raisin pie was one I was unsure of when I made it. When I saw the recipe I thought it would be worth trying, but I was unsure about what my family would think. They actually enjoyed it. I was surprised. In this day and age, we are spoiled by fancy, chocolate filled, sugar filled desserts. In our time raisin pie seems like a strange choice for a pie, but it is really good.
Raisin Pie is a very frugal dessert to make. Raisin pies have been around for years. They can be made anytime of the year. That is what made them so popular years ago. If fresh fruit was not in season, you could still make a raisin pie. If you were out of canned fruit, you could still make a raisin pie.
Not only could you make it year round, but raisins are inexpensive. You could buy raisins much cheaper than you could most other fruit used for a pie. They were also readily available. Almost everyone could get raisins.
I know my grandmother had a version of a raisin pie she made often. It was for a sour cream raisin pie. I am sure most of our grandmothers and great grandmothers made a version of raisin pie.
These days a lot of people would not consider making or eating a raisin pie, but we should. It is an easy and frugal pie. We need to follow the example of our grandmothers and their generation and use what we have. We all probably have raisins in our cupboard or pantry. You could make this dessert without having to buy anything special. I love recipes that are like that. We need to use more of these older recipes. We could learn a lot from the frugal ways of earlier generations.
This recipe is also pretty healthy for a dessert. The crust is the most unhealthy part of it.
Give this recipe a try, you might be surprised at how good it is.
Yield: 12 servings
Raisin Pie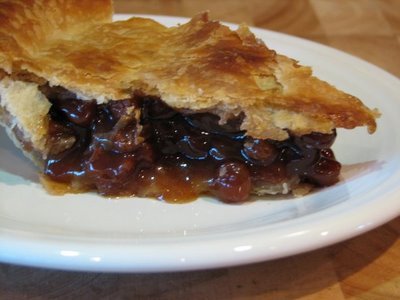 A vinatge pie recipe that is still great today.
Total Time
1 hour
10 minutes
Ingredients
unbaked pie crust for top and bottom
2 1/2 heaping cups raisins
2 cups cold water
2 tablespoons cornstarch
3/4 cup sugar
3 tablespoons cider vinegar
1/2 teaspoon salt
1 1/2 teaspoons ground cinnamon
2 tablespoons unsalted butter
optional - Vanilla ice cream, for serving
Instructions
On a lightly floured work surface, roll 1 piece of pie crust to fit dough into a 9-inch pie plate, pressing it into the edges.
Cover with plastic wrap; chill pie shell until firm, about 30 minutes.
In a medium saucepan, mix together raisins, water, cornstarch, sugar, vinegar, salt, cinnamon, and butter.
Bring to a gentle boil over medium-high heat. Let boil until very thick, stirring constantly, 3-5 minutes.
Remove from heat and let cool slightly.
Preheat oven to 400 degrees.
Pour raisin mixture into pie shell. On a lightly floured work surface, roll remaining piece of pie crust out,
Lay over raisin mixture. Trim top and bottom edges, leaving a 1-inch overhang; press lightly to seal, then fold under and press again.
Crimp edges as desired. Cut slits in the top crust. If you want a fancy design instead of slits make a design in the crust before placing it on top of the pie.
Transfer to oven and bake until crust is golden and filling is bubbly, 25 to 30 minutes.
Serve with vanilla ice cream.
Nutrition Information:
Yield:
12
Serving Size:
1
Amount Per Serving:
Calories:

276
Total Fat:

8g
Saturated Fat:

4g
Trans Fat:

0g
Unsaturated Fat:

4g
Cholesterol:

10mg
Sodium:

181mg
Carbohydrates:

52g
Fiber:

2g
Sugar:

34g
Protein:

2g
Nutritional values are approximate and aren't always accurate.
Recipe adapted from Martha Stewart.