White Chicken Chili without Beans is a creamy and delicious chili that is so good you won't miss the beans.
Why Leave The Beans Out of Chili?
You might be wondering why I would make chili without the beans. Doesn't chili always have beans?
The answer is no it doesn't. Texas style chili is often served without the beans. In fact, Texas style chili contains no beans and no tomatoes. It is basically meat and a chili sauce. That is all.
I have found that the more north you go in the U.S. the more beans that get added to the chili.
Where I grew up in Oregon, chili is often served with more beans than meat. Or at least equal parts meat and beans.
I can see why people put beans in chili. Beans are cheap. They stretch the chili to feed more people.
But as a family of meat lovers, I also see the advantages of leaving the beans out. The meat is the featured ingredient when you leave the beans out.
The other reason you might leave the beans out of chili is if you don't like them. I have one in my family that does not does really like beans. They always love it when I make my chili without beans or my taco soup without beans.
A basic chili without beans or a white chicken chili without beans is also good for a low carb diet.
Can you freeze chili?
Most chili recipes do freeze fine. If there is dairy in a soup or chili, like this recipe, it will separate when frozen. Just stir it back together well and it will be fine.
This is a great chili to freeze in single sized portions for lunches.
Can I make chicken chili without beans in the slow cooker?
Yes, you can make this white chili without beans in the slow cooker. If you make it in the slow cooker add everything but the sour cream, milk, and cheese to the slow cooker. Cook on low for 5-6 hours or on high for 4-5 hours or until chicken is done.
Turn slow cooker off and add sour cream, milk, and cheese.
What muffins are in the picture with the soup?
The muffins are a cornbread muffin that I made with Pamela's gluten free cornbread mix.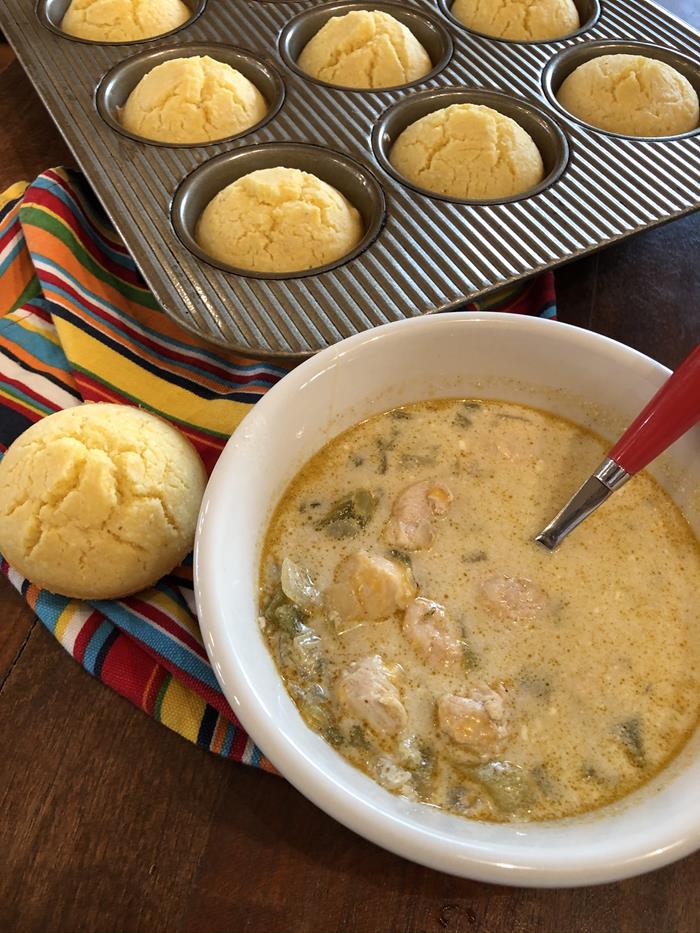 Yield: 8 servings
White Chicken Chili without Beans
White Chicken Chili without beans is a quick and easy creamy chili that is so good you will not miss the beans.
Ingredients
1 1/2 pounds boneless skinless chicken cut into bite sized pieces
1 onion, diced
2 tablespoons oil
2 - 14.5 ounce cans chicken broth
2 - 4 ounce cans diced green chilies
1 teaspoon garlic powder
1 teaspoon ground cumin
1/2 teaspoon ground oregano
1/2 teaspoon salt
1/2 teaspoon ground pepper
1/4 teaspoon chili powder
3/4 cup sour cream
1/4 cup milk
1 cup shredded cheddar or other cheese
Instructions
In a large pan heat oil. Add chicken and onion. Saute, stirring occasionally, until chicken is no longer pink and onion is tender.
Add broth, green chilies, and seasonings.
Bring to a boil. Reduce heat to low.
Simmer for 20-25 minutes. Stirring occasionally.
Remove from heat. Stir in sour cream and milk. (Make sure the soup is not boiling or it will break down and separate the dairy.)
Stir in cheese or serve with cheese sprinkled on top.
Notes
If you are gluten free read labels to make sure that your ingredients are all gluten free.
Nutrition Information:
Yield:
8
Serving Size:
1
Amount Per Serving:
Calories:

337
Total Fat:

20g
Saturated Fat:

8g
Trans Fat:

0g
Unsaturated Fat:

10g
Cholesterol:

109mg
Sodium:

755mg
Carbohydrates:

7g
Fiber:

1g
Sugar:

3g
Protein:

31g